BOB CATLEY Immortal Frontiers (2008)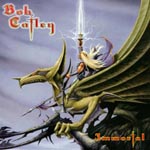 Bob Catley is a legend in the melodic rock/AOR world. His previous solo album 'Spirit Of Man' was definitely one of 2006s best melodic rock releases; and unsurprisingly it was also better than the three post reunion Magnum albums, which just haven't lived up to past glories.
'Spirit Of Man' was written by Dave Thompson and Paul Uttley of Lost Weekend and Vince O'Regan of Pulse; but this time round he has chosen to work with a bunch of new collaborators. The songs on this album were written by Swedish guitar ace Magnus Karlsson (Primal Fear, Allen/Lande and Starbreaker) who also plays lead guitars on 'End Of The World' and for the rest of the album he handles the keyboards. Without argument, his songs work really well for Catley's voice.
As well as taking care of the bass and guitar duties, Dennis Ward of Pink Cream 69 (producer of Angra, House of Lords, Edenbridge, etc.,) has produced the album and has done a terrific job; the production is first class. Dirk Bruineberg (Elegy) adds the drums while Uwe Reitenauer of Pink Cream 69 also lays down some nifty guitar solos.
I would goes as far to say that it is the heaviest album Catley has put out and at times it really packs a punch. Songs like 'End Of The World' are wonderfully melodic and remind us why we love Catley/Magnum. Other top songs include, 'Win The Throne,' 'War In Heaven' and 'Open Your Eyes.' If you like classic Rainbow you'll really enjoy the heavier tracks. Catley has done it again; he's delivered another great album that will be one of this year's best melodic rock releases. Great stuff.
****
Review by Neil Daniels
www.neildaniels.com

---
| | |
| --- | --- |
| | Print this page in printer-friendly format |
| | Tell a friend about this page |