ASIA Phoenix Frontiers (2008)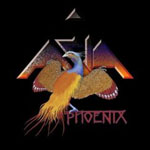 It has been twenty five years since this, the original line-up of Asia have released any new songs. Like any band looking to recapture past glories they have an uphill struggle due to high expectations from their fans. Few bands manage this and this Asia album just manages to pull it off. There are some songs on here that are classic Asia like 'Never Again' - big guitar intro and then off into a classic Asia rocker like 'Heat Of The Moment'.
Album closer 'An Extraordinary Life' is another fine song by the band with added cello by ex-ELO and current Wetton/Downes Icon member Hugh McDowell. Speaking of Icon a few songs on here would easily ('Alibis' and 'Orchid Of Mines') find their way onto an album by that band and that will disappoint some fans who may hanker after the more pomp rock/bombast associated with Asia.
'Heroine' has a keyboard uncannily sounding like 'The Smile Has Left Your Eyes' and is easily the weakest song on the album. 'Sleeping Giant/No Way Back/Reprise' has some Vangelis sounding keys and continues the band's fine tradition of epic, pomp rock songs. 'Over And Over' has some wonderful keys and guitar interplay from Geoff Downes and Steve Howe. One band member who curiously sounds way down in the mix on some songs is drummer Carl Palmer.
Great to have the band back - live they really are a 'must see' and the band have certainly produced a new album that will please many old Asia fans like me. But those who are not big fans of the Icon albums with their more ballad led songs, maybe disappointed. Not up to the classic debut and 'Alpha' albums but then a band like Asia are a victim of their musical past as they have penned so many damn fine tunes! Get this album, go see them live as they are musically on top of their game.
****
Review by Neil Daniels
---
| | |
| --- | --- |
| | Print this page in printer-friendly format |
| | Tell a friend about this page |
***** Out of this world | **** Pretty damn fine |
*** OK, approach with caution unless you are a fan |
** Instant bargain bin fodder | * Ugly. Just ugly