AC/DC Black Ice (2008)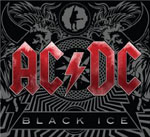 The 20th of October was a very memorable day for AC/DC rockers around the world, as this date was blessed with the release of their first album in eight long years.... It's finally here. 'Black Ice'.
Some may think the aged aussie hard rockers would now probably be concentrating on other things in life, like bus passes? Long sensible walks in the country? Collecting food vouchers maybe? NO WAY!
The best band to ever emerge from Aus are back touring round the world spreading the word of the rock gospel to many.
OK, it was always going to be difficult to top their back catalogue standards of such immensely tremendous and popular albums. I think its safe to say that 'Back in Black' seems to be the most highly regarded and iconic album by AC/DC, but 'Black Ice' has still got its mark to leave and its Pretty Damn Good! It's exactly what you'd expect from AC/DC.
After giving 'Black Ice' a whirl on the hi-fi I can now tell you expect nothing less than a classic rock CD full of upbeat songs about the typical AC/DC subject matter. ROCK N ROLL!
The no- nonsense fifteen track album is in your typical AC/DC style, simple yet awesome Angus riffs accompanied by Brian Johnson's screaming vocals under a flat cap.
All fifteen songs are top-class typical AC/DC songs. Track one 'Rock n Roll Train' is a complete belter of a song to start off the new album, just leaving you wanting more.
Shrewd shredding and heavy backing vocals throughout then leads to track five, 'War machine' a slightly new slant for AC/DC with a heavier feel.
Enough of being critical, if you're an AC/DC rock fan reading this review with the purpose of deciding weather or not to buy the album, you don't need all the technical stuff of past album sales, the quality of songwriting in previous albums, the history of the band and various name dropping...
All you want to know is whether the album is worth a bloody good head banging session when you're alone in the house to let loose. Well, the album is in fact brilliant; it's a fist pumping, extremely energetic exciting compilation of fifteen AC/DC songs you haven't heard before.
What more could a dedicated rock fan ask for to get through the long winter months ahead?
Though the band may now fit into the coffin dodger category concerning their ever increasing age along with the Stones, Sabbath etc, here's one of the classic acts from the past that are still proving, The oldens are the best!
*****
Review by Betsy Green

---
| | |
| --- | --- |
| | Print this page in printer-friendly format |
| | Tell a friend about this page |