September 2008 Reviews & Interviews
Use ALT and S on your keyboard to continue searching on a particular keyword

---
Knights of the Abyss - Shades
Ferret 2008




How can I say this - metalcore or deathcore annoys the hell out of me. Although I will admit to liking Black Dahlia Murder a little bit and also liking the last Darkest Hour CD quite a lot! So I must try to review this CD from Arizona metalcore crew Knights of the Abyss objectively.

The main reason why I hate metalcore is because of the screaming and ranting vocals and the need for constant breakdowns that break up the flow of the music. In any case I have to judge this one on it's own merit and put aside my prejudice however hard that maybe.

KotA have only been a going concern since 2005 and have been on the touring circuit for most of that period before finally hitting the studio to create these brutal metalcore anthems for our (dis)pleasure. First thing that hits me upon the first couple of songs is the punchy and clean sound on offer. They sound professional with a crisp and meaty production.
The band employs dual vocals, a blackened, raspy harsh scream and a lower growl. Most of the lines are delievered by the rasper with back up lines from the low growler. There is quite a lot of melody used in the riffing however in the context of making memorable song-writing this so called melody is lost on me due to the overbearing and very loud screaming. Songs tend to go in one ear without maintaining a hook or a catchier memorable riff although a couple of riffs doo get the old head moving a little.

The breakdowns do appear here and there but are thankfully not as annoying as I was fearing so marks for that. The musicianship is well thought out though and structured with plenty of intricate thrashy and melodic riffs.
However in the end I just don't find myself enjoying the final product that much although if I look at the individual performances I can dish out a fair amount of praise for this release. The good thing bout KotA is that they don't really have any major influences that you can pinpoint. They have bits and pieces of many bands but not one major band which you can say they copy or sound like.

To be honest as far as melodic deathcore goes this is a solid release as long as you are not expecting sugary Killswitch choruses at every turn. The Knights are good but I guess I am not won over completely and never will be, to be quite honest. One thing amused me on the promo texts though - the word 'core' was not mentioned once. In denial? :-)

© Pirage Forsi
Rating *** (3.0/5.0)


Buy From Amazon
---
Diabolic - Chaos In Hell / Possessed By Death
Deathgasm 2008




It's been over a decade since Diabolic been regurgitating their vile death metal from the bowels of Florida. Their early demos were hugely in demand back in ye olde days of tape trading before they released their debut album "Supreme Evil" in 1999. There was never any chance of them becoming big in the world of metal, as they remained resolutely brutal and uncomproming even when they swung a deal with Century Media for "Vengeance Ascending" and "Infinity Through Purification", before seemingly vanishing.

They returned to action in 2006 with original drummer Blastmaster (born Aantar Lee Coates) and bassist / vocalist Paul Ouellette alongside the twin guitars of Kelly McLauchlin and RJ James and these reissued demos from 2006 and 2007 are the result. I'm glad to say that time has not withered them as they continue upon an unrelenting onslaught of death metal, which sounds awesome, largely due to the production work of Juan Gonzalez (who has worked with the likes of Morbid Angel). Tracks like 'Chaos In Hell' and 'Jaws Of Death' erupt with animal ferocity.

They're extremely good at what they do, and lovers of true death metal should welcome them back with open arms. They may lack some of the anger of their youth, but, in the main, time has been very kind.

© Stuart A Hamilton
Rating ***1/2 (3.5/5.0)

---
AURA NOIR - "HADES RISE"
PEACEVILLE (2008)




What is wrong with Norwegian extreme metal bands? Why is it that, in almost every singe case, controversy tends to become more important than the music itself? You are probably wondering what it is that I am annoyed about, right? Well, I'll tell you. Four years ago, I came into contact with Aura Noir's third full length release "The Merciless" - an album that really moved me with both its aggression and honesty.
So what happens next? Instead of focusing on recording new material, the band's founding member and multi-instrumentalist Carl-Michael Eide somehow manages to jump/fall out from a fourth floor window! I guess we should all be content that Carl is still alive to 'tell the tale', but the future of the band is now quite uncertain. Yet, in the midst of all this madness, Peaceville Records managed to release the band's fourth studio album, entitled "Hades Rise".

If you cannot imagine an extreme Metal composition without the inclusion of double-bass drumming, atmospheric keyboards or hyper fast technical guitar riffs, then you should really stop reading this review now as it will definitely not be of interest to you. You see, just like its predecessor, "Hades Rise" is a Black/Thrash Metal 'monster' that fuels its aggressive 'temperament' from the same source that bands like Venom & Slayer did almost twenty five years ago.
Now, there are hundreds of bands around the world that are dedicated to what is now referred to as the new underground Black Metal scene, but most of them tend to sound either cheesy or dated - not the case with Aura Noir! Maybe it's due to the fact that the band's power duet has gained its experience through working with projects such as Dodheimsgard, Immortal and Ulver. Maybe its because this album features the participation of musicians of important status such as Danny Coralles (Autopsy) and Blasphemer (ex-Mayhem)...who knows - the fact remains that the two Norwegians have managed to release yet another album capable of turning a few heads towards the frozen North!

The average duration of each composition is three and a half minutes, so the most important requirement is for them to be both 'precise' and 'laconic' with regards to the feelings and messages that they wish to convey. Strangely enough, this requirement has been met in the vast majority of the compositions that are featured in "Hades Rise", starting from the opening same-titled composition - a mid pace rhythmical opus which combines the rawness of Venom (vocals) with the aggressiveness of mid-era Darkthrone.
Guitar riffs are simple, melodic parts are limited but to the point and the overall production is one of the album's strongest points, seeing as it provides "Hades Rise" with a much-desired rawness while enabling all instruments to come across clearly in the final mix. As a consequence, songs like "Death Mask", "Unleash the Demon" and "The Stalker" will almost immediately impress you with their straightforwardness and catchiness, whereas fans of early Slayer will almost certainly appreciate "Gaping Grave Awaits", as it seems to pay tribute to the kings of Thrash.
Being a fan of early Voivod, I got immediately hooked on "Schizoid Paranoid" - a three minute composition whose catchy refrain echoes in my ears as I write these words. Strangely enough, the only two compositions that I somehow failed to connect with are "Shadows of Death" and "Iron Night/Torment Storm" and I tend to believe that this is due to the fact that, in these songs, the band comes across as somehow confused by the 'unusual space' that they are given to express themselves (both songs exceed five minutes in length).

I am not quite sure what the future lies for Aura Noir now that Carl-Michael Eide is confined to a wheelchair, and that is indeed a very sad state of affairs. Is the band strong enough to overcome this important 'hurdle' and continue bombarding us with their harsh and strongly infectious guitar riffs? I certainly hope so, but even if "Hades Rise" is to become their swansong, it will be one that I will cherish in the months/years to come, as underground Black/Thrash doesn't come much better than this!

John Stefanis

Rating: **** (4.0/5.0)


---
Greeley Estates - Go West Young Man, Let The Evil Go East
Ferret 2008




Greeley Estates really is a shockingly bad name. I mean, really, why would you want to sound like a Sarf London sink estate? However, it hasn't stopped the band making it as far as a third album, surfing in on the emo craze, hoping to outlast the hipsters. Which they have. And even though isn't the greatest album ever made, it is considerably better than their first two offerings.

That seems largely to be down to the fact that they have got a hell of a lot more dark and twisted as they've passed through puberty and realised that life really is a giant pile of stinking shit, and that we're just flies looking for a tasty place to land for a wee while. There's no more pop tinged "oh God, please let us have an MTV2 hit" moments lurking here.

So have Greeley Estates graduated into the big boys school of metalcore? Um, nearly, sort of. They've certainly put a lot of thought into the arrangements of the songs, some of which don't really merit that level of detail. The rhythm section carries a lot of the musical power as the guitars don't really bite as hard as they should, and it's drummer Brian Champ who really lives up to his name..

There are a good few tunes here that really stick with you. 'If We're Going Out, Let's Go Out in Style' and 'Keep the Heat on the Dash' are chock full of aggression, angst and fury that bodes well for a band that finally seem to have got going.

© Stuart A Hamilton
Rating *** (3.0/5.0)


Buy From Amazon
---
AMON AMARTH - "TWILIGHT OF THE THUNDER GOD"
METAL BLADE (2008)




Is it true? Am I finally going to write a review for the new Amon Amarth album? I hope it doesn't sound as if I am complaining, but I have been looking forward to such an opportunity since I first came across the band's 2004 release "Fate of Norns" - an album that introduced me to the music of these five long-haired headbangers from the Swedish town of Tumba.
My initial reaction towards the task of reviewing "Twilight of the Thunder God" was that of sheer pleasure, as I assume that you all understand, but soon anxiety and insecurity kicked in. "Would the band manage to meet the high quality standards that they themselves managed to set with their previous highly-acclaimed effort "With Oden on Our Side" (2006)"? This was the main question that troubled my mind prior to receiving a promo copy from Metal Blade - a question that ceased to bother me the moment the first notes of the opening same-titled composition filled the four walls of my study room.

In many respects, Amon Amarth are quite similar to bands like Running Wild and Manilla Road: you know exactly what to expect from them in each new release, yet they always manage to somehow 'surprise' you with the way they 're-invent' their otherwise simplistic formulas which bring their compositions to fruition.
As a result, "Twilight of the Thunder God" is not only the kind of album that will 'remind' you of the reasons that convinced you to get your hands on albums such as "Fate of Norns" and "With Oden on Our Side" in the first place, but is also a release capable of standing on its own as a separate entity and also serve as a warning to those of you who felt that the five Swedes has reached the peak of their creativity with their previous release.

There is no room for doubt as to why it was the same-titled composition "Twilight of the Thunder God" that was chosen as the opening track of this new album: its ferocious up-tempo theme together with the impressive display of a number of Slayeric melodic breaks and a virtuoso guitar solo (yes, that's right: guitar solo!) managed to win my attention in no time and made me realise that it will not be long before its status will be elevated to that of an Amon Amarth classic. Talking about classics, there are many other compositions in this release that can state such a claim in the conscience of the band's loyal fans, and that is what makes "Twilight of the Thunder God" such an impressive release.

"Guardians of Asgaard" is a worthy 'competitor' to the same-titled composition, consisting of crushing mid-tempo rhythmical riffs that are terribly reminiscent of those in "Pursuit of Vikings" (from the album "Fate of Norns"). Having said that, you can also rely on the mesmerising headbanging riffs of both "Varyags of Miklagaard" and "Tattered Banners and Bloody Flags" to give your neck a good run for its money!
These are the four compositions that fans of Amon Amarth will be talking about with great affection in the years to come. I did mention in the beginning of my review, though, that this release is also capable of providing the listener with a few surprises and these mainly come in the form of "Where is Your God" and "Live For the Kill" - the former being one of the most brutal and straight-forward Death Metal compositions that the band has created in years, suitable in my opinion even for fans of Deicide, whereas the latter is a more classic metal orientated composition whose unique atmosphere has been enhanced by the contribution of beautiful cello melodies, courtesy of the guys from the Finnish outfit Apocalyptica.

Is there much more room for evolution and improvement when it comes to any future Amon Amarth release? This is a question that only time will tell. In the meantime, why don't you all sit back, relax and enjoy what I consider to be one of the best albums that this great band has released thus far - an album that will undoubtedly feature in my 'best of' list for 2008!

John Stefanis
Rating: ***** (5.0/5.0)


---
DESTRUCTION - "D.E.V.O.L.U.T.I.O.N"
AFM RECORDS (2008)




Those of you who read my review for Destruction's previous release "Thrash Anthems" may have felt that I have some personal grudge towards the Lorrach-based Thrash Metal trio, so I decided set things straight once and for all: I am indeed a huge fan of the band's early music, but not to the point of not appreciating or recognising the value of the more modern compositions that can compare with those from classic releases such as "Infernal Overkill" and "Release From Agony".
Having said that, though, I would find it difficult to believe that any of you who has been following the band's career for as long as I do can claim, with a clear conscience, that any of the four albums that Schmier and Co have released since the band's reformation in 1999 has managed to meet the same standards that these two releases managed to set so many years ago. Anyway, my decision, as with any release regardless of band or genre, was to treat "Devolution" as a separate/unique entity, and to review it as such, and that is exactly what I did.

This second incarnation of Destruction finds them to, undoubtedly, be far more skilled as musicians, indulging in more technical/complicated arrangements - a decision that I totally respect and support, even though I believe that the results of that approach which are clearly audible in albums such as "All Hell Breaks Loose" (2000) and "Metal Discharge" (2003) are far from being described as complimentary to the band's abilities.
That seems to be a field that the trio has managed to improve quite significantly in "Devolution", seeing as some of the compositions featured here come across as more 'focused' and 'confident', moving the band's music towards the next level while retaining some of the elements that made many people consider Destruction as part of the Germany Holy Thrash Trinity. Does that mean that I finally found a Destruction release that will keep me focused from start to finish? Well, not quite.

The same-titled composition that kicks off the band's eleventh studio album is indeed one of the best songs on offer, displaying not only some of the fastest riffs that you can expect to get from Destruction nowadays, but also an impressive array of virtuoso solos and catchy riffs, courtesy of Mr.Mike Sifringer and guests such as Gary Holt (Exodus) and Jeff Waters (Annihilator).
Gary Holt's contribution has to be behind the creation of songs like "Vicious Circle - The 7 Deadly Sins" and "The Violation of Morality" - the former being a dark/atmospheric composition with a strong Exodus influence in its main riffs (by far the best song Destruction have written in years) whereas the latter is an 80s sounding mid tempo rhythmical 'monster' which may not breathe fire from its mouth, but instead attacks you with numerous catchy choruses and flamboyant solos.
Talking about flamboyant solos, one should definitely check out "Urge (The Greed of Cain)" - a fast/paced thrash composition based on a catchy refrain and multiple solid guitar riffs. Based on the above, if "Devolution" was a four track EP, it would probably have received the highest possible rating. Unfortunately, though, these great compositions have to share the same space with the far less inspiring acts, such as "Offenders of the Throne", "Last Desperate Scream", "Inner Indulgence" and "Odyssey of Frustration" - all decent compositions but far from deserving to be described as Destruction classics.

In conclusion, I believe that "Devolution" is a good album that will undoubtedly satisfy the band's post 1999 fans, but it is also one capable of raising a few eyebrows amongst those of us who are naturally inclined to prefer albums from the band's classic era. Is that the best that Destruction can do nowadays to satisfy an old git such as myself? Well, some of the compositions featured here made me believe that Schmier and Co may one day surprise us all with yet another classic release - that day, though, has not yet come. Well, I don't know about you, but I will certainly continue to wait for such an album, as hope indeed dies last!

John Stefanis

Rating: ***1/2 (3.5/5.0)

---
Gorgoroth - Live In Grieghallen
Regain 2008


Has anyone actually managed to keep tabs on what's been going on in the ever evolving Gorgoroth soap opera? I'm not entirely convinced that the assorted members and their lawyers know who's in the band, although the last I heard King ov Hell and Gaahl had won the latest battle.

Whatever happens with the legal shenanigans and the split with Infernus, at least they've left us with a live recording from the days when they were happy to share mascara and lipliner. Although I get the impression that the Gaahl / King Ov Hell camp aren't too happy about this release. Or maybe that's just because Infernus is in favour of it. And because the record company sided with Infernus. My head hurts. Oh, and now Gaahl and King are trying to stop this release. Give me a break.

Anyway, back to the live CD, recorded in Bergen, Norway. You won't grow old listening to it, as it only lasts 31 minutes and contains eight songs. What do you mean that's more then enough? Heathen. It's definitely one for the fans as they rattle through a bunch of old favourites like 'Bergtrollets Hevn ' and 'Revelation Of Doom' which live up to the albums subtitle of "True Norwegian Black Metal".

It's a riff frenzy with the diabolical shrieks of Gaahl lording it over and above the slightly deranged, raw and meaty sound with the live drums of Garghuf extremely well miked and mixed. Here's hoping it's still around for you to buy your copy.

© Stuart A Hamilton
Rating **** (4.0/5.0)


Buy From Amazon
---
FALCONER - "AMONG BEGGARS AND THIEVES"
METAL BLADE (2008)




My first and only contact with Falconer's music, up to two weeks ago that is, was back in 2005 when I was assigned to write a review about their then latest effort "Grime vs.Grandeur" - an effort that was relatively enjoyable to listen to but one that did not manage to impress me to the extent of converting me to 'fan-hood'. "Northwind", the band's following effort and one that was described by the band at the time as a "return to their classic style", was an album that I was meaning to get my hands on, but I was beaten to it by my then colleague Amanda Hyne. The fact that Amanda's review was less than complimentary intrigued me and I felt almost compelled to review "Among Beggars and Thieves" - Falconer's sixth studio album.

Even though Falconer's latest effort displays the same amount of straight-forward rhythmical heavy guitar riffs as "Grime vs.Grandeur", I knew that "Among Beggars and Thieves" would end up being a different beast altogether, so I was not surprised either by the frequently used folk/medieval sounding melodies, nor by the fast dynamics of this album.
Having said that, though, I was certainly not prepared for Mathias Blad's voice - one that even to this day I have problems describing. Mathias has a very unique way of bringing across the right mood and atmosphere in each song, and it may indeed take a while before you get used to his way of singing, but once you have achieved a certain level of 'connection' you realise that he is indeed the right man for the job.

Now, one could easily describe "Among Beggars and Thieves" as both predictable and surprising (an attribute that I consider to be very important in every decent release), yet I cannot really say that I warmed to all eleven compositions that were included in the promo I received from Metal Blade. Why? Simply due to the album's diversity.
I am not a fan of either melodic Euro-Power or Melodic/'happy' Folk Metal, so compositions such as "Vargaskall" and "Viddernas Man" did not manage to make a huge impression on me. Having said that, I did warm quite a lot not only to the rhythmical opener "Field of Sorrow" and the Folky up-tempo opus "Man Of the Hour", but also to the fast-paced "Pale Light of Silver Sorrow" whose refrain and guitar solo are the best of the album.

Apart from the 'obvious' choice of songs, though, "Among Beggars and Thieves" contains some moments of musical brilliance such as those featured in "Carnival of Disgust", "Boiling Led" and the closing opus "Dreams and Pyres"- a composition whose beautiful epic/symphonic arrangements, well crafted melodies and smartly performed male/female vocal parts fill this song with the same flair of emotional medieval passion that you normally find in a classic Blind Guardian composition. These are the moments when Mathias Blad's voice manages to reach it's full potential, making listening to this album such an enjoyable experience.

Having reviewed both "Grime vs.Grandeur" and "Among Beggars and Thieves", two albums which represent different eras in the band's career, I find the latter more to my liking. 'Why, then, have you decided to provide both with the same rating?', one might ask. Well, it has more to do with the fact that, in hindsight, "Grime vs.Grandeur" deserved a slightly lesser high rating than the three and a half stars that it was awarded back in 2005. This is an album for fans of Euro Power Metal with a slightly more demanding outlook, so if you belong in that category, start saving money to buy the new Falconer!

John Stefanis

Rating: ***1/2 (3.5/5.0)
---
Destruction Of The Heavenly Realms II - Various Artists
Deathgasm Records 2008




The unsurprisingly titled sequel to "Destruction Of The Heavenly Realms", this sees Deathgasm offering up 14 tracks from 12 bands from across the more extreme range of metal. If you're looking for some new death, black, grind, thrash and doom metal, then you'll find something new and interesting here. Just for the record the bands on offer are Nex, Loss, Crimson Moon, Quinta Essentia, Semargl, Nominon, Dark Faith, Abominant, Manticore, Profanatica, Occidens and Theroneum.

The running order is a bit strange, but I suppose when you're throwing together an ultra cheap sampler, you're not going to spend much time worrying over sequencing. Things start off slowly before arriving at the more extreme examples of metal, and as always with samplers, there are tracks you'll just skip over and never return to.

Amongst the goodies on offer are Profanatica with a live version of 'Weeping In Heaven', Semargl get two tracks to highlight their nasty brand of metal, and for the technical death metal fans out there, Quinta Essentia could prove to be a nice surprise. The two doom tracks that open the album from Nex and Loss are also rather good and the best of the black metal offerings is 'Liturgical Desecration' by Manticore.

It's certainly worth a punt at a bargain price.

© Stuart A Hamilton
Rating *** (3.0/5.0)


---
Blackwinds - Flesh Inferno
Regain 2008




Once you've finished chortling at their choice of name, which hopefully means something else over in Sweden, you may want to acquaint yourself with some rather good black metal.

Quite why a member of black metal band Setherial would want a side project playing, um, black metal is a wee bit beyond my ken, but I'm certainly not going to complain when they set about their businees in finest Dimmu Borgir / Marduk style. They've certainly got their finger on the button as the shredding guitars and drum blasts come pealing out of the speakers. The vocals are a bit by numbers, but they're good enough to scare off any emos who may be passing by.

This follow up to their (very) recent "Origin" album may not be about to shatter any preconceptions about the nature of black metal, but it shakes the foundations, and you can't ask much more than that. Old schoolers who naysay keyboards in black metal may want to look away as they play an important part in the feel of the album, but I'm more than happy for them to be there when they're doing good work.

One for the already converted.

© Stuart A Hamilton
Rating ***1/2 (3.5/5.0)


Buy From Amazon
---
Angel Blake say hallo to Pure Metal, as guitarist, Marko, goes up to 11




Angel Blake may have started life as a Danzig song (sfter WIlliam Blake) but nowadays the name is most associated with the Swedish supergroup of former Law / Treasure Land vocalist Tobias Jansso and ex The Crown guitarist Marko Tervonen. With a new album out, we went up to 11 with Marko.

Pure Metal: Who are you and how would you personally describe your music?

Marko: My name is Marko Tervonen and I guess the music could be categorized as Metal with a melancholic touch.


Pure Metal: When writing, where do you begin?

Marko: By picking up the guitar. Then hopefully write a good main riff first, hopefully the chorus. Then I build up the rest. Then vocal lines, then lyrics.


Pure Metal: Which groups, artists and/or bands inspire you?

Marko: Metallica, Sentenced, Paradise Lost, Danzig, Morbid Angel, Pain...

Pure Metal: Are you influenced by art and literature at all?

Marko: Not really... I rarely need an outside influence to get me writing music or lyrics.

Pure Metal: Are there any songs/tracks that you have heard and thought, I wish I'd written that?

Marko: Sure, pretty much all the Paradise Lost songs I´ve heard...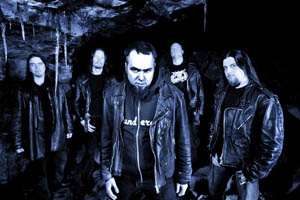 Pure Metal: Do you push yourself to write, or do you have to wait until you're inspired?

Marko: I´ve tried both ways. Sometimes it works to "force" my self. But usually the best ideas come when my brain isn´t focusing on music. Less thought, more creativity.


Pure Metal: What was it that made you go into into making music?

Marko: Joining my first band at the age of 11. It just happened...

Pure Metal: Do you feel the internet is a good way of helping/promoting your music?

Marko: Yeah, definitely. It makes the world smaller.

Pure Metal: Has the computer age, and its use in creating, editing and manipulating music helped you in any way?

Marko: Sure, when needed. But I see a lot of problems with todays style of recording / editing / mixing. The problem is that nowadays we do it with our eyes instead of the ears. So when we see something isn´t alligned on the drum track, we edit it. Eventhough we can´t hear the "misstake". So a lot of producers end up killing all the life in music, everything is supermega tight and completely flawless. And it´s starting to sound terrible if you ask me. It´s the easiest thing in the world for me to super quantisize the drums during mix, but is it necessary???

Pure Metal: Give me three good reasons why someone should buy your CDs, barring threats of bodily harm?

Marko: You need a substitute for Sentenced. You need to hear a good analog production, you need music that moves you.


Pure Metal: Finally, If you were another person, would YOU be friends with you?

Marko: Not really, too much of a geek. Can´t have a simple conversation without bringing up parallels to music or music productions. Get´s boring after a while...


The album "The Descended is out now. Buy at Amazon




© Stuart A Hamilton 2008


---
Trigger The Bloodshed - Purgation
Rising 2008




A lot of people are saying very good things about Trigger The Bloodshed, bigging them as the next major UK death metal act. Which is a bit odd considering the number of major UK death metal acts can be counted on the fingers of Captain Hooks missing hand. But, hey, let's give them the time of day and see what happens.

Things start of well with a montrous blast that leads into a somewhat generic track called 'Merciless Ignorance', which will be familiar to anyone over the age of eight. Fortunately, 'Laceration' comes along shortly afterwards to lay the opening nonsense to rest. An awesomely brutal number, it will definitely become an anthem to their fans.

Elsewhere, there is promise on tracks like 'Rebirth' and 'Impregnable Miscreation', but it's when they manage to mix up their Cannibal Corpse influences with something new that it all starts to make sense. Check out 'Hollow Lovers' and 'Mortuary Walls' if you want to hear just how good these young bucks can be.

It's not pure death metal, as they have too many nods to hardcore and grindcore for that, something that drags a few numbers down. When they stick to a purer sound, then they definitely show that they have the potential to play with the big boys, and hopefully indoctrinate a new generation in the power of metal. The band are technically proficient without hitting full speed, but for a debut, this is very, very good.

© Stuart A Hamilton
Rating ***1/2 (3.5/5.0)


Buy From Amazon
---
Ross The Boss - New Metal Leader
AFM 2008




A mighty thunderbolt strikes the ground with the return of Ross The Boss!

Ex-guitarist for Manowar, punk rock band The Dictators and many more, one of the world's greatest guitarist returns in the spirit of "Battle Hymns".

This album is indeed, very Manowar, whether Ross likes or not; but hey us die hard Manowar fans have been desperately seeking a return to true Heavy Metal and to restart the march of the immortals.

Any album can be made a wonderful specimen by the works of severe hard felt guitar riffs of such a legend, and to make things even more wonderful, we have the addition of hard angelic technical drumming and the heart felt warmth of Patrick Fuchs' melodic vocals and manic Spanish guitar work, leaving you gasping for more.

"New Metal Leader" has been waiting to burst now for 10 years, so the band have had plenty of time to 'nip and tuck' this album, and they have done a very good job too with the help of producer Tarek Maghery (Majesty) and mix master Avhim Kohler (Sinner, Primal Fear), the sound quality alone seeps professionalism, quality and the pure sounds of metal.

We do have a few slower tracks on this album in true Scorpion - 'Wind of Change' style, all ready and waiting for cigarette lighters to burn our little fingers in a field, hopefully live somewhere in the UK soon.

Tracks that deserve a mention and a listen would include 'Immortal Son', 'God of Dying' and 'We Will Kill' all Battle Metal at its finest; leaving you to urge yourself punching the air and 'devil horning' in true spirit.

This album will be played a lot in my CD player for many months, as a metal fan I am quite excited to see some quality metal returning to the shores, once Germany has finished with them anyway!

A must listen by any metal, rock, or battle metal fan.

© Fluffmeister
Rating ****1/2 (4.5/5.0)


Buy From Amazon
---
The Art of Annihilation - An Interview with Destruction's Schmier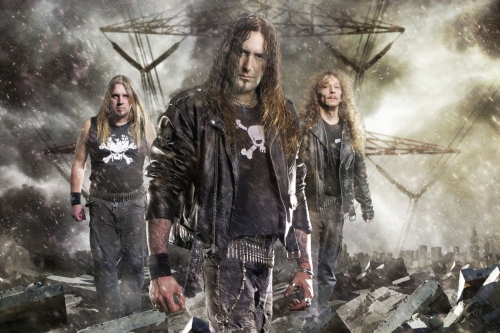 "The world is going down the drain sooner than we think," states Destruction's legendary thrash ambassador, Schmier, on the band's latest, brilliantly apocalyptic vision, "D.E.V.O.L.U.T.I.O.N." From the pioneering German three-piece's distant, self-produced beginnings to their incendiary performance at this year's Bloodstock Open Air, Faye Coulman documents twenty-five glorious years of "Thrash 'Til Death."

The low voice at the end of the receiver unmistakable in its characteristic rusty resonance, Schmier resumes, "We were trying to bring in twenty-five years of Destruction." "We've been doing a lot more fast stuff recently, some modern elements, including more harmonies and more variety in the beats," he says, a touch of excitement creeping into his otherwise steadily contemplative tone. "Of course," he considers, "there's still fast beats, but now there's just more variety. This is something we didn't do with the last album, which is why this one stands out so much more. We're going back to our roots now - back to some pretty heavy revision of our original sound."

Featuring guest slots from the illustrious likes of Exodus and Annihilator, D.E.V.O.L.U.T.I.O.N. exudes a seldom-encountered flavour of thrash authenticity inalienable from seasoned expertise. "For me, it was important, as I said before, to make this a special album for us," Schmier explains. "So we invited some of our favourite guitar heroes who are, at the same time, good friends of ours. It was great fun for us to do because we're both fans and friends of those guys. We've all been raised with the same kind of stuff - the new wave of British metal, punk rock - so we share that background. We wanted to capture some of the typical trademarks of those guitar players. Jeff Waters, among others, gave the album that special touch."

Conversation meanders to distinctly less nostalgic subject matter as Schmier takes a moment to speak about D.E.V.O.L.U.T.I.O.N. in all its dark, nightmarish manifestations. "The whole concept of the new album is about the degeneration of mankind," he remarks. "To me, it's just reality - the way I see the world.
Though we're moving forward with technology, the whole behaviour of human beings is regressing to that of cavemen. Everything is getting to be so much more comfortable now. Everyone has a GPS - computers control everything." "Soon people won't be able to drive without a GPS or go about their daily routine without a computer, which is just not right," he stresses. "Combined, all those little details, for me, lead to my questioning of mankind. Something I strongly believe is that all the empires getting so big right now will fail one day as they become more and more bigheaded."

Though a frontman presently in prime command of his creative energies, Schmier's artistic affinity with Destruction has, throughout the band's formative years, suffered inevitable strain. Speaking on his return to the band in 1999 following a fraught ten-year absence, he responds, "The band changed a lot. There was a different line-up and they were slowly drifting away from our original roots. Everyone was begging me all the time, saying, 'Schmier, bring back Destruction', but I wasn't in charge because they'd fired me at that point and chosen a new direction." "I never thought that there would ever be a possibility to ever be a part of that again. There were a series of little accidents that eventually led to 1999, so yeah, I was a lucky guy in the end," he reminisces.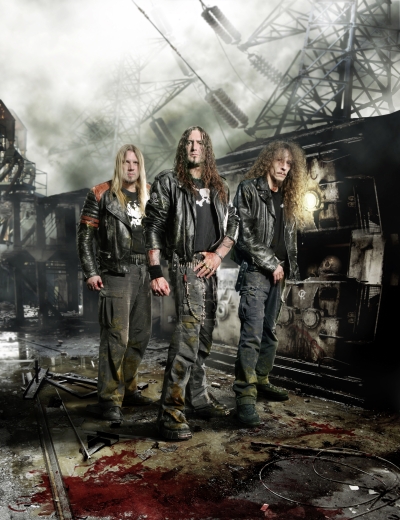 Given today's thriving metal scene, it would seem that the current musical climate has never looked more favourable for Destruction. "You know, I think the metal scene today is very healthy," Schmier observes. "Although, the 80s for me were very special because something was being founded. It's like the roots of a big tree that represents my life," he says fondly. On the recent advent of thrash revivalism, he comments, "It all seems like a big hype. The music industry has only one thing on its mind. It's not about supporting the artists - it's making money.
So they think: 'Thrash is making money, we need to sign more thrash bands'. Though I'm happy for all the young bands who now have the chance to release an album, it'll lead to an overflow and eventually a lot of those bands will disappear and only the strong ones will survive." "We'll see," he muses. "Hopefully, the thrash revival movement at the moment will create a few bands that will last a long time - the next generation of thrash metal heroes."

So, amid the chaos of a fickle and ever-changing industry, might Destruction's old school pledge of "Thrash 'Til Death" appear a remote, outmoded ideal? "Well, I actually have a tattoo that says 'Thrash 'Til Death', so I can't get out of that one," Schmier laughs. "And after twenty-five years in the industry, it has become such a big part of my life. In years to come, I don't see myself as a grandfather one day. I see myself as a musician, doing what I love to do - for as long as humanly possible."

The album "D.E.V.O.L.U.T.I.O.N." is out now on AFM.
Buy at Amazon




© Faye Coulman 2008


---
Canvas Solaris -The Atomized Dream
Sensory 2008




'Ambient Tech Metal' band Canvas Solaris have made it to album number four and this is their most accomplished sounding disk from their catalogue of releases. Instrumental music can go one of two ways personally speaking - straight to my heart and capturing my imagination or straight down Boresville High Street quicker than Usain Bolt!
The problem with many vocal free albums is that you keep imagining how they could have fitted vocals around the music should they have endeavoured to do so. However for bands like Canvas Solaris this isn't really a problem at all as I don't think their music lends itself to vocals. I think vocals would actually be a detriment to the band as they are such superb players that they let the music speak for itself without losing any momentum.

The band has a lot of technical talent at their disposal that is without question. Be it intense mathematical guitar patterns or those quiet, moving ambient pieces that allow you to take a breather from the frenetic sections. The band never dismisses the addition of a melodic mid tempo either and this helps you to latch on to the music much more, rather than it passing by in a flurry of notes. Keys are used alongside the clean guitar riffs as wonderful, colourful, lush accompaniment which again helps lift the music to somewhat ethereal highs. Nowhere is this more prevalent than in the track Chromatic Dusk which oozes class and melody from every pore.

The production and sound quality is high class, with wide-screen separation between the instruments allowing you to hear every little nuance of the music. Not even on one occasion does one instrument overpower another and the music is written to allow each part to show off their skills. The bass player is perhaps the least visual or prominent of the instruments but his bass is still crystal clear and when the guitar takes a backseat the bass comes to the fore such as in the truly awesome track Patterns Spiral Into Swarm.
The songs are mainly fairly short and never fall into a trap of over repetition of a melodic line. The tech metal junkies out there will be all over this disk like a bad rash, but it has more to offer the regular adventurous metal listener as well. The band knows how to wow the listener with an ultra complex staccato riff pattern to get you thinking and then give you a breather with a relaxed ambient part before hitting those mental patterns once again.

If you enjoy bands like Blotted Science, Spiral Architect, Spastic Ink and older technical jazz players like Al DeMeola or Mahavishnu Orchestra and their ilk you will sure love this album. It is not just a freeform tech extravaganza either and incorporates quieter more melodic sections that give Canvas Solaris that personal touch allowing the band to have their own little niche within the fairly small instrumental tech metal field.

© Pirage Forsi
Rating **** (4.0/5.0)


Buy From Amazon


---
The Pure Metal Introduction To Urn - Our Ten Questions Go Up To 11

With a new album of old time thrash on the go, sitting in the hot seat is Sulphur from Urn, a man of few words.




Pure Metal: Who are you and how would you personally describe your music?

I am responsibility of urn's music and it doesn't need any kind of description as we are just a cheap copy band and no one should not even listen to us!

Pure Metal: When writing, where do you begin?

Where ever i want to.

Pure Metal: Which groups, artists and/or bands inspire you?

Real metal with the way it was meant to be raw and filthy.

Pure Metal: Are you influenced by art and literature at all?

Porn is art, right?

Pure Metal: Are there any songs/tracks that you have heard and thought, I wish I'd written that?

No.

Pure Metal: Do you push yourself to write, or do you have to wait until you're inspired?

No...sorry..yes!

Pure Metal: What was it that made you go into into making music?

Stupidity.

Pure Metal: Do you feel the internet is a good way of helping/promoting your music?

NO!

Pure Metal: Has the computer age, and its use in creating, editing and manipulating music helped you in any way?

Unfortunately have to say yes.

Pure Metal: Give me three good reasons why someone should buy your CDs, barring threats of bodily harm?

I don't give any reasons, you should not buy it.

Pure Metal: Finally, If you were another person, would YOU be friends with you?

Yes. but he is not friends with me..

If you feel like ignoring him, the album "Soul Destroyers" is out now. Buy at Amazon

© Stuart A Hamilton 2008

---
OPETH - "STILL LIFE"
PEACEVILLE (2008)




"Watershed", the ninth studio album of the Swedish Progressive Rock/Metal giants Opeth, is without a doubt one of the most highly anticipated releases for this year - especially seeing as its predecessor "Ghost Reveries", the band's highest charting release to date, received numerous accolades from fans and music press alike.
Three months prior to becoming exposed to Mikael Akerfeldt's new 'brainchild', though, Peaceville records decided to remind us of the band's humble beginnings by reissuing Opeth's fourth studio effort, "Still Life" - an album that many of the band's oldest fans perceive as being their absolute best.

I am generally happy to see labels investing in re-issues of albums, providing that the new product features many interesting additions, enough to motivate even the people who already own the original release and I have to say that, when it comes to such endeavours, Peaceville Records is the undoubtable champion!
What we have on offer here is a double disc release, the former featuring the album original recordings and the latter including not only an impressive 5.1 Surround version of the same but also a 2006 live version of the band's all-time classic "Face of Melinda". On top of that, this new digibook features extensive new artwork by the original artist Travis Smith that will simply leave you breathless with both its beauty and high quality.

Now, those of you who started collecting Opeth's music from "Blackwater Park" (2001) onwards, would find no problem relating to this seven track release, seeing as there is quite a similar mentality behind the creation of these two albums. Having said that, though, "Still Life" contains far more complicated and technically demanding compositions than, not only its successor, but also every other Opeth release ever recorded so far in the band's amazing career.
The challenging guitar structures and the amazing musical skills that are clearly audible in "Godhead's Lament" and the jazzy-influenced "Moonlapse Vertigo" clearly justify the band's highly acquired status and the brilliantly conceived main melodies in the epic-proportioned "The Moor" and "Face Of Melinda" have helped these compositions stand the test of time by still being regarded as two of the band's absolute musical highlights.

"Still Life" has everything that a fan of good quality music could ever desire: great concept story (the lyrics are superb), highly challenging and brilliantly performed music and, in this very case, stunning packaging that contemplates all of the album's previously mentioned attributes. Giving the highest possible rating to an album has rarely been an easier task as far as I am personally concerned and I am absolutely convinced that the vast majority of you, readers, will agree with me the very moment you get your hands on this beauty.

John Stefanis

Rating: ***** (5.0/5.0)


---
Slipknot - All Hope Is Gone
Roadrunner 2008




For anyone who knows me, I have always maintained that I don't care for instrumental pieces too much and introduction tracks, I have always found both to be a total waste of disc space that could have been better reserved for much more cooler rockin tracks, this happens to be the case when it comes to Slipknot's opening intro track 'Execute'.
I have no doubt that it is the perfect introduction to use as the band walks onstage but it doesn't come across as anything more than noise and samples that I will always find myself skipping. I will say however the album just kept getting better song after song. 'Gematria (The Killing Name)' 'give me a minute and I'll change your mind, give me a bullet and I'll change your life' what a great line! 'Gematria' was just the start of good things to come!
It was clear from the first couple of songs that this is much more of a BAND album than anything Slipknot have done in the past, the mixing and production is fantastic and each and every member really shine through on the new album and every songs flows well into the next! 'Sulfur' is a kicking track that had my feet tapping and head banging within seconds.
There wasn't anything I hated about it, Corey sound amazing, by far the best vocal performances I have ever heard from his work with both Stone Sour and Slipknot. The first single of the album is 'Psychosocial' I have to say I am not a fan of the video clip for the single but I love the song, when I first got 'End of All Hope' I was instantly drawn to this song, and it is easy to see why the band have chosen this as the first single. Musically thumping, killer guitar riffs that all the kids will be learning this week and a song all metal fans can bang along too!

Stone Sour fans will love tracks such as 'Dead Memories' and what is becoming my favorite song from the new album 'Snuff'. These songs are not as heavy as the rest of the album but are just as enjoyable and could have easily have been written for the next S.S album. 'Dead Memories' has a very commercial feel to it and will probably end up as one of the follow up singles to the currently very popular 'Psychosocial'.
For fans of the heavier metal you are going to get kicked in the teeth when you blast 'Vendetta' one of the heavier tracks on the album and another one of my favorites. The only way to listen to 'Vendetta' is LOUD, Joeys' drumming is phenomenal and I don't doubt that it will become an instant headbanging classic! One song that is sure to be a crowd pleaser is 'This Cold Black', the mosh-pit will be insane during this one, killer drumming, thumping bass and awesome guitar riffs throughout. I have had 'This Cold Black' on repeat today and it just gets better with every listen! The album finishes in a much better way then it started out and 'All Hope is Gone' reminded me of the bands killer track 'The Heretic Anthem' and was by far the best song to close this amazing album.

Overall there isn't too much that I could fault. I had recently read some very mixed reviews from fans who shared their thoughts but I loved it. The cover art was awesome, no doubt the bands best cover to date, I can see why the Australian metal fans helped the album to debut at #1 and it's the same reason fans in the U.K. pushed their debut to #2 on the charts. The album maybe called 'All Hope is Gone' but Slipknot are about to deliver new hope to metal fans of all ages! If you don't already have a copy of Slipknot's 'All Hope is Gone' than get off your ass and buy a copy today, you will not be disappointed!

© Cameron Edney
Rating ****1/2 (4.5/5.0)


Buy From Amazon
---
Dragonforce - the VADIM PRUZHANOV interview

Originating from Ukraine, Dragonforce keyboardist VADIM PRUZHANOV later moved to London where he discovered rock music and decided to pursue it as a full time career. Vadim started playing Piano by the age of eight and went on to study at an exclusive music school which he found boring, quitting three years later continuing teaching himself instead.
Apart from Vadim's amazing skills behind the keyboard he is also a very capable guitar player, drawing influences from bands and artists such as Yngwie Malmsteen, Pantera, and Strapping Young Lad. Vadim, 26, has already achieved so much; touring the world many times over and releasing amazing rockin albums with the hard hitting London metallers Dragonforce. Joining the power metallers in 2001 Vadim was on board in time to contribute to the band's debut album 'Valley Of The Damned' which was released in the fall of 2003.

Since the release of 'Inhuman Rampage' fans have been longing to see what the band would do next, and the wait is finally over with the release of the bands fourth studio album 'Ultra Beatdown'. Cameron Edney recently caught up with Vadim to discuss the upcoming tour, the bands songwriting process and Vadim's first encounter with Dragonforce. The time has come to get the 'Ultra Beatdown' with Dragonforce's VADIM PRUZHANOV.




CE: Hi Vadim, how are you mate?

VADIM PRUZHANOV: I'm really good just hanging out!

CE: That's great dude! Firstly mate; it's a real pleasure speaking with you today and congratulations of the new album 'Ultra Beatdown'. I was really impressed with the new songs that I recently heard, I would assume you guys were happy with the overall outcome?

VADIM PRUZHANOV: Oh definitely… with this album, we were really pleased with the overall package one hundred percent. A couple of days ago we finished mastering it and it sounds awesome, we can't wait for the fans to hear it, we are really proud of what we've done!

CE: Mate it's been two years since 'Inhuman Rampage' was released, and following that there was some extensive touring. How hard is it to get motivated to enter a studio after so much time on the road?

VADIM PRUZHANOV: After a long period of time touring you just want to do something else! Write new songs, record etc. We toured so much and we learned a lot of things. We always get new ideas and we had a lot of material. It was so cool working on the new album; it has so much more depth to it. I think the song writing has improved since 'Inhuman Rampage' and the songs are catchier. This album isn't as intense or as brutal as 'inhuman rampage' it's a much more balanced album. We were pretty motivated to make this album, it took us eleven months but we finally got there [laughs].

CE: [Laughs] Did it really take you eleven months to put this album together?

VADIM PRUZHANOV: Yeah it did! We started writing for it last summer, and then we went into the studio and started laying down tracks, adding the basics and started watching the songs grow! Even up until the last day of mastering we were playing around with the record, taking little things out and putting things back in we thought wouldn't work so many months earlier. . You have heard the demo versions to some of the songs but when you hear the final versions you will be amazed, we worked really hard on these songs and we'd add things to improve the songs.

CE: Vadim, as a keyboard player… what do you try to achieve in the studio?

VADIM PRUZHANOV: I try to give the songs more character and make them stand out! I recorded over thirty tracks for each song on this album but you can't really hear it cause I try to bring out different frequencies to give each song a different feeling. You don't necessarily always hear these sounds but they are there, and when you listen to these songs in headphones or with a 5.1 surround system you will realize that there are so many things happening within the songs. I used a lot of different instruments on this album, flashy effects and so on, there are much more keyboards on this album too; not over the top but in all the right places. I am really happy with everything on this album!

CE: Does the variety of sounds available help with the creativity in the studio; or is it something you look at later on?

VADIM PRUZHANOV: At first when we start recording all I do is concentrate on the melody lines and arranging. I would try and leave it until the last couple of weeks of recording to worry about adding the sounds as the vocal lines would remain the same and not change by that stage and I would have to adopt to the vocal melody lines. Everything is always changing, we'd write a melody line and every single day that melody would change and evolve up until the last day.

CE: Mate, a couple of songs that stood out for me on 'Ultra Beatdown' are 'Heartbreak Armageddon' and 'Heroes Of Our Time' is it too early for you to have a favorite song yet?

VADIM PRUZHANOV: I've had this question before and it's really hard to answer! Every song is like a movie with characters, every one of them is different! I think that every single song on the album stands out in its own way! When you listen to it, there are different kinds of songs, there are different songs for different moods and that's why I think this album is so cool! They're not all super fast songs basically we were concentrating on making the best melodies that we could, and the catchiest songs ever. I really think we have done that on this one!

CE: Vadim, I wanted to run through a couple of tracks from 'Ultra Beatdown' with you, and in a few words can you tell us what comes to mind…

The last journey home: it's a really good song; it speaks for itself and stands out on the album! I think a lot of people will be able to relate to the song when they listen to it. That last journey home, after being on tour, or coming home from that long day at work, it can be interpreted in many ways! We wrote the lyrics so that people could relate to it no matter what the circumstances.

Scars of yesterday: I can't really tell you what the song's about because we always leave that up to the fans to interpret in their own way. It could be anything!

CE: I find it really interesting that when you are putting a song together the lyrical content of the track is something that you leave open to interpretation rather than picking a subject matter to write about whether it be horror, politics, relationships or something completely off the planet! That seems awesome to me but make me wonder how the songwriting process work for you guys, I mean when a song is going together surely you have some idea in your mind on what you want it to be about, the direction you want to take it and so on?

VADIM PRUZHANOV: Every song on the album is definitely about something, when we write the lyrics it's definitely about something but we don't want to say 'okay well this one is about this or that'! We don't want to force opinions on to our fans and audience by saying that a song is about this! The songs can be about anything; every time I listen to the lyrics I think about different things, we always pick the right words to fit the melody lines. A lot of European bands sometimes write their lyrics and they don't fit the melody lines and you find it hard to understand what the vocalist is singing about.

CE: Mate, I want to talk to you a little about life on the road. Do you do anything specific to warm up and prepare for a show?

VADIM PRUZHANOV: Not really, I just have a few beers [laughs]. I'm one of these people who needs someone to look after me, not so much to tell me when to go onstage but to tell me when to start drinking [laughs].

CE: [Laughs]

VADIM PRUZHANOV: 'There's three hours before the show starts'… it's time to start drinking [laughs]. I used to do some exercises before the show to warm me up, these days I do a little stretching but mostly I drink beers!

CE: Awesome, let's talk about the bands set-list! When the time comes to work out the set list, do you find it hard to choose the right songs, with every new album, I'm sure that task gets harder and harder to do, Do you find it hard to make a set that is for fans of all eras?

VADIM PRUZHANOV: We try to bring out all the hit songs as well as the new songs. We always try to include songs in our set that will please the new fans as well as the older fans. There will be a lot of new songs in the set which I'm excited about!

CE: Vadim, over the years you have shared the stage with so many great bands. Who have you enjoyed touring with the most?

VADIM PRUZHANOV: All the bands have been really great, obviously huge bands that we look up to such as Iron Maiden and Metallica were amazing. These days we don't really care how big the band is as long as they're nice when we tour with them! All That Remains were good guys to tour with, we've made a lot of friends on the road, and it's rare that we actually come across a band that is bad to play with!

CE: Which funny enough brings me to my next question…. Who has been the worst band to hit the road with?

VADIM PRUZHANOV: I couldn't say that! There hasn't been really, we have had some problems with bands but there was never any huge problems where we couldn't compromise or where we have needed to decline a tour!


CE: Out on the road you have been surrounded by some of the greatest players on earth, who has given you the best advice, whilst on the road?

VADIM PRUZHANOV: We learned a lot from Iron Maiden when we toured with them, every single tour we do and every single band we hang out with we learn something. I can't really pin point one thing though!

CE: Mate we have hit the part of the interview where our readers want to find out more about the real you… Before joining Dragonforce what were your impressions of the band?

VADIM PRUZHANOV: I didn't really like the band that much to be honest. I wasn't into that style of music. The first time I saw them I had gone to see Halford, I watched the band and thought it was something different, bands didn't really play this style of music when I saw them, I was impressed on how they played and thought they were brave for trying something different. I kept running into them at every show I went to and eventually they asked me to help them out with a gig and it just worked out.

CE: And as they say the rest is history! What was the very first concert you attended and how much of an impact did that have on you musically?

VADIM PRUZHANOV: I went to see Ozzfest 1998, I went there with my dad when I was seventeen, and the line-up had Ozzy Osbourne, Black Sabbath, Pantera, and Fear Factory. I was really impressed with the line-up and getting to see Pantera play together and their energy was crazy!

CE: What have your parents thought about the music you played?

VADIM PRUZHANOV: They're pretty pleased with it, they're happy and they support me in every way!

CE: I have read that after three years of studying at a music school, you left and continued on teaching yourself. At anytime did you ever consider playing guitar or drums or did you know that the keys would be your weapon of choice?

VADIM PRUZHANOV: I actually play guitar as well as keyboards. I studied the piano when I was younger and then carried on as you said. At the age of sixteen I picked up the guitar and I was playing it all the time, every day for about five years. I went back to the keyboards partly because of Dragonforce and partly because I just realized… no offense to other guitarists but there are just some boundaries that haven't been broken with keyboards yet and there were so many places where you could improve with keyboard playing. To me it is more of a unique instrument that you can take to another level. With a guitar there are so many things you can do but in the end it still sounds like a guitar!

CE: Vadim there is no doubt that Dragonforce will have a large influence of metal music of today! Who have you been surprised to learn is a fan of you work?

VADIM PRUZHANOV: Oh that's a good question, when we did the Ozzfest tour Strapping Young Lad were joining us, and we were hanging out with all of these other bands and Devin Townsend came out and paid us a compliment. I look up to Devin Townsend as one of my main influences and that was insane! Bands have come up to us and said they enjoy our music, or really love what we're playing, Dave Mustaine [Megadeth] came up to us and said he liked what we were doing. When someone you have liked all of your life comes up to you and tells you they like what you are doing it's just crazy!

CE: What's the craziest rumor you had ever heard about yourself and or the band?

VADIM PRUZHANOV: I remember that people were saying that we were aliens that came back from some planet and that we were inhuman because we were playing so fast! The craziest and untrue rumour I heard was that I was doing speed or some other drug that was making me play faster which is completely untrue. I don't do drugs! I drink, but drugs I don't touch!

CE: Mate to be totally honest with you, I'd imagine that at the speed you all play, it would be near impossible to do it on any kind of drug anyways! I'm amazed that you can get up there and do it after a few drinks as it is [laughs].

VADIM PRUZHANOV: It comes back to the songwriting; we've always been playing at this speed. I think that there are other artists that are faster than us but we have never made it a concentrated effort to be the fastest band.

CE: There has been so many highlights in your career, what would you say have been your greatest achievements to date?

VADIM PRUZHANOV: I think the greatest achievement is what I'm doing now! People dream about the things we are doing and we are so grateful to be able to do this. Having our first full album out and having people come and see you play just amazes me. It really depends on what you want to call achievements… we've played the Download Festival which was seventy five thousand people which on it's on is a great achievement.
I think everything we've done as a band to this point has been all highs. I think the new record 'Ultra Beatdown' is the best thing that we've done so far! I never usually listen to my own records when they come out. You put yourself in the mindset of 'okay, the new DragonForce record is coming out and we will be playing these songs everyday for the next couple of years', so I would tend not to listen to them so much, but this one, I like it so much that I am really happy to listen to it over and over. We are such perfectionists and when we have done albums we go back and dissect them and we always find things that could have been improved. With 'Ultra Beatdown' we're so happy that every time we listen to it we are really pleased and satisfied with the results.

CE: Lastly Vadim, a question I ask of everyone I interview… what's the one band that you'd be happy never to hear again and why?

VADIM PRUZHANOV: To be honest there is no bands that I really hate! There's a lot of bands that are really popular and I'm not going to mention any names, but these bands are popular and not because there music is great but more because of how they look. Magazines push certain bands and it's really sad because magazines should be getting the music across to the nation rather than promoting someone because they look good. Obviously if it's a music magazine then they should be promoting music not fashions in my opinion. I know there are some bands that are really big but they're not that great. If I don't like a band, I just won't listen to them. I listen to music that I want to listen to.

CE: Vadim, unfortunately we are out of time but before we wrap it up I want to thank you again for taking the time out to speak with me tonight and wish you all the best with the upcoming tour and album release! Do you have any last words for our readers?

VADIM PRUZHANOV: Thanks for having me; I hope to see you at one of our shows some day! I want to thank all the fans and all the people who have supported myself and the band over the years, I invite all fans of metal to come down and see us play cause I'm sure you will enjoy the shows.

© Cameron Edney Aug 2008

The brand new Dragonforce album 'Ultra Beatdown' is out now via Roadrunner Records.

Grab your copy from Amazon!





Keep up with all the latest news of Dragonforce by checking out these killer sites!

Official Dragonforce website

Dragonforce on MySpace
---
Metal Church - The Present Wasteland
SPV 2008




It was way back in 1984 that Metal Church released their debut album. At the time they were lumped in with the burgeoning thrash bandwagon, something that was a tad unfair on them, as they had considerably more depth and melody than that, as best displayed on their second album The Dark. However, they never had a settled line up, with vocalist David Wayne being replaced by Mike Howe in 1989, and they split in 1993.

Five years later they were back with David Wayne resuming vocal duties before he departed again in 2003 (sadly passing away in 2005) to be replaced by Ronny Munroe who has been with them ever since. This is his third and Metal Church's ninth studio album. Last time out on A Light In The Dark, Metal Church blasted everyone with a stunning album that topped everything that they'd done before. Sadly, this album doesn't match it.

It's a good, solid album, but one that owes more to Munroes first outing with the band, Weight Of The World, than its successor. There just isn't enough light and shade for the album to work as a whole, despite the fact that, "Monster" excepted, there isn't a bad song on the album. Individually, tunes like "The Perfect Crime", "Meet Your Maker" and "Crawling To Extinction" are excellent, but it's too samey over the length of a whole album.

Weight Of The World was really a left over Kurdt Vanderhoof solo album, so after A Light In The Dark, I had really high hopes for this one. But they seem to have drifted away from the path of metal with too many mid-paced songs and not enough killer riffs. Maybe Vanderhoof has been spending too much time with his prog outfit Presto Ballet. The band themselves put in good performances and Ronny Munroes voice has grown on me over the years, as demonstrated to full effect on "A War Never Won". When the guitars do let fly, then Kurdt Vanderhoof and Rick Van Zandt work well together, but there just isn't enough of it.

There are definitely songs here that fans should hear with the opening "The Company of Sorrow", which harks back to their early days and the powerful and bleak "Deeds of a Dead Soul" as good as anything they've done. Newcomers to the band would be better off trying The Dark (Wayne era), The Human Factor (Howe era) and A Light In The Dark for the Munroe era.

© Stuart A Hamilton
Rating ***1/2 (3.5/5.0)


Buy From Amazon
---
Evergrey - Torn
SPV 2008




Evergrey, one of the top prog / power metal acts in Europe are back with their seventh studio album "Torn", and their first for new label SPV/Steamhammer.

Their last album "Monday Morning Apocalypse" wasn't popular with their longstanding fans, something frontman , Tom S. Englund, seems to recognise saying "it was the right album at the time, but now we have returned to our typical trademarks". So, is this a return to form, and will it restore the faith of their fanbase.

Probably. They have definitely returned to their prog metal roots, leaving the more commercial fare of "Monday Morning Apocalypse" behind, something that pacify the grumblers. However, some of the material seems a tad lacklustre compared to earlier fare, making you wonder whether the band actually want to be doing this. There are some definite highlights with 'Broken Wings' and 'When Kingdoms Fail' deserving to be recognised as amongst their best.

The guitars are very much to the fore with the keyboards of Rikard Zander largely serving as seasoning, and Tom S Englund is in fine vocal fettle, but there isn't really anything that makes you think that they're ready to take a step up the metal leagues.

As a return to their roots, it will appease those who've followed them through classics like "Recreation Day" and "Solitude Dominance". But they need to find something a bit more special if they want to reclaim lost ground, although fans of thought provoking, dark hued progressive metal will still find a lot to enjoy.

© Stuart A Hamilton
Rating ***1/2 (3.5/5.0)


Buy From Amazon
---
IHSAHN – 'ANGL'
CANDLELIGHT (2008)





My relationship with Ihsahn's debut solo release 'The Adversary' could easily be described as 'love at first…spin', hence the reason why I decided to include it on my 'best of' list of 2006. Since the day that I first heard that impressive release, rumors of Emperor's upcoming reformation have been circulating with such ferocity and speed that would make even the editors of The Sun (British newspaper of a somehow debatable quality) feel slightly overwhelmed. It is amongst such an electrified climate that Mr. Vegard Sverre Tveitan (aka Ihsahn) has decided to present us with his second solo offering, entitled 'Angl'.

It may be slightly unfair but I think that most music journalists will agree with me by saying that Ihsahn's second solo was in a way 'destined' to be scrutinized by the music media – why? Well, it is not only due to the fact that its predecessor has managed to set such high standards in terms of both only quality and originality, but also because the element of surprise that won us all over the moment we were exposed to tracks, such as 'The Pain is Still Mine', was no longer there.
Having listened to 'Angl' more times than I can possibly remember, I came to the conclusion that, even though it comes across as a continuation of 'The Adversary' in terms of structure and musical direction, moving in what you could describe as 'safe waters', it includes moments of musical brilliance (that you can only choose to ignore at your peril!), thereby becoming a worthy candidate for addition to your CD collection.

Just like its predecessor, 'Angl' kicks off with a mid tempo melodic black metal composition, entitled 'Misanthrope', whose atmospheric keyboard theme and simple riffs are clearly attempting to attract the attention of fans of Emperor, yet the following track 'Scarab' is a testament to the artist's progressive tendencies, as it features an impressive Metallica-sounding guitar solo and a keyboard break that has little (if nothing) to envy from a typical Dream Theater composition.
I remember detecting quite a few influences from Crimson Glory in Ihsahn's first solo effort, especially with regards to his use of guitar melodies, and 'Uphealer' comes as another fine example of how this important influence can work in a more technically demanding musical environment. Mikael Akerfeldt's (Opeth) vocal contribution is responsible for the intense emotional appeal of this six and a half minute composition, making this one of my personal favorites of the album.
'Emancipation' is a very simple composition in terms of structure, yet its smart progressive 'overtones' makes it hard to resist. If your only expectation from an Ihsahn album is to hear rhythmical/melodic Black Metal, then 'Malediction' is the right song for you – I, on the other hand, am looking for something more unique and challenging from an artist of such caliber, so it is quite understandable that it would be the Opethesque 'Threnody', with its beautiful acoustic guitar intro and its numerous progressive guitar/keyboard solos, and the sheer power of the equally atmospheric 'Monolith' that would finally earn my attention.

'Angl' has been a very good companion on my forty-minute drive to and from work during the last couple of weeks, so I feel once again obliged to explain that the reason why it does not score as highly as 'The Adversary' has nothing to do with regards its overall quality or ability to capture the interest of a metal fan. This is an album that I would feel confident and proud enough to recommend to any metal fan without any hesitation. Having said that, I would like to see Ihsahn presenting us with something slightly less 'predictable' in his next release, that cannot come too soon.

John Stefanis

Rating: **** (4.0/5.0)


Last edited Fri Sep 12 09:17:01 2008
---
Motorhead - Motorizer
SPV 2008




So, here we go with studio album number 24 from the legendary Motorhead, a band whose status is assured, and who have reached that point in their career where they are almost beyond criticism. Now, as a fully paid up Motorheadbanger, I'm not going to be the one to start, but this is the third album in a row after Inferno and Kiss Of Death where the band has gone into the studio to be produced by Cameron Webb, and it's virtually interchangeable with them. Which isn't a bad thing, just a predictable one. So if someone asks me what the new Motorhead album sounds like, I can simply reply that it sounds like everything else they've done this century.

Now, I don't want you to go thinking that you shouldn't bother with Motorizer, because it is a good Motorhead album with some truly excellent songs like "Buried Alive", "Back On The Chain" and "Heroes". The latter, in particular, is one of the best songs the band has recorded in the last ten years.
But then, there are throwaway numbers like "Rock Out", with its dreadful chorus, that makes you feel ever so slightly embarrassed. I suppose it's understandable that the band should be chugging away comfortably. After all, guitarist Phil Campbell has been in the band for 24 years and the new boy, drummer Mickey Dee, has been around for 16 years. So, there won't be any surprises when they get together in the rehearsal room.

Some of the songs do sound like they could have been knocked out in half an hour, and it's when they take the time to put a few alternative flavours in that the album works best. After a run of the mill start with "Runaround Man" where they recycle their own "Going To Brazil" riff, things take a step up in class with "Teach You How To Sing The Blues" and "When The Eagle Screams". The latter is the latest in a long line of Motorhead military two-steps. The awful "Rock Out" is next, with the bluesy "One Short Life" also failing to impress.

"Buried Alive" is one of the album highlights and "English Rose" throbs away merrily in tribute to one of Lemmy's nasty girls before "Back On The Chain" revisits the classic "Damage Case" to good effect. "Heroes" is a low down and dirty riff that twists the generic Motorhead sound into new shapes, and is well worth repeated plays. "Time Is Right" just doesn't work for me at all, and has filler written all over it, before "The Thousand Names Of God" ends the album on a definite high.

Did I like this? Of course I did. It's Motorhead, fool. Is it any better than anything they've done since their last true classic, Bastards? Not really. Those of us who acknowledge that Motorhead are the greatest hard rock'n'roll band of all time will get off on it, but it certainly won't convert any non-believers. But for a band who's been on the go for 33 years, it's amazing they can still hit the heights from time to time. As Lemmy says "This is yet another great album from me and the chaps. I think you should get three copies each. Buy it and avoid embarrassment later". And who am I to argue.

© Stuart A Hamilton
Rating ***1/2 (3.5/5.0)


Buy From Amazon
---
**** Out of this world | **** Pretty damn fine |
*** OK, approach with caution unless you are a fan |
** Instant bargain bin fodder | * Ugly. Just ugly