May 2008 Reviews & Interviews
Use ALT and S on your keyboard to continue searching on a particular keyword
---
Grave - Dominion VIII Regain 2008




It's been four long years since the legendary Grave last graced us with an album, but now the legendary Swedish death metallers are back. And, lo, it is good.

As one of the godfathers of Swedish death metal, there is an obligation upon them to produce the goods, and I'm delighted to report that "Dominion VIII" does just that. There's no messing about with the sound, no pandering to the masses, this is straight ahead harsh death metal, with nary a condescension to the modern world.

It's chock full of brutal riffs, dark and dense as a Nordic forest in winter, topped off with vocals from the bowels ov Hell. Which is exactly what I want from a death metal album. Like others, Grave had taken a sideways step midway through their career, but the last couple
of albums have seen them right back on track.

Tracks like 'A World In Darkness' and 'Bloodpath' simply ooze hatred, with the whole band pumping hard, as if their lives depended on it. They may have 20 years behind them, but this is an album to cement their place in the present.

© Stuart A Hamilton
Rating **** (4.0/5.0)

Buy From Amazon
---
BLOODBATH - "UNBLESSING THE PURITY"
PEACEVILLE (2008)

Every fan of Sweden's early 90s Atmospheric Death Metal scene should be aware of the long and strong friendship that exists between Opeth's frontman Mikael Akerfeldt and multi-instrumentalist Jonas Renkse, the man whose voice gives life to the melancholic outfit Katatonia. Well, in addition to sharing the same flat during the early years of both bands' careers, those two musicians have at times shared the same musical vision - a vision that found its expression under the Death Metal moniker Bloodbath.

Akerfeldt offered his vocal services on the band's debut release "Resurrection Through Carnage" (2002) but Opeth's ever-growing popularity since the beginning of the new millennium led the fairly outspoken Swede to part ways with this all-star project. On January 30th 2008 and announcement that Akerfeldt was to rejoin Bloodbath found its way into the band's official website and so started my anticipation for the release of the band's yet untitled third full length album. Prior to that, though, Peaceville Records decided to provide us with a few tasters, one of which is a four track EP entitled "Unblessing The Purity".

I have spoken with quite a few fans of Opeth and Katatonia over the years and it has been a very rare occasion to find a single person amongst them who is willing to treat Bloodbath as anything other than an interesting side project. Well, much as I understand where this attitude derives from, I cannot say that I share similar sentiments seeing as what this band has offered thus far, and continues to do so in "Unblessing The Purity", is top quality US orientated Death Metal with a sound reminiscent of early Entombed.
This very influence is clearly audible in the melodic guitar themes of both "Blasting The Virginborn" and "Sick Salvation" - both of which are 'blessed' with massive Malevolent Creation-sounding staccato riffs that are bound to be appreciated by every extreme metal fan. Akerfeldt's contribution is paramount, 'dressing' the album with such deep-sounding vocals that I had to look back into the booklet of the EP to ensure that it was he singing and not Piotr "Peter" Wiwczarek (Vader).

Fifteen minutes are not enough by any stretch of the imagination to satisfy the hunger of Bloodbath's fans for quality Death Metal but as I mentioned in the beginning of this review, it will not be long before this band will present us with yet another studio album. Now, if what this album has to offer is even remotely similar to the headbanging opus "Weak Aside", the rhythmical theme of which has been playing itself back to me for the last two weeks now, then we are in for a real treat here, ladies and gentlemen!

John Stefanis

Rating: **** (4.0/5.0)
---
The Handshake Affair - Oh, Oh..Get Her In!! SAN 2008




German Screamo? I thought Germans only did True Metal! Oh my god how am I gonna make it through to the end? I have to persevere somehow for the purposes of this review. First of all let me say I don't totally hate Funeral for a Friend, so I have a very small link with Screamo, deep down somewhere. Of course those Welsh boys are at the very polished end of Screamo and as I recall have abandoned the actual screaming altogether on their last CD.

In any case The Handshake Affair are a bit different but I guess musically they are aiming for a similar crowd. Namely the angst-ridden, floppy haired, young boy with black nail polish or am I just being too old and cynical now! I think it's a fair guess. So what about the music here I hear you ask? Well I guess the singer is 'catchy' with his very whiny emo melodies.
The guitar riffs are sometimes heavy and you can tell they are tying very hard to gain a little credibility by using extra weight. The screaming vocals I'm afraid to say are absolutely atrocious and I hate them from the bottom of my soul.
The strange thing about this once seems to be the quite strange use of bleepy 70s sounding keyboard loops. Really quite bizarre and reasonably interesting and I guess that makes them fairly unique sounding at least, if nothing else. Those key loops could have been on a techno or early 80s electro album.

It's superfluous for me to talk about individual songs but there are four of them on this promo CD from S-A-N Recordings and I am hard pressed to tell the difference between them.
Similar stop start riffs are used with some melody, which is fairly nice to listen to, but with the whiny/scream alterna voice doing its level best to nauseate you on top. Without the vocals I could just about get used to the music but the vocals kill my interest stone dead within a nanosecond folks. I guess if you like young screamo/emo bands then THA will also appeal to you. Now please excuse me, as I have to cleanse my ears with some MANOWAR!!!

© Pirage Forsi
Rating *1/2 (1.5/5.0)


Handshake Affair @ MySpace
---
Illuminatus - The Wrath of the Lambs
Pinnacle 2008




A Spaniard, a German, an Italian and an English man from Nottingham set out to brutally, passionately and honestly sing about social and political issues with power and melodic dynamics.

Previously supporting acts such as 'Children of Bodom', 'Dragonforce' and "Nightwish' and several high profile appearances at Bloodstock and Bulldog Bash, the mass of loyal fans have keenly awaited this release with enthusiasm.

With collaborations with rock producers such as "Harvey Birell" (Therapy?/Ministry) and "Pete 'Pee Wee' Coleman" (ACDC/Black Sabbath) it is no wonder why this band has already drawn comparisons with the likes of 'Anathema' and 'Paradise Lost', significantly proving why the band has obtained critical acclaim.

We start the album in a slow dirty sexy 'Marilyn Manson' esque stylie with feelings of remorse and depression which continues through the entire album with rocky dark meaty riffs, resulting in 'Beavis and Butthead' mosh style antics.

Listening to the vocalist that warbles the notes with an over dramatic cringe worthy vocal stretches; my thoughts start wondering that maybe if Christina Aguilera were a man, this is what she would sound like. *shudders*

I have now become depressed from the deep sultry sounds and I can't quite work out what the vocalist is trying to get at. Yet, I am still compelled by the powerful sludgy riffs making the track "The Wrath of the Lambs" my favourite; well, it is instrumental after all! But then, the piano kicks in, which is a nice calm touch and has enlightened me from the earlier depression somewhat. 'Fish' would be proud of this track...and so would my Mum!

If you like Pink Floyd, Marillion, Cult of Luna then this album will find a decent spot in your collection; if you like it a bit heavier; it is still worth a listen but I think it will stay on your shelf gathering dust.

© Fluffmeister
Rating ***1/2 (3.5/5.0)

Buy From Amazon
---
No One Gets Out Alive II - Various 2008

What we have here is a 5-track comp/promo CD from S-A-N Recordings. Each band gets one song with which to impress us and entice us to go to the 'No one gets out alive' Tour which is forthcoming in June.
So what sort of bands are we dealing with here? Well it seems the label is in favour of promoting altena-metal or angst metal favoured by the floppy haired youth of today. That makes reviewing this is a bit awkward for me since I have about as much affinity with alterna or emo metal as a bald man has to a comb! But hey we have to try and rate each band and song on it's own merit.

First up is Croatian band Father with a track called Machina. To be honest it's not doing much for me. It is definitely alterna-metal. It has some ok riffs and the vocals are not too bad. I can't think of much else to say. Korn fans may get into this band.

The Cedar Falls are up next. They have a buzzy guitar tone which reminds me of some fuzzy stoner bands like Fu Manchu or something with a clean and smooth emotional singer who lacks a little power to be honest. Quite a nice track, with a warm and fuzzy feel overall.

Lap are up next and play some kind of jingly-jangly rough rock'n'roll with emo-core vocals. Also slightly punky but with more attitude. To be honest I hated it, but the angsty youth will probably go apeshit for it at a sweaty pub gig.

Disarm from Yorkshire are up next and go against the grain for that county's well known miserable leanings when it comes to metal and rock. They are dirty punk rock not too far off The Stooges I guess. Again I pretty much hated this so you have to excuse me.

Truckfighters provide the final track for us on this EP. They have a very fuzzy spaced out 70s vibe going on in this track called Traffic. The vocals are melodic and melancholic. The main riff is a bouncy little ditty. The band is quite strange and hard to describe as they have various influences but mainly droning fuzz rock with some melancholy I guess would describe it well enough.

You can check these bands and others from the label's roster in late May and June if it sounds like your cuppa. Me? Well I sing from a different hymn sheet altogether!

© Pirage Forsi
Rating **1/2 (2.5/5.0)


No One Gets Out Alive
---
OPETH - "STILL LIFE" PEACEVILLE (2008)

"Watershed", the ninth studio album of the Swedish Progressive Rock/Metal giants Opeth, is without a doubt one of the most highly anticipated releases for this year - especially seeing as its predecessor "Ghost Reveries", the band's highest charting release to date, received numerous accolades from fans and music press alike.
Three months prior to becoming exposed to Mikael Akerfeldt's new 'brainchild', though, Peaceville records decided to remind us of the band's humble beginnings by reissuing Opeth's fourth studio effort, "Still Life" - an album that many of the band's oldest fans perceive as being their absolute best.

I am generally happy to see labels investing in re-issues of albums, providing that the new product features many interesting additions, enough to motivate even the people who already own the original release and I have to say that, when it comes to such endeavours, Peaceville Records is the undoubtable champion!
What we have on offer here is a double disc release, the former featuring the album original recordings and the latter including not only an impressive 5.1 Surround version of the same but also a 2006 live version of the band's all-time classic "Face of Melinda". On top of that, this new digibook features extensive new artwork by the original artist Travis Smith that will simply leave you breathless with both its beauty and high quality.

Now, those of you who started collecting Opeth's music from "Blackwater Park" (2001) onwards, would find no problem relating to this seven track release, seeing as there is quite a similar mentality behind the creation of these two albums. Having said that, though, "Still Life" contains far more complicated and technically demanding compositions than, not only its successor, but also every other Opeth release ever recorded so far in the band's amazing career.
The challenging guitar structures and the amazing musical skills that are clearly audible in "Godhead's Lament" and the jazzy-influenced "Moonlapse Vertigo" clearly justify the band's highly acquired status and the brilliantly conceived main melodies in the epic-proportioned "The Moor" and "Face Of Melinda" have helped these compositions stand the test of time by still being regarded as two of the band's absolute musical highlights.

"Still Life" has everything that a fan of good quality music could ever desire: great concept story (the lyrics are superb), highly challenging and brilliantly performed music and, in this very case, stunning packaging that contemplates all of the album's previously mentioned attributes. Giving the highest possible rating to an album has rarely been an easier task as far as I am personally concerned and I am absolutely convinced that the vast majority of you, readers, will agree with me the very moment you get your hands on this beauty.

John Stefanis

Rating: ***** (5.0/5.0)
---
Venom - Hell Sanctuary 2008




Venom! Where to begin? After all, they are one of the most important heavy metal bands of all time. No question. Not many bands can claim to have invented an entire genre, but that was happened with their debut album "Welcome To Hell".
In the space of half an hour they invented black metal and thrash metal. They even gave the former a name with the follow up "Black Metal". I even went to the Hammersmith Odeon in 1984 for show later released as the "7th Date Of Hell" video. I still get chills up my spine when I think of the 'In Nomine Satanus' / 'Welcome To Hell' / 'Warhead' triple header.

But things started to go pear shaped after their conceptual masterpiece "At War With Satan". The next couple of albums were pallid in comparison, and the original line up started to fracture with guitarist Mantas leaving prior to "Calm Before The Storm".
The less said about Venom for the ten years after that the better, as vocalist / bassist Cronos departed, and their name was dragged through the mud with a series of bad albums. But, 1997 saw the classic lineup reuniting for the excellent "Cast In Stone" album, but it all fell apart again with drummer Abaddon, who had been the sole survivor throughout all the lineups, finally leaving, to be replaced by the brother of Cronos.

Even so, "Resurrection" was a surprisingly good release, but then it was time for guitarist Mantas to leave again. Which left Cronos back in charge of the Venom name, something he seems to enjoy. Even so, it was six years before the next album "Metal Black" appeared, and it really wasn't worth the wait. The live dates were equally disappointing, so I wasn't holding out much hope for this new album, "Hell". It's another new lineup as well, with guitarist Mykvs, who'd replaced Mantas twice, leaving to be replaced by the rather disappointingly named Rage.

But, what do you know? This is absolutely splendid! I did not see that coming. Naturally enough, there is nothing new or groundbreaking about this release, but Venom have finally managed to tap into that aura of evil that carried them through the early eighties.
Some of the songs are good enough to fit onto the classic albums with the raw energy of ;Straight To Hell,' 'Hand Of God,' 'Armageddon' and 'Blood Sky' quite astonishing for a band of their vintage. Sure, the album does overstay its welcome, and could easily have been trimmed down from thirteen to ten tracks. Nobody would have missed the likes of 'Stab U In The Back' or 'USA For Satan.'

Even so, this is one of the nicest (evilest?) surprises of the year. And don't go running away after the final track - there's a surprise waiting! Altogether now;

"Look out beware, when the full moon's high and bright, in every way I'm there, in every shadow in the night, cos I'm evil in league with Satan"

© Stuart A Hamilton
Rating ***1/2 (3.5/5.0)

Buy From Amazon

---
MY DYING BRIDE - "AN ODE TO WOE"
PEACEVILLE (2008)

Generally speaking, I am a person that loves surprises - only the pleasant ones of course, and that is exactly what I perceive to be the most accurate way of describing My Dying Bride's latest live CD/DVD release "An Ode To Woe".
While the Yorkshire outfit is currently in Manchester's Futureworks studios working on the successor to 'A Line Of Deathless Kings", which is to become the band's 10th studio album, Peaceville found the opportunity to release yet another impressive product of this unique band - one that will not only satisfy fans of Atmospheric Metal, as each of the bandís unique products seem to do, but also one that will make the anticipation of the release of the new album slightly more bearable.

When it comes to live recordings, most bands seem to believe that what they ought to be doing is to present their listeners with products of 'impeccable quality' - quality that you can only really associate with studio recordings. The result of this strategy is that when you finally get to see one of these bands in a live environment, the tears that will eventually fill your eyes are not of joy for having witnessed a unique show, but the result of sheer disappointment.
The show that was recorded at Amsterdam's legendary "Paradiso" venue for the purpose of this release, on the contrary, is not only representative of My Dying Bride's amazing live skills but also comes across as an honest release whose few insignificant Ďimperfectionsí (keyboard intro in "The Cry Of Mankind") only add to its overall charming character.

A comparison between "An Ode To Woe" and the band's previous live effort "The Voice of The Wretched" (2002) will certainly favour the former and understandably so, seeing as it is clearly a far more complete and impressive release. Not only does it provide you with both an audio and video version of the show, the latter including as bonus track the band's early classic "The Forever People", but also presents the buyer with a better quality digipack format, beautiful artwork and the lyrics to each song - quite an unusual thing for most modern live albums.
As far as the set list is concerned, what you get is a balanced presentation of both old & new classics by the bandís new but very tight line up so the fact that three of the presented compositions, namely "The Cry Of Mankind", "The Snow In My Hand" and "She Is The Dark", were also included in "The Voice of The Wretched", should not be seen as a negative thing.
These crowd-pleasers have managed to blend perfectly well with killer performances of most recent classics such as "Catherine Blake", "Thy Raven Wings" (perhaps my favourite moment of the show) and "The Dreadful Hours", reminding me that I will have to wait till September this year before I enjoy a similar experience as part of an attending audience.

The only thing that I found this live album to be lacking is a positive participation by the Dutch crowd, but having seen quite a few gigs in beautiful Holland, I know that this has more to do with the way these predominantly tall Europeans tend to express themselves rather than with band's performance.
Had this album been recorded in a country like Greece or Spain, the crowd would have almost certainly added that extra 'ingredient' that would have enabled me to give "An Ode To Woe" the highest possible rating, but even so there is no reason why you should not enjoy this live product of a band that has been dominating the interest of fans of Atmospheric Metal for the last twenty years!

John Stefanis

Rating: ****1/2 (4.5/5.0)
---
SEPTIC FLESH INTERVIEW

There are very few bands capable of returning after a five year hiatus with a new album as inspiring and mind-blowing as Communion°®, and that is why the Athenian-based Atmospheric Death Metalers Septiclesh featured at the very top of my interview list.
Having been informed by people at Season of Mist, the bands current label, that a face to face interview with members of the band on the night of their London show as support act to Vader would not be possible, I decided to e-mail a few questions to them °V questions that were kindly answered by the bands guitarist/vocalist Sotiris Vayenas.
If you are interested in finding out about the ingredients that make up the (so far) °•best album of the year, in my opinion, then read on!

By John Stefanis

Hi there, Sotiris - I am very happy to be conducting this interview with you, seeing as I never thought that I would ever see this band active again. Can you please explain the reasons that made you decide to get back together again after an absence of five years from the music scene?

Sotiris V: It seems it was a harsh decision to try to put Septic Flesh aside from our lives. When we decided to disband Septic Flesh we wanted to do different things and pursue personal objectives. With the passing of time and as a lot of personal goals were achieved the pressure was less. And we got together again. When we started writing material together we felt great and the result was powerful. So the decision was easy then. Of course a big role was played also by the fans that were always loyal.

How would you describe the reaction of the fans and the music industry towards your re-formation? Some people believed that the participation of the band at the Metal Healing festival back in February 2007 was a 'testing of waters' - was that indeed the case?

Sotiris V: Not at all. At first it was supposed to be a one time show, just that we would have the chance to play together again for our fans and enjoy the moment. But as the festival was announced many months before it actually happened, during that middle period we had already decided to reform the band for good, had signed to Season of Mist and even composed the majority of the songs of Communion°®. As for the reaction to the new album, it is simply fantastic both from the critics and the audience.

The alteration of the band's name to Septicflesh indicates to me a certain need for change, yet it also betrays a desire to stick to certain past elements that are related to this outfit. Can you please give us the interpretation behind this change?

Sotiris V: The meaning is the same. The change is visual and at some point symbolic. It is a kind of statement that we are together again and this is phase two.

Re-inventing yourself as a band has to be a very weird process, especially for an outfit with the history of Septicflesh. Do you find that your working relationship and overall collaboration has improved a lot, especially in comparison with the old days? Was it hard to establish new 'balances' between yourselves?

Sotiris V: No. Actually we all felt as there was no °•between time at all. We havent changed so much as individuals and we always had a strong bond. There were no hard feelings and that was important. Now musically speaking, we have matured with the passing of time and now we can create more bizarre stuff and yet keep the songs to the point.

"Communion" can only be described as an amazing release, so many congratulations for managing to bring such a demanding musical effort to life. When did you first started working on the new material? Do any of these compositions relate in any way to the idea behind your project 'Aenaos' that was announced back in March 2007?

Sotiris V: No. Aenaos has a different musical approach as the songs are developed around the clean vocals. The music is more Heavy Metal oriented. Although Seth proposed to use a specific song from Aenaos, I believed it would be more proper to create the songs of the new Septicflesh album together, combining our strength. So we started working the material right after we announced the reunion and signed with Season of Mist. It was a long but fertile process. We experimented a lot, creating various versions of the songs with different orchestrations, until we reached the final result.

The band's line up consists of many well-established composers. Were these nine compositions the result of a combined effort by every single member of the band?

Sotiris V: Communion°® is definitely more the work of a team, instead of the product of one mind. All the members of the band are efficient composers, including our new drummer Fotis that besides introducing his bombastic yet technical rhythmical style, he also gave musical ideas and even riffs. Of course we all have our kind of speciality in the band concerning the ability of creating specific moods. The combination of our ideas is what makes the final result so multidimensional.

As I mentioned in my review, I believe that "Communion" as an album will satisfy both the band's old and new fans alike. As a band that's committed to constant evolution and progression do you find this to be a difficult task to achieve?

Sotiris V: It is not something easy but it is damn exciting. We like challenges and we love to push ourselves beyond limiting perceptions. Gladly, Communion°® managed to satisfy our loyal fans and, as it seems, it is also a good introduction of the band to a wider new audience.

There is not a single song in "Communion" that I found not to my liking, but I have to admit that I was completely mesmerised by the 'charms' of the more epic sounding compositions, such as "Anubis" and the breathtaking "Persepolis". Can you please explain the idea behind these two compositions and give us a few tips as to how they came to life?

Sotiris V: Ok. Anubis°® is a song that as a theme, I conceived during my visit in Egypt, on a trip that I managed to do last summer. An interesting note is that the idea of having also melodic vocals in the song actually came from Fotis. When he first listened to the basic material of the song he expressed the opinion that I could try my stuff°® on the specific point of the song. At first, I thought that the song was good as it was, but later gave it a try to see what would happen.
After a couple of days I presented the song to the others, with the new vocal input and everybody felt that it was right on the mark. Regarding Persepolis°®, we worked it as if it was a kind of movie soundtrack. When I listened to the raw music ideas of Seth for the song, my mind was tuned to the specific timeline and place.
And then Chris worked the orchestrations and divided the music lines to specific instruments that provided a more epical and dramatic colour to the result. We used my lyrics as a kind of script and tried to combine the various mood changes portraying specific emotions. It was a very interesting process and an intense experience.

The involvement of a full orchestra and a 32-singer choir is indeed a very important ingredient of the album, still all nine compositions are predominantly metal in nature. Are you happy with the analogy between orchestral/metal arrangements and how likely is it to allow more space for orchestral arrangements in the band's future releases?

Sotiris V: Our aim was to create a good balance between these different sound elements. The result is solid and we like that. It doesnt sound flat, it is extreme and yet you can still listen to all small details. I cannot imagine about our future sound.
We always work a lot our ideas before reaching the final decisions about the overall result. We dont say Lets make an orchestral song°®. We just know from the beginning that we can use efficiently a wide range of instruments to represent our musical ideas and then we base our choices on what actually works the best for the song.

Employing such a great number of extra musicians for the recordings of "Communion" must have cost you a lot. How did you manage to do that without blowing your budget out of proportion?

Sotiris V: We were very well organised in order not to waste time and money without reason. The arrangements were worked over and over and finalised in our home studio many days before the recordings on Prague. So Chris knew exactly what to ask and how to obtain it from the classical musicians. He is very experienced in this kind of music and he had the control of the situation all the time.

The studio that you chose for the recording of your seventh full-length release was Studio Fredman in Sweden - home to bands of a more 'commercial' approach to music. What was it about this place that made it the ideal recording 'haven' for "Communion"?

Sotiris V: We feel good working in this studio and Fredrik is simply one of the best of his kind. After so many times working together we have built a good communication between us and he knows how to make the things we demand to work out. I think the production of Communion°® speaks for itself.

How long did it take you to record "Communion" and were there any special methods that you found quite helpful in achieving the much-desired final result?

Sotiris V: The recordings of Communion°® lasted about a month. The much desired result was achieved simply by working, working, and working.

I believe that songs like "Persepolis" definitely deserve the support of an equally impressive video. Do you have any such plans lined up for that specific or any other composition?

Sotiris V: We have some proposals for a visual project although not specifically for this song. There are many songs in Communion°® that are proper for visualisation as Lovecrafts Death°® or Anubis°® for example. Of course, in order to do something different and impressive we would have first to obtain a sufficient budget.

From what I saw on the Season Of Mist website, you have so far made arrangements for quite an extensive European tour. How are you planning on re-creating the quite rich sound of the album in a live environment? I assume that bringing on the road a large number of musicians, such as the ones that participated in the recordings of "Communion" is 'Mission: impossible. Are samples going to do the trick?

Sotiris V: Exactly. We are not rich enough to carry around Europe hundreds of people with us. So the samples do the job and they do it fine. There is no lack of atmosphere in the shows, on the contrary.

Throughout the above tour, you will be sharing the same stage with old school Death Metalers Vader and the equally experienced members of Devian. Are you happy with the 'package'?

Sotiris V: Yes. It is a good combination. All bands have their core audience and the members of the bands are compatible persons fitting well together.

What we all want to hear is that "Communion" is to be the new beginning of a new era for Septicflesh. Do you think that it's too early to answer such an important question?

Sotiris V: The most proper thing to say right now is that we aim Communion°® to be the landmark of the new era in Septicfleshs history. After some months we will have a more objective picture.

Sotiris, I really wish you all the best - thanks for creating such an amazing album for us to enjoy! The last words are yours.

Sotiris V: Here we are, back from the dead. So enjoy Communion°® and the pleasures of the Flesh!
---
The Fall The Rise - Interlopers
Revolver 2008




Birmingham based; The Fall The Rise, formed in 2004; hell bent on recording music they enjoy playing with a passion and intensity. The album title 'Interlopers' derives from how the band feels amongst the current Birmingham music scene.

The first few tracks are melodic and catchy with deep drum bass kicks and dirty larynx cries. The track " Bite Your Tongue and Walk Away" has been already been air played by the likes of Radio 1's Zane Lowe, MTV2 and Rockworld TV only proving a promising start to a first release.

As the album continues, I can see myself enjoying the sun at a festival with a beer in hand, yet maybe half way through the set (or half way through the album), I would become slightly bored and agitated with the repetitiveness tones throughout each song and the difficulty to keep up with the continuous tempo changes; making it hard to get into. On one occasion, I did have to skip the track 'Angel Inside All Of Us' before I went quite mental.

With a harmonic and melodic voice like Martin's; sang and recorded in a Deftones style, the backing vocals of the screeching reminds me of pain, making me feel sorrow, despair and redemption; only proving Martin's versatile vocal range and achieving the band's musical purpose in the first place.
This album has already been compared to the likes of 'Deftones' and 'Reuben' (which is a very fair comparison) but chuck in a little early 'Lost Prophets' and 'Incubus' for good measure with a little more heartfelt emotion and harmonies.

A good first release with plenty of time for the band to mature, yet my pure judgement will remain sustained until I hear these guys live. You cant judge a band severely until you have given them a fair ride and considering the band hearts belong on stage, pounding out their anthems live, I'll give them a chance.

© Fluffmeister
Rating *** (3.0/5.0)

Buy From Amazon
---
Hate Squad - Deguello Wartunes
Dockyard 1




Well I must admit this is my first acquaintance with self-styled H8 CORE crew Hate Squad so I am not sure what I am letting myself in for. Well I have a vague idea but until you press play you can never really be certain about these things can you. I have had a "hate hate" relationship over the years with anything 'core' related I must admit, but even I have to admit that KSE makes cool tunes!

However this Hate Squad is a mile away from the radio friendly metalcore that those guys peddle. My immediate thought is that it sounds like a slightly more angry and confrontational Agnostic Front/Sick of it All mix with beefier guitars and loads of thick distortion. The good thing seems to be that the vocals are not aggravating me at all and normally my main problem with core bands is the horrible ranting vocals.
This chap seems to tone down the OTT screaming for a reasonable heavy and angry growl. Another good thing is that HS definitely have some metal bones in them deep down somewhere underneath the tough-guy hardcore posturing. Some of these riffs wouldn't feel out of place on a Late Pantera or Sepultura album. They also know a solid groove when they lock on to one to make the punters want to move and I can imagine their gigs being total mayhem!

Rise Up is a typical hardcore " rallying cry" tune I guess with a cry of "Rise Up!" to the youth - in amongst rampaging and roaring stomp riffs with a thick metal edge. Killing Spree follows with fast to mid-paced hammering riffage which again is highly palatable and results in involuntary nodding along. Not bad at all.
At the end alone is next track and doesn't do much for me to be honest. Heavy and slow with lumbering riffs which are not really catchy in any way, shape or form. Anger from the gutter gets things back on track with a nice mid-paced riff that will get your cranium shaking back and forth like there's no tomorrow. Although the chorus part is not so great the song on the whole has a very slight Slayer vibe which always helps to keep the metalheads happy!
The song has a heavy breakdown towards the end. Thankfully the breakdowns throughout the album are not totally redundant. Another of my main problems with metalcore is the constant break up of flow within songs with the dreaded chug chug breakdown rearing it's ugly head on a regular basis.
HS however seem to balance it pretty well with the faster to mid paced sections and their breakdowns are not come inducing like some bands I could mention.
As the album progresses the band seems to run out of steam a little though. I don't want to call them a one dimensional band, but there is only so much you can do within this style and HS do it very well but maybe by the end we are getting the picture so to speak. As far as HS Core goes I guess they are probably the best exponents of the art and have a very savage no prisoner taken attitude.

As a pure metal fan that normally likes melodic music I must admit that HS are a decent band that the more open-minded metalhead can enjoy given the right mood. There is nothing immediately aggravating or annoying about it at all and it is peppered with enough tasty riffs to keep the metalhead in me fairly happy.
Sure the fans of melodic or true metal would probably rather listen to something else but if you have some aggression in you that you need to work or are in the backyard and feel like flexing your biceps with a few tough-guy poses, this Hate Squad album will help you achieve your aim!

© Pirage Forsi
Rating *** (3.0/5.0)

Buy From Amazon
---
Machinery - The Passing Regain 2008




Machinery hail from Sweden and therefore you already expect them to have a certain level of quality judging by that nation's level of metal credibility, and overall I have to admit that they don't let their side down on their new platter, The Passing.
They have quite a mix of influences to their brand of metal. Let's call it a melodic thrash base with some slight death leanings and hints of progression in the keys and textures within the songs. I'll mention some bands that they sound like. Scar Symmetry, Communic, Nevermore, Evergrey and Annihilator. So plenty of relevant and cool influences and quite a wide spectrum that might gain them fans from across the board of metalheads.

The album starts with a bang with a heavy song called Cold, which reminds me a lot of Nevermore mixed with Evergrey. The vocals are heavy but with a melodic edge especially during the soaring chorus.
The band incorporates moody sections into their songs that build dark atmosphere very much in a similar vein to Nevermore. They have managed to acquire a solid production as well and I expect nothing less really from a Swedish band aiming for this congested market. As we delve further into the album we reach the melodic death metal-based songs which showcase speedier, thrashier riffing and heavy yet understandable growls which are not bad at all.
The album is quite diverse in this sense, with heavier sections interspersed with more melodic pieces to create a nice overall pattern between slower, heavier, melodic speedy and aggressive. The use of keyboards in the songs is also pretty nifty indeed and highly enjoyable by my reckoning. Adding a nice texture to fill out the songs with depth and colour. The lead guitar throughout the album is also very tasty and melodic.
The song Dead Man is blessed with quite an emotional chorus delivered with passion and power by the vocalist who delivers great melodies in this song. I will mention the final track as being the best track on offer on this CD. Waiting for the wave is a wonderful track with high class instrumentation reminding me of older Evergrey. A great way to close the album with a powerful, high quality song with a progressive edge and wonderful melodic vocals.

The band's song writing is pretty good and it's a really solid effort by these guys but they need to hone their song writing skills a little more to match the mentioned bands. They have it in them to make a really great album instead of a really good one that they have managed.
The singer can also improve a little bit to create more memorable melodies that remain embedded in your brain for longer. I believe Machinery to be a great addition to the melodic power/thrash school and should have quite a wide appeal amongst the metal spectrum.
The quality in the band is without doubt unquestionable. They have the technical skills and a decent production already under their belts and can only improve further from here. It is merely a matter of time before they release an unstoppable album in the future, however as things stand they are already challenging their peers and surpassing them.

© Pirage Forsi
Rating ***1/2 (3.5/5.0)

Buy From Amazon
---
WASP! - Blackie Lawless Interview

Scream Until You Like It! A Conversation with Blackie Lawless

Interview by Cameron Edney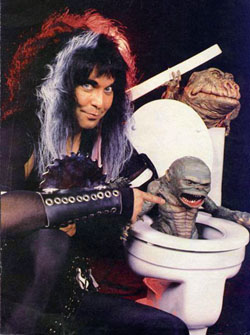 Growing up in the eighties I can never deny that I was influenced by many of hard rockís most notorious, aggressive, and outrageous bands. After school I would come home and listen to bands such as MŲtley CrŁe, Kiss, and W.A.S.P. for hours, mimicking movements from the bands video clips and singing along with every word.
There is no doubt that all three bands mentioned had a massive influence on my life growing up and after many years of admiration I was about to speak with one of my all-time favourite vocalists, Blackie Lawless.
Like many of you, the video clips for ĎI Wanna Be Somebodyí, ĎLove Machineí and ĎBlind In Texasí changed my life and pushed me into a musical direction that opened the door to many new and exciting rock and metal bands of that time. I never imagined the day that I would get to speak to Blackie or ever witness the band live but that is all about to change as Blackie brings W.A.S.P. to Australia for the very first time.

W.A.S.P. formed in 1982 when front-man Blackie Lawless contacted long-time friend and guitarist Randy Piper after writing what he thought was more than enough material to start something new, fresh and exciting.
Soon after the bands first line-up was complete W.A.S.P. started playing club shows and gathered a following of fans which have stuck by them through the rough and tough times and have enjoyed the roller coaster of emotion poured into each and every album!
During the bands earliest shows Blackie was known to tie up half naked models to a torture rack and throw raw meat into the audience, W.A.S.P. gained notoriety for those historic liver performances and sexually explicit lyrical content.
The bands self titled debut album was released in August 1984 and spawned the metal classics I Wanna Be Somebody, The Hellion and On Your Knees. Originally titled ĎWinged Assassinsí the debut album sold reasonably well even though the bands first single ĎAnimalÖ Fuck like a beastí was omitted from the album by the U.S. record label who feared the album wouldnít be stocked in major chain stores.

Throughout the years W.A.S.P.ís been slammed by the critics, theyíve been called everything from grotesque to pathetic and even satanic. In 1986 the Parentsí Music Resource Centre, which was founded by then Senator Al goreís wife Tipper went on their own witch-hunt.
The P.M.R.C. had listed what they were calling the 'Filthy Fifteen' and on the hit list were bands such as Twisted Sister, Venom, Judas Priest, and W.A.S.P. The P.M.R.C targeted these groups for a number of reasons including lyrical content, sexual and violent images and promoting Satanism. W.A.S.P. was a band with balls, a band that lashed out at Tipper Gore by writing the song ĎHarder, Fasterí which is featured on the bands 1987 album ĎLiveÖ In The Rawí This wasnít the first time that W.A.S.P. would encounter these kinds of accusations nor would it be their last!

Since the band formed in 1982 their band has undergone many line-up changes but the formula for hard hitting rock Ďní roll as always remained the solid driving force behind the bands front man Blackie Lawless.
Last year W.A.S.P. announced the Crimson Idol fifteenth anniversary tour which for the first time in the bands history would see W.A.S.P. taking to the stage to play the Crimson Idol album in itís entirety. I recently caught up with W.A.S.P.ís Wild Child to discuss the bands most recent album ĎDominatorí, dealing with the critics throughout the years and what the band has instore over coming months.

The time has come to join ĎThe Manimalí, ĎInside The Electric Circusí. I give you none other than Mr. Blackie Lawless.

Cameron Edney: Hi Blackie, hows things mate!

BLACKIE LAWLESS: Iím good thanks, yourself?

Cameron Edney: Iím well mate and honestly really excited to be talking with you tonight. I have been a massive fan of your work for more than twenty years and I really want to thank you for taking the time out to speak with me tonight!

Cameron Edney: I believe that you will be playing ĎThe Crimson Idolí album in its entirety, as well as a greatest hits set. Can you tell my why fifteen years on you have decided to go back and reflect largely on ĎThe Crimson Idolí album?

BLACKIE LAWLESS: Well, as you said it was the fifteen-year anniversary of this and we had never done it in itís entirety before. A lot of the reasons for that was you want to wait for the right moment, you donít want to do it two or three years on after youíve just toured it. You want to put it to bed and move on with the other things you are doing. Some of it had to do with the technical aspects of it, there was technology that exists now that didnít then which enabled us from doing it. At the same time, I knew something that the average person didnít when it come to this. People would stop me and say 'hey man, are you ever gonna do that record in its entirety live'? What these people did not know is that we had shot a full-length film. In my mind, it wasnít complete until that film accompanied it.

Finally, I felt the time was right and I went in last summer, spent a couple of months editing it, and got it ready to go. It was certainly one of the most gratifying things Iíve ever done. Once it was edited I went into our first day of rehearsals, and we had this giant screen behind us, we were playing the songs and I turned around and started watching the film and I became the spectator.
It was the most rewarding experience; I got high off it and couldnít believe it! This sounds exactly like the record when you hear it and we went into preproduction to make sure that a lot of the little things are right! We took the samples off the records of things we couldnít do live like the orchestration. When you see it and hear it, itís pretty amazing. So many times in our lives we fantasise how somethingís gonna be, but it never ends up being exactly what you wanted, this was exactly how I thought it would turn out.

Cameron Edney: Well, speaking of the movie which is accompanying the ĎCrimson Idolí music on this tour. Once the tour is completed can we expect to see the full-length movie finally released on DVD?

BLACKIE LAWLESS: I hope so, there is still some more filming that we want to do with the band, and there is some stuff that weíve shot already. I will just say in short yes, but we are looking into something right now that is going to be interactive, and itís a little complicated to go into right now. Iím looking to see if what I want to do can be done, if it can, it will be revolutionary!

Cameron Edney: You have been playing all over the world in support of ĎThe Crimson Idolí anniversary and you just finished a run between Canada and the United States. How have the fans been responding to the shows thus far?

BLACKIE LAWLESS: You never know when you do something like this! Nobody has ever done anything like this! Bands use videos and have the giant screens but this is a full-length movie! The best way I can describe it is to think of it like an old silent movie with a keyboard player in the front accompanying the movie, well in this case the band is that keyboard player!
Weíre standing in front of the screen like silhouettes, you donít see a lot of us until the second half of the show, when we come back and do the best of set. We can see the audience quite clearly. We see them really well in ways we were never able to before because we donít have the light in our eyes. You can see the reactions and itís quite strange when you see people night after night in the audience crying, watching this movie.

Cameron Edney: Blackie in regards to the film and the way these shows have been set up, will the camera and mobile phone policies be the same here in Australia as they have been throughout the European leg of the tour? I was aware that you had policed these restrictions more on this tour over any past W.A.S.P. tours!

BLACKIE LAWLESS: Yeah, until this is released in a proper way we donít want any of it out. When people show up and they try to do there own thing, the quality is so bad and we spent a lot of money on this, it was almost half a million dollars putting this together and I want it portrayed in the proper and professional way!

Cameron Edney: Blackie I want to talk to you a little about the latest album ĎDominatorí, looking back now, is there anything you would have changed?

BLACKIE LAWLESS: No, I think itís a really good record. Itís the shortest record weíve ever done as far as time to record it. I wrote the whole thing in a month. Going from something like ĎThe Crimson Idolí or ĎThe Neon Godí, which are challenging records that beat you up mentally, approaching ĎDominatorí mostly, was the whole idea of what I had gone through with ĎThe Neon Godí. I just couldnít face that again, Iím not gonna pull that donkey uphill that donít wanna go, Iím just gonna write and let whateverís in me out.

Cameron Edney: More of a straight edged hard rock album!

BLACKIE LAWLESS: Yeah and when I did that it just poured out of me! I took all of the pressure off myself. I said 'donít think, just write', and it was just an amazing little experience!

Cameron Edney: After all these years of writing and recording how do you constantly come up with new fresh sounding material without falling into the trap a lot of other bands do by repeating themselves?

BLACKIE LAWLESS: Well, you have to look for whatever it is that gives you inspiration. For me on this record it was all about the subject matter. The subject matter tells you a lot about where youíre going to go.
I approach these songs as mini movies, especially when I come up with a title first. When I came up with the concept of ĎHeaven Fell on Blackí, I had heard the story, and it pretty much wrote itself. Iím not too sure if you are familiar with where the title came from?

Cameron Edney: No mate, actually I donít know. Tell us about it!

BLACKIE LAWLESS: During the American Civil War, there was a famous battle towards the end called Gettysburg. Gettysburg was a three-day bloodbath. When Abraham Lincoln got the casualty reports there were over fifty thousand casualties in those three days.
He looked at the report at the end of it and his quote was 'tonight surely the heavens fell on black'. I heard that and thought, wow, what an eloquent way of stating this horror. To me looking at the idea of the song, once the title was in place the song wrote itself like I said.
I twisted the concept a little bit, I took it and put it in a modern day setting. If it was a solider in the Middle East someplace it says, ĎI cant take anymore, I have no more wings' whatís happening is the solider is dying, and heís somewhere between heaven and earth trying to get into heaven. St Peterís telling him 'I canít take anymore'. So depending on whose point of view youíre looking at, wether itís the soldier saying I canít take it anymore, then thatís the emotional strength, but if you look at it where St Peterís telling you he canít take anymore, heís saying he has no more wings, in other words thereís no more room! The soldier in the chorus says 'donít leave me to die' and to me thatís symbolic of what happens when a country turns it backs on it people.

Cameron Edney: Are you currently working on any new material?

BLACKIE LAWLESS: No, weíve got so much on our plate right now; Iíve turned that off in my head. I learnt something when I made ĎDominatorí and thatís not to try and get too far ahead of myself.
Iíve got a couple of things that Iíve been threatening to sit down and play with but I have resisted it because our schedules full for the next two years, filled with things that we are gonna do!

Cameron Edney: And what of those plans can you share with us today?

BLACKIE LAWLESS: Well, we do the summer festivals in Europe. When we get back we are going to film for the Dvd for the band stuff. We are looking at a box set that hopefully we will have out next year, which will be an anthology. That will take us into the summer festivals next year, then we will be doing a world tour after that, so our futures laid out until this time 2010.

Cameron Edney: Speaking of the Box-set Blackie, as youíre probably aware over the last twelve months Kiss have released three Dvd box-sets which showcases various shows from 1973 up til now. As well as different memorable TV appearances and so forth. Can we expect something like that to come out showcasing those special W.A.S.P. shows from the last twenty-five years?

BLACKIE LAWLESS: No, what Iím talking about is purely audio! There are things that we did a long time ago that people have never heard.
We demoed the first album four times before we recorded it for real! If I had to do it over again, I would have told EMI that we were not going to re-record it that last time. I would have gone with the demos because they are far more representative of what we were as a band at the time. They are far more aggressive, brutal, and ruthless.
When you do an anthology yes it has the highlights of your career, but I wanted to put more into it than that! I wanted to show people where it really came from! There will be outtakes of other things as well from where the career has progressed. I want to make it as complete as a musical discography could be!

Cameron Edney: Mate lets take a trip down memory lane! You grew up in New York with Ace Frehley, what comes to mind when you look back on those early days?

BLACKIE LAWLESS: I guess probably the first thing is the two kids you just mentioned there, whatís the chances of one of them going on to be an international act much less both of them! Thatís pretty strange.
One thing you learn after you have been in this business for a long time is you hear the expression one in a million get a record deal, when in reality itís more like one in ten million.
From that one in ten million that does get a record deal, only two percent of them will ever make any real money and to do that you really have to have a long career. There is so many ways that you can get ripped off in this business. The chances of making any money and surviving are really very slim. When I think of that, in context of your original question, for one kid or in the case both of them to come out and survive that itís almost impossible.

Cameron Edney: At the age of nine you got your first guitar, and was getting paid to play in your first band! Blackie how the hell does that happen!

BLACKIE LAWLESS: Well, starting out I was going to be a drummer, but after about three months my parents decided that I was not going to be a drummer [laughs].

Cameron Edney: [Laughs]

BLACKIE LAWLESS: My brother had a guitar in his room, and I used to sneak in and he was never playing it so I figured I would put it to good use. There were some other guys in the neighbourhood that were playing who were a year older than me and we discovered that we could make money playing little parties and things like that [laughs], we were on the road to riches.

Cameron Edney: Looking back at that time period, most kids want to grow up and be fire fighters, or superheroes! At that time did you know that music was what you wanted to do for the rest of your life, did you ever imagine that 30 - 40 years on you would have music as your major source of income!

BLACKIE LAWLESS: Oh never, you fantasise about it, but that was always something that someone else did. Thatís not something that you can do! I was nineteen when the idea hit me that yes maybe I could do it. Youíre always told growing up, 'no you canít do that, and somebody else will do that'! I remember the thought had popped into my head and I figured, why not!

Cameron Edney: Blackie, I want to talk to you about life on the roadÖWhatís the most ridiculous thing you have ever asked for on a tour rider?

BLACKIE LAWLESS: [Long pause] Wow!

Cameron Edney: Has there been that many [laughs]?

BLACKIE LAWLESS: [Laughs] No probably none, we donít really get into that kind of stuff, weíre pretty simple!

Cameron Edney: Wow, I have always thought of W.A.S.P. as being these crazy guys, especially back during the eighties, holding these crazy parties and indulging in all the backstage debauchery you could handle!

BLACKIE LAWLESS: The thing that used to get promoted the most was ten bags of cement, and the promoters could never understand! ĎElvisí which is my big microphone stand, had a massive base, and whenever we were in America or when weíre in Europe we used Olympic size weights that fit into the bottom of it, I mean the base weighs close to 400 kilograms. When weíd go to places where we didnít want to take the weights we would ask for bags of cement! The bags would fit in the base real well and to me weight is weight.

Cameron Edney: Can you remember the hardest time youíve had as an opening act?

BLACKIE LAWLESS: The thing that stands out the most and I donít think this qualifies as being too hard, but what comes immediately to mind is when we were on our first U.S. and Canadian tour, we opened for Krokus. Krokus werenít particularly kind to us! We were in Canada and had done a couple of shows with them already, and I was walking backstage past there dressing room and I can remember someone saying, 'what about those W.A.S.P. boys' and everyone would start laughing this went on for about six weeks.
So I went into our dressing room and I told everyone what I just heard. On the last night of the tour, the drummer from Krokus came up to me during sound check and wanted to shake my hand. I turned to him and said 'why'? He replied 'because you kicked our asses on this tour'! Now, it was nice of him to do that but the thing is, you have to understand somethingÖ before saying something like that, he first had to think it.
Then get over that hurdle to actually approach you and tell you, that shows what kind of hurting you put on them! They came unglued because we were killing them on merchandising. That is something we learned along time ago. If you want to know how good you are doing on a bill with other people, look at your merch! Your merch will always tell you how well youíre doing.
Even on the first couple of tours that we did with Kiss, we murdered them in merchandise sales. It isnít like Krokus gave us a hard time, they just didnít respect us! When we first started to be frank with you, we were not a band that you wanted to mess with! We would hurt you! One thing a lot of people donít realise about us is when W.A.S.P. first started we were influenced by punk!

Cameron Edney: In other words, when you took to the stage and in your mind you were thinking f**k you all, we will show yaís!

BLACKIE LAWLESS: Oh yeah! What we were doing musically and visually didnít put it across too much, but our attitude was punk all the way! We were pissed off, we were mad at the world and that was what was coming across.

Cameron Edney: As a fan over the years I have collected many bootleg shows from various tours but nothing has ever come close to the ĎLive At The Lyceumí video. What comes to mind when you look back at that show!

BLACKIE LAWLESS: It wasnít until about four or five years later, I was in a club in the U.K. one night and part of that video was being played. I hadnít seen it for years, I stood there, and I was stunned watching it! We had just finished Headless [Children] and were getting ready to release it, so my head was in a whole different state to when we had just started.
I could never figure out why we really frighten people, and I donít mean in the way of the big monsters coming to get ya! We frightened parents, and we didnít know why it was happening like that!
From our point of view we werenít trying to be that way, it was just the way it was! It wasnít until I looked at that film that night and I could then for the first time in my life see what had been frightening parents! The thing that got me watching it was the brutality and realism that came off. You were looking at guys that were pissed off at the world.

Cameron Edney: Speaking of horrifying parents, whatís the craziest rumour you had ever heard about yourself and or the band?

BLACKIE LAWLESS: Oh wow, there are so many of those, I wouldnít even know where to begin with that! Weíve done this so long; so much of that stuff goes through one ear and out the other. I only really remember that stuff when someone is around me and they go hey man remember when such and such said this and that! Thatís when I remember those things cause there has been so much of it!

Cameron Edney: Well, letís go back to late 83 - 84 when you were copping a lot of slack for being satanic, I guess for the first time this was becoming a huge problem because of the PMRC had so much influence in Washington and they were really on a campaign to bring down bands such as W.A.S.P., Twisted Sister and even Madonna. When you hear rumours like that for the very first time, how do you react! I mean, do you get all pissed off about it or do you laugh it off and say, this is great publicity, these idiots are helping us sell another million albums!

BLACKIE LAWLESS: The best way that I can describe that is that it wasnít the first time that we had heard it, but once that whole Washington thing really heated up, I remember we were somewhere in America, it could have been West Virginia and we were on television every single day!
Somebody was going on about something and after a while it became really silly. Chris [Holmes] and I were sitting on a bus one afternoon watching TV and he looks over to me and says 'whatís the big deal all about'? I looked at him and I remember telling him 'I donít know'. We didnít understand.
For that to make sense, you have to go back seeing the ĎLive At Lyceumí video four years later, we just didnít get it! We were just being us! It wasnít until we had seen the world a couple of times and had morphed as a band, and had taken it in a few different directions that we could see the hostility.
This is a whole separate interview to be honest with ya! Naturally it never came off as pretentious, we didnít see why it was having the effect that it did, after four or five years I came to understand it. I guess thatís the best way to be! Without being pretentious youíre just being yourself and that was obviously jumping off the stage at people.

Cameron Edney: These issues never seem to go away though, last year there were problems in Norway where the local politicians tried to get the promoters to censor part of your show, does it bother you that the mainstream media and the politicians always jump over you for something negative, with accusations of being satanic and yet they rarely talk positively about the music?

BLACKIE LAWLESS: Well, there just sound bites! I can understand them, I really can. One of the things that got me early on, if you go back and you look at out career was when we first started and we were doing that show back in the beginning.
To me, I was doing social comment. I was holding up a mirror to the world and saying this is who you are and if you donít like us, itís because you donít like what you see in the mirror. I quickly found on that first world tour that I was seeing things from a sound bite point of you that I had never seen before.
I had never really dealt with the media, and what was happening was that people were listening with there eyes and not there ears! When I discovered that, I became quickly disillusioned by it all. If you look back on our career we didnít do that very long because I didnít feel like my message was getting across.
When we did Headless [Children], people were coming up to me and saying, 'Oh, youíre this socially conscious band'. [Laughs] 'Not really, nothings really changed'. 'What I have done is created a simpler message that Iím now hitting you over the head with'! Anytime you are going to do something a little different and raise your head above the crowd, you are always going to get people that just wonít understand it!

Cameron Edney: Blackie, there is no doubt that W.A.S.P. played a large role in influencing me musically and you have had a massive impact on many hard rock and metal bands. Who have you been surprised to learn is a fan of your work?

BLACKIE LAWLESS: A lot of the death metal bands, but I couldnít understand why. I donít see the connection!

Cameron Edney: Blackie having a career that has lasted over twenty-five years is nothing short of incredible! Why do you think you have lasted so long in an industry that see so many artists come and go?

BLACKIE LAWLESS: Whether itís us or any other band or artist that has been able to last that long, itís usually because of the music! You can look at any performer and say that person has 'it', we donít know what 'it' is, but you know it when you see it.
Itís the same thing with music you know it when you hear it. It all boils down to the quality of the music, being able to present it properly too and having talent, it all adds up! If I was given the choice in having the worlds greatest band and no songs or a mediocre band and a lot of great songs, then Iíll take the ladder.

I remember the first time we went to New Orleans, I would walk by all of the jazz clubs, and there were all of these unbelievable musicians playing. It freaked me out, I would say why me? Why was I get plucked out of the bunch?
These people could play circles around me! I have always thought that I was never the best at anything; I was pretty good at a lot of things but never 'The Best'. I always tell anybody that comes to work with us that the difference between proís and amateurs is that the proís hide there faults a little better.
Do what you do great and show that to the world, but donít show them anything thatís not great. If you show them anything that looks good, good by comparison to great still looks mediocre.

Cameron Edney: Mate I only have a one more questions for ya, who is the one band you never want to hear again and why?

BLACKIE LAWLESS: I canít put my finger on it, cause I donít know the names of them but a lot of the stuff that comes out now, college orientated bands that are out now, turn on the television, the crap that you see with guys who have no clue. I scratch my head and go who the hell signed this and how did they get this far! Cause you know that theyíre not gonna be around in six months.

Cameron Edney: Blackie, I really appreciate you calling me so late tonight mate and again, it has been an absolute pleasure speaking with you!




© Cameron Edney 2008

For more information and news on Blackie and W.A.S.P. head over to the following websites

http://www.waspnation.com
http://www.myspace.com/wasp
---
Perzonal War - Bloodline AFM 2008




It's a shame, really, but nowadays, with so many bands out there, being good is often not good enough. Because this is a good album, and Perzonal War are a good band. But would you cross the street to buy it? Possibly not. The German thrashers have been on the go for over 10 years now, and this is their sixth album, without them ever becoming BIG.

They're a lot more melodic than they were back in the day, with all the rough edged thrash having giving way to a smoother sound. At their best - 'Utopia', which features Victor Smolski from Rage - they combine the harder and softer elements to their sound exceptionally well. But a lot of the songs drift past without making too much impact.
But they are well respected and apart from Smolski have got Wiley Arnett from Sacred Reich, Schmier from Destruction, former Grip Inc man, Gus Chambers and Manni Schmidt from Grave Digger making appearances.

Folks who are into the the likes of In Flames and Soilwork will find a lot of common ground here, and should check out 'Dead Meaning' first, if they want to ease themselves into Perzonal War. Incidentally, since the album was recorded they've lost guitarist Sascha Kerschgens and found Daniel DŁring.

© Stuart A Hamilton
Rating *** (3.0/5.0)
---
Illdisposed - The Prestige AFM 2008




Bone-splintering brute force and engrossing rhythmic intensity unite in the unholy alliance that is "The Prestige".

Possessing aural brutality akin to that of a crude medical instrument cleaving apart a human sternum, it is a matter of limited surprise that Illdisposed's malignant masterpiece, "Dark" featured on sadistic, blood-spattered horror flick, "Saw" (2004).

The face-melting, experimental ingenuity, characteristic of the band's 2006 release, "Burn Me Wicked", has witnessed still further evolution of dramatic proportions. Though few may have deemed it plausible, Illdisposed's newly refined brand of death metal is at once heavier and more melodically ambitious than ever anticipated.

A chilling howl signals the impenetrable guitar-driven onslaught of "Let Go". Melody and brutality seethe back and forth at sound barrier-chasing pace until one element can scarcely be differentiated from the other.

Loaded with dark infectious grooves, punctuated by vicious, mercenary blast beat precision, "Like Cancer" boasts a rhythm section as tight as a noose around a convict's throat. "Weak Is Your God" is particularly distinctive in its rhythmically astounding structure.
Vaguely reminiscent of early In Flames track, "Moonshield", Illdisposed's macabre, waltz-like creation successfully reconciles cast-iron bass with agile riffs to revolutionary results. A faithful homage to the demoniacal origins of the metal genre, chants of "666" and eldritch cries of "Lucifer" contribute the final pitch black cherry atop this supreme offering of lethal, melody-infused extreme metal.

Faye Coulman
Rating **** 1/2 (4.5/5.0)

Buy From Amazon
---
Edenbridge - MyEarthDream Napalm 2008




Hurrah! A power goth metal concept album. With an entire orchestra! The Czech Film Orchestra to be exact. With bouzouki! Excuse me while I wipe away the drool.

Yes, mononomenclatured Edenbridge mastermind, Lanvall, has really pulled out all the stops here, on their sixth studio set. Just so you know, "MyEarthDream" deals with our earth and its ability to open itself up to the higher energies that are filtered through the human mind. Which is all hippy claptrap to me, but who cares when the music is this powerful and forceful.

Thankfully, I got to listen to four while tracks before the dreaded voiceover arrives to remind me that I am listening to the new Edenbridge album. And those four tracks are nigh on faultless, with Sabine Edelsbacher in fine form, especially on my favourite 'Remember Me'.

The closing, title track, may well be their finest achievement to date, a six part prog metal epic which, when I get to hear it properly, I anticipate becoming a life long favourite.

Stuart A Hamilton
Rating **** (4.0/5.0)

Buy From Amazon
---
Bloodsimple - Kyle Sanders interviewed

Kyle Sanders - Bloodsimple / Medication / Skrew

Interview by Cameron Edney

Forming in 2002 originally under the name Fix 8, Bloodsimple soon gathered a legion of following and devoted fans in the United States and throughout Europe. Over two short years Bloodsimple had rehearsed and honed there unique sound, whilst touring with bands such as Mudvayne, Slayer and Superjoint Ritual.
Soon after Mudvayne vocalist Chad Gray signed Bloodsimple to his record label ĎBullygoat Recordsí and the band hit the studio to record the debut album ĎA Cruel Worldí with Producer Garth Richardson best known for his work with Testament, L7 and Nickleback. To promote the debut album Bloodsimple did what they do best hit the road once again, touring non-stop with bands such as Otep, Static-X and Six Feet Under.

Bloodsimple which features Tim Williams and Mike Kennedy from Vision of Disorder, Bevan Davies from Danzig and Kyle Sanders from Skrew, has grown from strength to strength over the last six years, but it hasnít always been smooth sailing.
The band has had five drummers to date and you canít help but think of Spinal Tap references when you see those figures. Last year Bloodsimple released their second and most brutal album to date ĎRed Harvestí.
An album that shows just how much Bloodsimple has grown and developed overtime and are now one hell of a metal force to be reckoned with! Fresh off their successful U.K. Tour with Avenged Sevenfold, Bloodsimple will embark on their first Australian tour, teaming up with the legendary Biohazard and Korn as well as newer metallers Throwdown and Chimaira. I recently caught up with Bloodsimple bassist Kyle Sanders to discuss the bands latest album ĎRed Harvestí. Kyle also shared his thoughts with us on fans downloading his music and much more.

It is time to get ĎWhiskey Bent & Hellboundí with Kyle Sanders

Cameron Edney: Hi Kyle, how are you mate?

KYLE SANDERS: Iím doin great man, how are you!

Cameron Edney: Mate I do want to speak to you more in regards to life on the road but for now letís talk about the latest album ĎRed Harvestí, no doubt the bands best work to date! Looking back is there anything you would have changed.

KYLE SANDERS: Not really, we took a lot longer in the studio writing this time. On the last record we had ten songs and just went into the studio, recorded them and that was that!
This time, we took a long time and weeded out a few of the songs that we felt werenít good enough. It was a harder cut for the songs to make it on this album, and once they were all laid down we were really happy with them. I think that itís the best album we have done thus far!

Cameron Edney: When you prepare to do an album such as Red Harvest, what comes first the lyrics or the music?

KYLE SANDERS: Usually itís all of the music but sometimes Tim [Williams] will have backlogs and journals, diary entries and he may take some of those and make them fit to a song or he will just write for the music. Mostly the music does come first but some of the lyrics could be older depending on if they fit and what kind of a mood he is in!

Cameron Edney: What equipment did you use on the new album and how long did it take to lay down all the bass tracks?

KYLE SANDERS: We were so prepared; once we were finally ready to record I did everything in 2 - 3 days. I laid everything down and played around with different sounds. After it was recorded we even re-amped it! We played the tracks through different amps, to give different effects and tones to the songs. But as far as laying it down I knew what I was doing so I just knocked it out!

Cameron Edney: In a few words tell us what comes to mind when I mention the following tracks from Resurrection:

Dead Man Walking: One of my favourites, it seems to be a fan favourite too. Even for fans who havenít heard it before. Half way through playing this live, fans will be singing along, or trying to sing along. Itís really heavy and Timís vocals are awesome. Itís a good direction for the album, ĎDead Man Walkingí kind of sums up a lot.

Killing Time: This is actually one of the first songs that was written. It was one of a few songs that we changed in the studio. We re-wrote a whole verse and initially didnít know if it was going to make the final cut.

Whiskey Bent And Hellbound: This is an amazing song, itís different and very hard to categorize. Timís vocal style is borderline spoken word; dialogue! Iíd love to see the band going in this direction more. It breaks and covers a lot of ground for us too!

Cameron Edney: Even though the new album has not been out that long, are you working on any new material for the next album?

KYLE SANDERS: Well, we have all been home now for about five weeks and everyoneís going stir crazy! Weíve been talking about writing not necessarily an acoustic ep, but something different and more scaled down. Weíre coming up with some ideas for a new record to put out between tours. We have been talking about getting together before or after the Australian tour.

Cameron Edney: Kyle, Bloodsimple formed back in 2002, what comes to mind when you look back on those first rehearsals together?

KYLE SANDERS: It was pretty crazy, there were a lot of loose songs written between Tim and Mike [Kennedy], or Nick and Mike writing together. When I hooked up with them, the songs came together really quick, we got out there!
No-ones into wasting time, so we found a label that would put it out and started touring right away, which is what this band loves to do! It was a really different time back then, there was no one helping us out financially, and we are all so spread outÖ I live in Atlanta and the other guys live in New York.

Cameron Edney: In 2004 the band signed to Bullygoat Records which is founded by Chad Gray, tell us how that all came about?

KYLE SANDERS: Itís funny he was actually on the other line when you called inÖ he was friends with our original drummer Chris Hamilton, who played on the first record. Chris would always feed him demos and Chad was really into what we were doing. Mudvayne did a one off show in Philadelphia and we came up and did the show with them, and blew them away live.
Chad was there sayingÖ 'Thatís it; I have to get you guys signed'. So he decided to start a label, but he didnít even have the whole deal. He started the label but didnít have any distribution. He got the Warner Brothers deal, and then took our stuff to them, and they were into it, it all came together at the same time really.

Cameron Edney: Can you remember the hardest time youíve had as an opening act?

KYLE SANDERS: You knowÖ weíve been pretty grateful crowd wise. We have played with a lot of different bands. We played with Slayer in Germany and I really didnít know what to expect cause back in the day Slayer fans didnít give a shit about anybody else.
Things have changed as far as that goes and we went over great with the crowd. Our album wasnít out at that stage and we really didnít know what to expect. Thankfully I havenít had any bad times onstage!

Cameron Edney: Have you ever had any problems with customs?

KYLE SANDERS: Itís insane, but itís harder to get into Canada from the United States than anywhere else. If you have stuff on your record, in Canada it never goes away! If they have files on you from twenty years ago and you donít answer them in specific details they can turn you around and send you right back!

Cameron Edney: You have shared the stage with some great bands. Who have you enjoyed touring with the most & could you share a funny road story with us from the tour?

KYLE SANDERS: I think one of my favourites was when Alice in Chains got back together and we toured with then back in Europe two summers ago. I grew up on them and never imagined the day that I would be playing with them. That was pretty amazing! Unfortunately Layne wasnít around with us, Layne was a huge influence on Tim as well. We toured in Europe with Mastodon as well and that was great being on tour with family.

Cameron Edney: Using only five words: How would you describe the band live?

KYLE SANDERS: Weíre gonna fuckin kill you!

Cameron Edney: As a bass player, do you do anything specific to warm up and prepare for a show?

KYLE SANDERS: A few shots of whisky and some noodling around for thirty minutes before we get onstage.

Cameron Edney: Mate, what would you say have been your greatest achievements to date?

KYLE SANDERS: That Iím still playing and making ends meet. Especially in this day and age with record labels and record sales that are in the shitter. There are a lot of bands that you see just drop off the radar. I can see how a lot of people have and Iím just thankful that I am still playing and touring. Iím barely making work and it can be a struggle but itís my passion so I really have no choice.

Cameron Edney: Letís talk about album sales and the record companies for a moment. As you know yourself, these days record companies are working in a very different way to how they operated fifteen years ago, and sales are at all time lows due to the increased number of downloads. Kyle, what is your take on this downloading and file sharing? Do you think it hurts artist like yourself or do you look at it as a great way to get your music out to so many more people around the world?

KYLE SANDERS: Itís a double edged sword. Of course I hate it because itís taking away our income, I mean you donít make a lot of money on record sales anyway, but with sales down and everyone downloading it youíre not making anything. Another example is our new record is not out in Australia yet and the only way to get it is on import. If people in Australia didnít download it they wouldnít know anything about it. I get a lot of emails from people in Australia that love ĎDead Man Walkingí, and Iím sitting here going 'how the hell did you get that'?
Itís awesome that you did at least youíll know the new songs when we come down there. It definitely gets us out places it normally wouldnít. We are fine with it right now, we need to find new means to make it work, as long as people still come to the shows and people still support music! I want to be out on the road, so as long as they come to the show, thatís fine with me.

Cameron Edney: Well actually, thatís what I was just about to say... with a lot of the older bands, many have mentioned that yes there record sales are down, but they are getting more and more people in the venues to watch them play and there merchandise sales are higher then they may have been 10 - 15 years ago. Is that something that you notice? Even though the album sales may be down are there increased numbers attending the shows?

KYLE SANDERS: Yeah the shows are amazing, we just did a little tour in the U.K. with Avenged Sevenfold and every show was sold out, every tour we do here wether it be in a club or a larger venue every show is packed. Itís a great feeling and its still alive and kicking but record sales arenít. The labels are really the ones who look at that, they look at the numbers and if you arenít selling records that how so many bands get dropped!

Cameron Edney: Dude, we have hit that part of the interview where our readers get to find out a little more about you and growing up! What is the one album that changed your life?

KYLE SANDERS: Back in the early days probably Metallicaís ĎRide the Lightningí then ĎMaster of Puppetsí. After that the next album to have an impact was Janeís Addictionís ĎNothing Shockingí. That album threw me through a loop and changed everything around again.

Cameron Edney: Who was the first band you witnessed live and how much of an impact did it have on you musically?

KYLE SANDERS: The first band was Kiss when I was a little dude, and I was blown away to see something on that scale. I didnít know what the hell was going on, all I knew was whatever theyíre doing, Iím going to do that!

Cameron Edney: Growing up did you always envision yourself as someone who would be in the music industry or were your goals very different?

KYLE SANDERS: Oh no that was it. That was the only thing for me! A lot of people would say you need to have something to fall back on and have something secondary and there is a little truth to that but then again I was growing up where failure is just not an option. I donít want to have anything to fall back on, this is what Iím going to do for better or worst!

Cameron Edney: As many people would be aware your brother, Troy Sanders is the bass player of Mastodon, tell us what it was like growing up together, at any stage did either won of you consider playing another instrument, or was the bass always the weapon of choice?

KYLE SANDERS: No we didnít, and if we had known how hard it was going to be later on we probably would have [laughs]

Cameron Edney: [Laughs]

KYLE SANDERS: It was weird, we are four years apart, I was getting into high school when he was getting into middle school and we had different friends and what have you, but we always remained tight although we were off doing our own thing! Troy picked up the bass after me, I had taught myself and he basically did the same thing!

Cameron Edney: Whatís the craziest rumour you had ever heard about yourself and or the band?

KYLE SANDERS: Oh letís seeÖ thatís a good one! I got an email saying that I died on tour. I did the research, ad found there was someone else in a band on tour with the same name, and I donít remember what had happened but they had died and people had mistaken me for him!

Cameron Edney: Dude I want to thank you again for your time today.

To keep up with all the latest news on Bloodsimple, head over to the following websites

http://www.bloodsimpleband.com
Official Bloodsimple Website
http://www.myspace.com/bloodsimple

© 2008 Cameron Edney


---
Motorhead Tribute - Sheep In Wolves Clothing Motorheadbangers 2008

By the time you read this I will be able to go "yah boo sucks" as this is an extremely limited 500 copy edition, only available through the venerable and esteemed Motorheadbangers' Fan Club. That'll teach you.

It's so well respected they've even managed to wheel in a few well-known faces with assorted ex Motorhead bods among the cast.

Mad Dogs get things off in fine fashion with an electronic country take on "Capricorn." The less said about Sweet Zeros awful version of "1916" the better. Much better is ex- Curved Air vocalist Sonja Kristina whose 'interesting' vocal style works on an acoustic "I Don't Believe A Word."

A bit of history next as Mick Farren revisits his own "Lost Johnny" for a dirty-blooze- meets-Alex-Harvey take in the company of a new Deviants lineup. He even managed to drag one Philthy Animal Taylor out of the pub long enough to play the drums!

One time Blue Oyster Cult drummer Albert Bouchard joined with original Soft White Underbelly singer Les Vegas as The Underbelly to turn in a jazz meets George Formby version of "Back At The Funny Farm." Really, it's true.
Bridget Wishart nearly ruined Hawkwind for me during her tenure. Here she ruins "Ace Of Spades" in the company of the normally impeccable spacerockers Spirits Burning. Way to go. Listen carefully, though, that's Daevid Allen of Gong on guitar. However, I love the crazy-ass psych folk version of "Orgasmatron" by Hobbyhorse.

The irredeemably shambolic verion of "Damage Case"' by Lissy Abraham is oddly compelling. Why, I have no idea; perhaps it's the belief that enthusiasm can outweigh talent. I once saw ex-Hawkwinder and long-time Lemmy impersonator Alan Davey play a show with his Motorhead tribute band in the clubhouse of a golf course in Lanarkshire. The four of us who were there thought he was great, so it's no surprise that he psychs up "Stay Clean," and comes out a winner.

The CD goes out with a bang as Motorhead's wee sisters Girlschool take time out from its 30th anniversary to contribute a version of "Metropolis," not only drenched in Astralasia- type dance beats but with Fast Eddie Clarke dropping by to fire out a guitar solo.

A fabulous CD, so well done to Head Motorheadbanger, Alan Burridge for putting it all together.

Stuart A Hamilton
Rating **** (4.0/5.0)
---
---
**** Out of this world | **** Pretty damn fine |
*** OK, approach with caution unless you are a fan |
** Instant bargain bin fodder | * Ugly. Just ugly