U.D.O Mastercutor AFM Records (2007)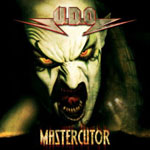 If the name UDO means absolutely nothing to you, then you have definitely visited the wrong website! Apart from being the original, and in my humble opinion best/only, frontman of Accept, the short German with the amazingly powerful voice has released eleven studio albums under the name UDO, the latest of which is only about to be released and is entitled "Mastercutor".
Even though I have spent many years indulging in the pleasures of albums such as "Breaker", "Balls to the Wall", "Metal Heart", "Animal House" and "Timebomb", the last UDO release that ever found its way into my hands was 1999's "Holly". Why? Only God knows - the fact remains, though, that I am given the opportunity to get back on track and see what the "grandmaster" of Heavy Metal has been up to these last eight years, and a couple of spins of his latest offering were enough to make me realise what I have been missing.
From a band that has Stefan Kaufmann as guitarist you expect nothing less than powerful cut edge Heavy Metal riffs, and believe me when I say that you can find such riffs in large numbers throughout this album. On the other hand, the strength of this album lies not only in the fresh/crystal clear production, but, most importantly, in UDOs decision to strengthen their classic Heavy Metal composition with modern elements.
Surely any dedicated fan of Accept will enjoy compositions such as "The Instigator" and "Vendetta", both of which feature some of the most catchy riffs of the album, but the Blind Guardian (at parts) sounding same-titled composition, together with the oriental-influenced "The Wrong Side of Midnight" will definitely raise quite a few eyebrows.
Then comes havoc: the flamboyant opening riff of "Master of Disaster" sweeps everything in it's path and together with "Dead Man's Eyes", they present the heaviest moments of the album; these are songs whose musical direction could be compared to Judas Priest of the "Jugulator" era. Finally, the classic ballad "Tears of a Clown", together with the quite emotional "One Lone Voice", both of which contain some really beautiful cello tunes, allow UDO to use his full vocal range and prove why he is considered to be among the best Heavy Metal vocalists.
I have only had a copy of "Mastercutor" in my possession for a couple of weeks and already I have listened to it more times than any of this month's other releases. Modern and innovative, but with roots that are embedded in a highly fertile 80sHeavy Metal soil, this twelve-track album will generate new interest in UDO. An absolute must have!
****½
Review by John Stefanis
---
| | |
| --- | --- |
| | Print this page in printer-friendly format |
| | Tell a friend about this page |