ROGER CHAPMAN One More Time For Peace
Mystic Records MYSCD200 (2007)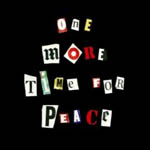 'One More Time For Peace' finds Roger Chapman the fiery rebel rousing front man in an introspective mood. Where once there was a sheep like bleat of a vibrato, there now is husky whispered approach that eloquently brings to life some colourful metaphors. For after all these years it would appear Chappo has finally cast aside some of his demons, sat down with old mate Jim Cregan and come up with a whole new way of showcasing his prolific writing style.
It probably has long been a sense of some frustration to Chappo that his lyrics have often been overlooked by a combination of his aggressive singing style, and his tough take on rhythm and blues. But going back to his days in Family and certainly as evidenced on mid-career albums such as 'Walking The Cat' and 'Hybrid & Lowdown', he's always been able to string together more than the odd couplet.
Indeed Chappo's penchant for the humorous twist, and colourful adjective is given full reign on a very rootsy outing. Check out the clever half rhyme that completes the chorus on lyrically evocative 'Heading Back To Storyville': 'Cos I'm a mover. On the edge of the Wild Frontier,now I'm heading Back To Storyville'
If you can imagine the husky vocals of the contemporary Dylan, the country flavour of The Byrds, the rootsy feel of The Band and the occasional fleeting glimpse of Chapman's rocker times, all essentially spun out in an acoustic whirl of fiddles, mandolin, slide guitars and judicious piano, then you have an idea of the essence of Roger's back to basics style.
Beautifully produced by Jim Cregan, 'One More Time For Peace' will nonetheless divide fans. In truth Roger's unique vibrato is not what it used to be, but he's cleverly written a back to the roots album that highlights his excellent writing, and facilitates his croaky delivery. This album should be appraised as more than just the proverbial slow burner, if only because there really is so much great playing, clever arrangements and so much lyrical imagery to digest
Of course being Chappo, he does have his movements of frisson notably on the opening growl of the Gospelly 'Oh Brother, Take Me!' and on the magnificent arrangement of 'Devil Got a Son' on which the angular violin lines and tough funky rhythms are reminiscent of Streetwalkers. The repeated abrasive chorus is very catchy, and Roger slips into a characteristic rap reminiscent of his 'Toenail Draggin' days.
But in truth those two outings are the exception to the rule as for the most part this is a supremely well crafted album that hangs on a collection of stripped down songs, rather than on his previous hard edged bluster. On the Byrds influenced 'All Too Soon', Roger delivers the heartfelt lines,
'A pocketful of big ideas & the thrill of being young
Remember you may live or die by what you first become
All too soon you'll wonder why and all too soon it's done'
which are neatly constructed on an intricate interplay of acoustic guitar, mandolin and Henry Spinneti's brush strokes.
'Hell of a Lullaby' is another album highlight which features a keyboard generated, brass band style intro and finds Chappo phrasing his lines Tom Waits style over a organ and a crisp rhythm track. The very catchy chorus features a subtly arranged synth generated counterpoint, which bears the hallmark of producer Cregan.
For the rest there's some Western Swing on 'All Night Paradise', the waltz time feel of 'Naked Hearts', a country tinged title track, and a swampy Dylan influenced 'Sweet Bird'. More remarkable still is 'The Same Old Loving Feeling' which is a straight whimsical love song. The closing 'Jerusalem' is given a simple plaintive reading, a million miles away from its oft found ecclesiastical setting. It's testament to Roger's song-writing prowess, and to the inner core of this album that his songs are every bit as good as this timeless hymn.
****
Review by Pete Feenstra

Interview
---
| | |
| --- | --- |
| | Print this page in printer-friendly format |
| | Tell a friend about this page |