MARDUK Rom 5:12 Regain Records(2007)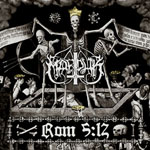 Marduk was not amongst the first names that come into in my head when asked to name my favourite Black Metal bands, mainly due to the fact that, even though I always found their aggressiveness quite attractive, their musical approach did sound quite mono-dimensional and predictable to my ears. My impression of the band's capabilities changed significantly, though, as soon as I got introduced to their 2004 release "Plague Angel" - an album that enabled the outfit to come across as capable of investing in more atmospheric and melodic compositions without sacrificing their unique character.
Was this impressive release destined to signal a new beginning for the Swedish quartet? Well, the ten compositions that are featured in the band's latest opus "Rom 5:12" definitely seem to indicate exactly that!
Two of the main factors, apart from Morgan Hakansson's trademark riffs, that contributed in my appreciation towards "Plague Angel" were Magnus "Devo" Andersson's beautifully arranged bass tunes and the deep epic-sounding vocal themes, courtesy of the band's latest frontman Mortuus. Well, in "Rom 5:12" both musicians seem to have been given more space to reveal their amazing capabilities and that contributed to this being the most varied and impressive release that Marduk have released so far in their career.
A great example of this new approach can be found in the opening track of the album, which is entitled "The Levelling Dust". Based on a mesmerising mid tempo riff, this atmospheric composition may not be the typical Marduk album opener, yet it is based on the same influences (see Burzum and Bathory) like many of the band's earliest songs. Fans of early Marduk will rejoice after getting introduced to the hyper speed riffs of "Cold Mouth Prayer", yet the greatest surprise comes with the amazing "Imago Mortis".
What we have here is a mid-tempo composition based on a groovy riff and a melodic refrain that many Doom/Stoner band's would give their right arm to have been able to compose - an approach that only a band like Satyricon has so far dared to invest in.
Other similarly inspiring compositions are the slow/atmospheric "Accuser/Opposer", which features a vocal performance from Primordial's Alan Nemtheanga and the Doom Death opus "Womb Of Perishableness" - both of which stand out due to Mortuus' unique vocal contributions.
Again, if you cannot picture a Marduk album without hyper-fast guitar riffs and double bass drumming, songs like "Vanity of Vanities", "Limbs of Worship" and "Through the Belly of Damnation" should be enough to quench your thirst.
I have to say that, even as I put down these lines, I still cannot believe that Marduk would ever become capable of releasing an album such as "Rom 5:12". Black Metal has evolved a lot since the early 90's and it is up to the oldest and wisest of bands to move things to the next level, and you know what...it certainly looks like Marduk are going to be amongst them!
****½
Review by John Stefanis
Interview
---
| | |
| --- | --- |
| | Print this page in printer-friendly format |
| | Tell a friend about this page |