HELLOWEEN Gambling With the Devil SPV (2007)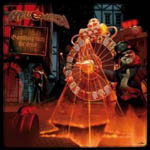 Helloween are back and after 'Keeper of the Seven Keys III' this album sees a return to on the whole shorter, catchy tunes. Saxon's Biff Byford starts the album off with a spoken word intro before we are off with a classic Helloween tune, 'Kill It'. Great guitar solos and vocalist Andi Deris sounds like Rob Halford on this one! The longest track is 'The Saints' clocking in at seven minutes and again the band use their trademark harmony vocals and guitar parts to good effect.
The best song on the album for me has to be 'As Long As I Fall', with its uplifting chorus and the whole tune is driven along by a simple but effective piano motif. Yes that's right a piano used as a lead instrument on a Helloween album! This song is prime time melodic rock.
The three songs 'The Bells of the 7 Hells', 'Fallen To Pieces' and 'I.M.E' are all linked by the theme that life is a gamble with the devil. All three are classic Helloween and will please fans of the band's 80's output and their last few studio albums. 'Can Do It' is slightly pedestrian although you do get swept up in the positive lyric and guitar riffs – it is not unlike Gamma Ray. But 'Haven Tells No Lies' ensures the album ends on a high.
Helloween are happy with their lot and gone are the more experimental days of 'Pink Bubbles Go Ape', although they still pull the odd surprise like 'As Long As I Fall'. A band enjoying their music and the band's fans will enjoy this album I am sure. Make sure you see them on tour as well with Gamma Ray whose guitarist and ex-Helloween member Kai Hansen, will join the band each night for a run through some Helloween classics.
****½
Review by Jason Ritchie
Interview
---
| | |
| --- | --- |
| | Print this page in printer-friendly format |
| | Tell a friend about this page |