AUTOPSY Severed Survival Peaceville (1989 reissue 2003)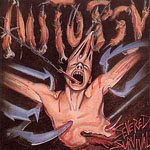 Death Metal is a genre that has gone through many different phases, from times of popular affluence back in the early 90's to a period of almost commercial annihilation during the late 90's. I always believed that the only reason why bands of such musical orientation are capable of presenting us with products of their creativity nowadays is because of the strong foundations that the genre was built upon and one of the bands that deserves most of the credit is the US-based outfit Autopsy. These American noisemakers managed to release a handful of really influential albums back in the early 90's, but it is my humble opinion that none of those managed to reach the same levels of originality and passion as their debut album "Severed Survival" whose review you are about to read.
My introduction to this brilliant album took place when I was at the tender age of fifteen and even though I have indeed been exposed to the music of hundreds of other bands ever since, I can still say that this eleven track release sounds as fresh and powerful as it did eighteen (!!!) years ago. Most importantly, though, the quality of the compositions that are featured in "Severed Survival" is such that makes it capable of competing with the majority of modern Death Metal releases that sound both repetitive and uninspiring in comparison.
As far as the band's musical influences are concerned the names of Death and Slayer will easily come to the mind of everyone who's willing to invest in this release. In particular, Chris Reifert (drums/vocals) and co seem to have based the whole essence of their musical concept on the same patterns that brought to life Death's classic opus "Scream Bloody Gore", yet there is also influence originating from the Punk and Doom scene which will become more evident in the band's future releases. Overall the band's compositions are based on simply-structured, multi-paced guitar riffs which are enhanced not only by Chris Reifert's unique vocals, but also by the display of beautiful melodies many of which originate from the four string bass guitar of the legendary Steve DiGiorgio.
If you believe that it will be an easy task to establish the songs that manage to stand out from that release, better think again! Providing that your musical taste is similar to mine, you will find the groovy mid tempo riffs of "Disembowel" as difficult to resist as the simple melodic tunes of "Ridden With Disease" - which I classify as one of the best Death Metal compositions ever recorded. Then again, the Slayeric solo of "Pagan Saviour" is as impressive as the epic theme of the same-titled composition, and that is the reason why I believe that Autopsy's debut release is capable of providing you with an enjoyable experience throughout its forty-minute duration. I would also suggest that you choose to invest in the 2003 digipack re-issue which includes not only the atmospheric Doom/Death opus "Funereality" (originally part of Peaceville's "Volume 4" compilation), but also "Destined to Fester" & "In the Grip of Winter" - both of which were featured in the band's 1990 EP release "Retribution for the Dead".
Listening to this album again after all these years made me once again realise that the essence and real power of metal is in its simplicity. Autopsy have managed to release a solid album without being either technically explicit or hyper aggressive (based on today's standards), and believe me when I say that it will take a lot of effort before any modern band will manage to release an album worthy of comparison. Invest without fear!
*****
Review by John Stefanis
---
| | |
| --- | --- |
| | Print this page in printer-friendly format |
| | Tell a friend about this page |