12 STONE TODDLER Does It Scare You?
Amazon AMAZCD12 (2007)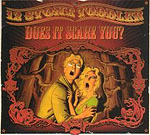 The band's name says it all really, big, seemingly out of control, certainly unpredictable and careering all over the place, but very loveable, and in truth, probably very disciplined as music like this doesn't just happen automatically.
Highly original, musically outrageous, stylistically uncompromising, very spontaneous, but also very tight, Brighton's 12 Stone Toddler are a synthesis of all that's good about contemporary adventurous rock music. And if 12 Stone Toddler stagger from one musical reference point to another they do it is with a self confident swagger born of an interdependent musical excellence, matched only by some left field songs.
Based around the dual song writing talent of bass playing vocalist Chris Otero and keyboard player Ben Jones, 12 Stone Toddler are the sort of band who will potentially appeal to a wide ranging audience, without being dependent on any specific category.
Naturally there are plenty of influences at play both old and new, ranging from 10cc on the potential single 'Candles on the Cake' and 'Tragicomedy', to Blanche on the closing 'The Ballad of Al Coholic' - a song that after a long gap steams into a kind of heavy riffed bonus end piece. The band evoke Reel Big Fish on 'Twang', Rupert Hine's Quantum Jump on the opening, 'Comeback', and manage a three decade fusion of New York's hip Fiery Furnaces and Bath's eclectic popsters Stackridge on several of the album's more idiosyncratic moments.
There's also the inevitable ghost of Zappa lurking behind both some of the musical and humorous twists and turns and quirky lyrical ideas. This connection extends as far as a repeated mock Zappa guitar outro on 'Living a Lie'. Clubbers will love the cutting edge George Clinton style funk of 'Daddy Was a Bad Mother', and the hipsters will sure dig the hot club swing and funky jump blues explosion in the middle of the manic 'The Rabbit'.
The latter is the kind of song that would stretch the imagination of any self respecting video artist, who would surely struggle to put a visual accompaniment to some jack in the box rhythms. Shifting in between rock, funk, and acid jazz, 12 Stone Toddler even find room for some rock balladry on the Prince inspired 'Balloonatics'.
This is a band with an armoury of hard driving riffs, bass driven funky grooves, and some heavy Hammond to augment a wide ranging dynamic that articulates itself in an array of scattergun musical outlets.
What is certain is that the music of 12 Stone Toddler is brimming full of innovative ideas and comparisons with other artists merely highlight the shortcomings of stylistic labelling. This is organic music that refuses to be bound by genre.
On 'Twang', the band extol the virtues of personal liberation with a humorous laissez faire attitude to life, and that is neatly juxtaposed with the accordion intro to 'Ten Thousand Miles Away', a funky little number with deadpan lyrics and a chorus that is mapped by some cool vibes 'Does It Scare You' is an album that demands repeated plays, with dancing shoes at the ready, and brings in a new sense of cool, and a taste of the absurd, complete with lashing of addictive musical passages and hooks.
The 16 page booklet comes with 50's style graphics and clever use of contrasting red and black fonts to highlight the lyrics. And what of the question posed by the albums title, 'Does It Scare You? The answer is a resounding no, but it sure makes you think..and listen! Great stuff, seek it out and by a copy for your friends.
****
Review by Pete Feenstra

Come Back
© 2007 Amazon Records. All rights reserved.
---
| | |
| --- | --- |
| | Print this page in printer-friendly format |
| | Tell a friend about this page |