ZERO HOUR 'A Fragile Mind' The Laser's Edge(2005)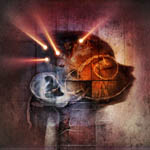 I really love Progressive Rock/Metal music, so the announcement that a new label which specialises in that genre, was to begin providing our website with promos, was greeted with much happiness on my part. You understand, of course, that both my curiosity and imagination instantly started working overtime, and one very important question arose in my mind: would this label have the instinct to discover and promote any good quality bands? Well, it's definitely quite early to come to any serious conclusions, but, if Zero Hour are a classic example of the type of bands that this US label is trying to target, then we are really talking about something special here.
The story of this band begun back in 1993, during times when metal music was going through a really rough period. Even though the majority of the US metal outfits were changing their musical direction by indulging in the popularity of Grunge, brothers Jasun (guitars) and Troy Tipton (Bass) decided to stay true to their classic Bay Area values and formed Zero Hour. Things were definitely not easy for them in the very beginning, and even though it took them five years to release their self-financed debut album, they were rewarded by the very good reaction of the progressive press. Having already released the follow up "The Towers of Avarice" through Laser's Edge in 2001, the four Americans are about to present us with the second product of that collaboration, entitled "A Fragile Mind".
It only takes a quick spin to understand that "A Fragile Mind" is an album whose main influence comes from bands like Nevermore, Fates Warning and Dream Theater, but a more committed listening session will present you with a band of unique character and skills. The good qualities of "A Fragile Mind" are visible from the very beginning, so after one of the shortest intros ever recorded in the history of metal music, the proof to that argument will appear in the shape of "There For Me". I really enjoyed the quite Epic atmosphere of this composition, which resembles that of early-Nevermore and even Memento Mori, so voting it as one of my personal favourite songs of the album was quite an easy decision to make.
From that point onwards, and for the next thirty five minutes, I was given the opportunity to take a trip through many different "musical worlds", courtesy of the Tipton Brothers, but also of a very talented and promising vocalist by the name of Fred Marshall, and I am happy to say that I had a really great time! There is not a single song in this album that sounds average or boring, still the more technical/complicates compositions such as "Destiny in Sorrow" "Brain Surgery", "A Fragile Mind" and the mind-blowing melodies and smart vocals arrangements of "Losing Control" help them, only just, to stand out from the remaining compositions - a true sign that what I am holding in my hand is indeed an amazing effort.
I consider my introduction to this album to be very important, mainly because it allowed me to discover another band that I can easily become obsessed with (devious laugh). Zero Hour deserve your utmost attention, and seeing as "A Fragile Mind" can guarantee many hours of quality entertainment, I urge you to get your hands on it straight away - albums like this don't come out very often, you know!
****½
Review by John Stefanis