TORTURE KILLER Swarm Metal Blade (2006)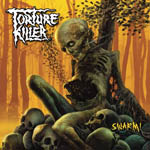 Who said that miracles cannot happen nowadays? Well, if your "spiritual" perception of things makes you unable to relate to such a concept as miracles, then the story of the Finnish Death Metal outfit Torture Killer will probably sound more like a classic fairytale to you, rather than the cold/everyday reality that most young metal bands have to face in their daily lives.
What started four years ago as a project of a few young musicians, motivated by their need to play covers from their favourite Six Feet Under albums, has quickly evolved into a full time band - a band that proudly features Chris Barnes (Six Feet Under, ex-Cannibal Corpse) as their frontman! Now, I can see why some of you might think that Torture Killer will not have to worry so much as to how they will promote their second full-length release, but I don't think that a popular name such as that of Chris' is enough to secure success for any band- it is all up to the quality of the music, and in this case the music is damn great!
The quintet's intention was to play straightforward, groovy, mid-tempo Death Metal and they did that with great style and finesse! One of the main features of the band's music is without any doubt Chris' unmistakable vocals, but one must be completely deaf in order not to understand and appreciate the great guitarwork that's featured in every single song of this album!
Classic Obituary/Six Feet Under/Bolt Thrower mid-tempo dynamites such as "A Funeral For The Masses" & "I Killed Yo" go hand in hand with faster-pace killers such as "Obsessed With Homicide" and "Heading Towards The Butchery", and that makes "Swarm" an album that few Death Metal fans will manage to resist!
An extra point must surely be given to the quite Gory album cover, which brought back memories from the early Cannibal Corpse days, and the really good American-sounding production, which was handled exclusively by Chris Barnes!
I really don't think that there is anything else left to say about this release in order to convince you that you must freely invest in it. I was hooked on this album from the very beginning, and the fact that none of the ten compositions is a filler helped me give it the high rank that's featured at the very bottom of my review. It looks like Bolt Thrower are finally facing some serious competition!
****
Review by John Stefanis