TENDERHOOKS Devil Rides White Horses (2006)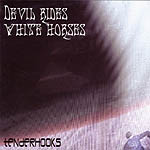 Tenderhooks is the alter ego of a singer-songwriter producer who chooses to market his output through a Jim Morrison meets Gorillaz animated character who lives at www.tenderhooks.info.
The first thing you wonder is why? Who the hell is Tenderhooks, where does he come from and what inspires him? All we know is that the music is a fusion of rock, pop, blues, and experimental.
To be honest I was expecting the worst. But there's something about Tenderhooks that is makes you want press the repeat button. It's a potpourri of contradictions. There's strong late sixties influences, but equally you can hear the influences of Oasis and Gorillaz. Mind you, their influences are equally buried in the flower power generation. There's also a very American 'feel' to many of the lyrics with references to Chevrolettes, 45 pistols and dollar bills.
The title track opens the album with Jim Morrison vocals and Isley Brothers guitars. It wouldn't be out of place as a soundtrack to Vietnam. Jealous Love has Gorillaz vocals – a wonderful hook that has a Doors feel and more wonderful late sixties guitar work. Leave Me Be sounds like Nilsson delivering an Oasis ballad. Get To You is a quirky number with nice backing vocals and more slick guitar work.
It's Then has a Howling Wolf blues feel. Angie is a funky number with soulful female backing vocals and is catchy as hell. Zoot Stick evokes memories of You Put A Spell On Me meeting The Clash. Express Line Lady is pure blues boogie. Brothers & Sisters plays the album out in a wonderfully evocative blues/rock/soul/reggae style.
It's very difficult to express what Tenderhooks is about. It's almost Zappa-esque. There's some great songs, some great delivery. It sounds like everyone else, but no one else. One of the most original and exciting albums I've heard in a long time.
****½
Review by Pete Whalley

***** Out of this world | **** Pretty damn fine |
*** OK, approach with caution unless you are a fan |
** Instant bargain bin fodder | * Ugly. Just ugly
get ready to rock is a division of hotdigitsnewmedia group
Why should I buy this CD?

There's some great songs, some great guitar work, and despite some quirky delivery, this is from the heart. You'll find yourself reaching for the repeat button. Again and again.
Burn baby burn

Jealous Love, Angie, Brothers & Sisters