CAPTAIN Frontline EMI 2005
Frontline is the debut single from London based five piece Captain.
It opens with chiming guitars, a strong bass line and sweet harmonies that immediately remind of Fleetwood Mac. Then the main male vocals come in to a Prefab Sprout beat and delivery. Frontline has a distinctly eighties feel – something between Prefab and Deacon Blue. Whether that's a good thing or a bad thing depends on your decade of choice. ***
Review: Pete Whalley
SANTANA (featuring Steven Tyler) Just Feel Better
BMG 82876751912 (2005)
I wonder if Carlos Santana even knows he has a new record out? I suppose it was inevitable after the 25 million copies of "Supernatural" and the flop(!) "Shaman", which only sold 5 million copies, that yet another round of so called collaborations was inevitable.
This is a by the numbers, songwriters for hire number that could easily have been a soundtrack contribution from Aerosmith. The formerly fluid and inspirational guitar lines of the maestro are barely discernible as Aerosmith bobo Steven Tyler honks his way through an insipid ballad. It's almost as though they never met, and knowing how modern recording works, they probably never did. The producer probably just pushed the button marked "Lick no 52".
To make matters worse they couple it with the big single of "Supernatural", "Smooth". The song that started the whole thing of was a marvellous piece of Latin rock which blew the roof off America. Rob Thomas, erstwhile Matchbox 20 man has a lot to answer for. A sorry song from a man who soundtracked so many years of my life. I'm off to play "Abraxas" again, just to remind myself how great Carlos once was.**
Review: Stuart A Hamilton
MY CHEMICAL ROMANCE - I'm Not Okay (I Promise) WEA W692CD1 (2005)
Well obviously not enough people bought this when it came out in March so the corporate rock whoremasters at WEA have decided to eke a few more pennies out of the skinny white boys who think saying F*** really loudly will make them interesting.
Their second rate Blink 182 riffs and faux goth appearance don't disguise their inability to have anything interesting to say or play. It's just so dull. The amusingly titles "You Know What They Do To Guys Like Us In Prison" is the B-side, which at least shows they have a degree of self awareness, although this Radio 1 session version sounds like a bunch of drunk monkeys throwing up in a tape recorder.
I need a lie down now. *
Review: Stuart A Hamilton
THE CORRS - Heart Like A Wheel Atlantic ATUK016CD (2005) Aaaaagghhhhhh! I've listened to a Corrs CD. I can see the procession of villagers heading towards to Castle Hamilton, torches lit, with hatred in their hearts. But there is a reason, so stay with me.
The genetically modified 4 headed Corr beast have reached that point in their career where even they can't stomach the bilge that passes for their so-called music. Which means its time for the dreaded covers album.
And tucked away on the B-side of this single is a little song written by Mr James Bain and Mr Philip Lynott called "Old Town". For those who don't recognise those names, well a good lashing from my trusty whip is in order, for Mr Bain plied his bass guitar trade in Rainbow and Dio amongst other bands, and Mr Lynott is the greatest songwriter of all time, as you should know from his regular appearances on Henry Rollins workout tape with his late, lamented combo Thin Lizzy. And no, I don't count the current version of Thin Lizzy.
"Old Town" first appeared on the "Philip Lynott Album" in 1982, and was also released as a single in the UK the same year. At the time it was a plaintive lament, which saw Philip laying his emotional torment on the line with his cries of 'The romance is over, This boy is crack'in up, This boy has broken down'.
But now it's a twee poppy little number with an intrusive saxophone and perky vocals from the ever so perky Corr that does the singing. So, before you burn me alive, please take a moment to think who the real criminals are here. Now, take your torches and head for Corrsville instead. There'll be a hot time in the old town tonight. *
Review: Stuart A Hamilton
THE RIVERCLUB - Long Before I Reach The Phone
Bravestar Records (2005)
One of those pesky mini albums that's really too big to fit in the Singles Bar and to petite for proper album status! Especially as they rattle through 5 songs in seventeen minutes!
The Riverclub are brand new to me and are playing in the big field marked pop-punk. And as far as the genre goes, they give it a damn good spanking. It's perky, it's poppy, it has a soupcon of punk thrown in, and you can picture 'the kids' leaping up and down with abandon.
It sounds excellent, so big props to 'A' bloke Jason Perry on a job well done. It's chock full of teenage angst, handclaps (on my favourite track "Call If You Want To") and enough melody to stuff a very big bag marked 'melody' right to the brim.
The opening track "We're On Empty Again" is fairly generic California like punk (although this lot are from Hastings - hey, I saw Hawkind there a couple of years back, when they played the pier! - and "My Girl, God Is She Beautiful" goes all staccato, Franz Ferdinand, but with a more driving guitar sound. If you want to try before you buy, then you'll probably bump into "The Sunshine Coast" as it's all over the interwb thing, before closing track "Escape From Keyboard City" lets the side down a bit, bordering on the bland.
If pop punk is your thing, you will love this, guaranteed. Fans of Taking Back Sunday and their ilk will lap it up. I can never quite get to grips with the vocals in this genre, they just don;t float my boat, but the songs are well written, punchy and perky. ***
Review: Stuart A Hamilton
FIREAPPLE RED - Despite It All (Download only single) (2005)
Hmm - "Despite It All" is actually a bit average - yes it got the feet twitching, but the head remained resolutely still, although I absolutely adored the drumming - which isn't like me. It was all a bit Lostprophety, which is not a good thing round our way. It's certainly an improvement on the mini album from earlier in the year, but I'm not giving up yet.
Why, I hear you ask? Well, the B-side, "Trial" is absolutely storming and by far the best song they've put their name to. Now, don't ask me how B-sides work on download only singles as I'm a complete Luddite when it comes to interweb music thingies - give me vinyl or give me death will be carved on my headstone.
But it's a rabble rousing anthem way beyond their usual skater punk shenanigans they've come up with, it's hard as hell, ripped a hole in my eardrums and bugged the neighbours for days. An absolute monster, which bodes well for the next batch of songs they come up with. ***
Review: Stuart A Hamilton
FORT MINOR - Believe Me WEA W696CD1 (2005)
Now I was never a Linkin Park fan, so the thought of a solo project didn't fill me with feelings of desire, but lo and behold, this is rather good. Now don't get too excited, because it's not metal and it barely rocks, but it is a very good pop song.
Strangely reminiscent of long forgotten boyband 5ive, this is a mid tempo pop song, with a strong chorus, some catchy breakbeats, and a splendid minute in the middle where the drummer gets wicked, wicked.
It's being billed as hip hop and has been exec produced by Jay-Z, but I can't see the hip hordes queing up for it, as it's so mainstream. But once you hear it, the melody sticks and it's so much better than I thought it would be. Although I'm still not sure who' s going to buy it.
Review by Stuart A Hamilton
NAMASTE - Every Picture Tells A Story (2005)
Now I don't know if they're named after the Devin Townsend song, but I won't be at all surprised if they are, as the ambitions of this young British 4 piece seem to lie in that direction.
When reviewing their last three track demo I said "This is dark, twisting progressive tinged rock with nods to Muse, Tool and their ilk. There's a bitter groove that quickly insinuates itself in your head, and keeps you listening."
And that still holds true, but the intervening months have seen them improving in performance and songwriting, and this six track demo is definitely a step up. Their palate has broadened somewhat since their early material, and their are nods towards the more commercial sounds of Incubus. A special commendation to vocalist Sam Marlow who has come on leaps and bounds, and has started to develop his own style.
If you only listen to two tracks then go for "Expired" and "Catharsis" where the performance, production and songs really come together. Elsewhere, there is a muddy sound to the rhythm section which is fairly common to demos, nothing time amd money can't solve!
A band trying to forge a different sound is always to be applauded, so if you can navigate your way through the nightmare that is myspace, listen to the mp3s and buy the demo. ***
HIM - Vampire Heart
The single "Vampire Heart" is out on Nov 28th. Each one sided, silver vinyl 7'' single comes numbered and with a free sticker. Side A. Vampire Heart Side B features a laser etched Heartagram logo.
"Vampire Heart" is probably the most traditional HIM track on the album. A quick glance at the lyrics - 'Hold me like you held onto life when all fears came alive and entombed me. And love me like you loved the sun, scorching the blood in my vampire heart' - shows that the obligatory doomed love lyrical motif is firmly in place, the minor keys are all evident, and the melancholy midtempo air of gloom is firmly in place.
If you like HIM, you'll love this, and if it forces one more person to buy a turntable, then it will be a job well done. ****
Review by Stuart A Hamilton
ELLENBY Runaway EP
A very talented duo consisting of vocalist Liz Young and multi-instrumentalist Ben Goddard.
The four tracks on here all have rich production, with 'Run Away' and the mellow tones of 'The Dare' songs you could well imagine making BBC Radio 2's daytime airplay lists.
Liz Young has a very mellow and tuneful voice and I would imagine live she can perform just as well. An enjoyable EP that leaves you wanting to hear more from the duo. ***½
Reviewer: Jason Ritchie
SPRAYDOG Allison Blaire
Spraydog have been producing garage rock for the past 10 years. Their publicity gives you a pretty damn good feel for what Allison Blaire sounds like – lo-fi / punk / diy / shambolic / Peel sessions.
If any of these, or any combination makes your nipples harden – investigate. If, like me, it leaves them entirely flaccid – avoid. **
Reviewer: Pete Whalley
SIGUR ROS – Hoppipolla EP
Sigur Ros are something of media darlings who can do no wrong at present and Hoppipolla is the first single taken from their acclaimed Takk… album.
It's a delicate number – piano, backward string loops and real strings, multi layered vocals (falsetto, with lyrics about jumping into puddles and nosebleeds) that build to a crescendo of brass, orchestra and 'tinkly things'. It's also their most commercial offering to date, although I'd be amazed if it made any impact on the charts. For one, it's basically an ambient number (think Moby) and for two, it's sung in Icelandic.
But what might tip the scales is that it features (although not on the promo copy) two 'lost' tracks - Von and Hafsol from the recording sessions for their first album which have become gig favourites. So it may be worth tracking down if you're a fan. ***
Reviewer: Pete Whalley
KATIE MELUA I Cried For You(2005 CDS)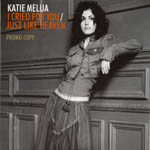 To be fair, there were some decent moments on Katie's debut album and her last single – Nine Million Bicycles - wasn't bad either.
I Cried For You is the second single released from her Piece By Piece album and its an orchestral ballad – sugary sweet vocals and plenty of strings. I can't see it being a hit – it's too like something Andrew Lloyd Webber would come up with. Which is hardly chart material. Beautifully arranged and produced by Mike Batt, mind you.
Interestingly, the double A side is a Robert Smith approved cover of the Cure's Just Like Heaven. It's far more accessible – Katie's vocals floating instead of cloying and there's plenty of nice lead (acoustic) guitar work. An excellent track and the soundtrack from a Reece Witherspoon film of the same name opening in December.
So a thumbs up to Just Like Heaven and a thumbs down to I Cried For You (unless Andrew Lloyd Webber ballads are your thing). Wombles – The Musical – now there's an idea. ***
Reviewer: Pete Whalley
VARIOUS 'Ever Fallen In Love?' EMI (2005 CDS)
A tribute single to the late John Peel featuring various artists re-recording the Buzzcocks classic (the original is included on here as well). It's a weird and wonderful of mix of established rockers like Roger Daltrey, Robert Plant, the Buzzcocks' Pete Shelley and Dave Gilmour and new bands such as the Soledad Brothers. It works well with each artist taking a line in the song and it makes for a fitting tribute to a true pioneer of new bands and music. Even better the proceeds go to Amnesty International. ****
Reviewer: Jason Ritchie
Video streams:
Hi (Real Media)
Lo (Real Media)
Hi (Windows Media)
Lo (Windows Media)
NADIE 'Indifference' Hal Records (2005 CDS) www.halorecords.co.uk
Oh no not another rock girl vocalist with comparisons to Avril Lavinge and Alanis Morissette but luckily Nadie is much better than that (not that it is hard to sing better than Avril Lavinge!). The title track explodes into your ears with a mix of Led Zep riffery and full on vocals – Nadie has a very powerful but tuneful voice. A great, catchy song destined for success. The other track on here, 'Be A Man' is the exact opposite being a gentle ballad and highlighting what a wonderful voice Nadie possess. Her debut album will be one to hear that's for sure. ****
Reviewer: Jason Ritchie
THE FONDAS 'Be Alone' Levelsound Music (2005 CDS)
The band who term their music as 'slum rock', although to these ears it's more Feeder rock! Not a bad tune – driving bass lines, jangly guitar mid-way through the song – but nothing really 'wow'. I would imagine live they are very good though as this tune would sound much rawer live. ***
Reviewer: Jason Ritchie
CHAPTER XIII 'The Last Time' Levelsound Music (2005 CDS)
Five piece from Bristol (UK), home to the magnificent Undercut and Chapter XIII are well worthy checking out. This single will appeal to those who enjoy atmospheric goth tinged metal but thankfully not the cut 'n' paste female fronted bands who are currently flooding the market. It even has a hint of Led Zep in the arrangements. Very good song and I am going to track down more about this band. ****½
Reviewer: Jason Ritchie
HEY NEGRITA 'Old Britannia' (2005 CDS)
This is the second single lifted form the band's debut album 'We Are Catfish'. The music is folk with a tinge of country, especially on 'Old Britannia', which to me sounds like the Divine Comedy doing a southern rock ballad! 'Down the River' is a very gentle acoustic based number, again with a southern rock hint and Widespread Panic comes to mind sound wise. Not a bad little collection of tunes and Hey Negrita at least have there own sound and some wonderful harmony vocals. ***½
Reviewer: Jason Ritchie
CIRCUS NORMAL 'Circus Normal EP' (CDS 2005) www.circusnormal.com
Welsh rockers who have been gaining some favourable reviews but for me they sound a tad too derivative with their blues based rock. Nothing really leaps out at you bar 'Ride', the slower song on this EP. Maybe good for some but I'll pass… **½
Reviewer: Jason Ritchie
SILVER SUN 'Immediate' (2005 CDS)
Silver Sun are definitely a band to investigate further especially if you enjoy the music of bands like Jackdaw 4, latter day XTC, Farrah and Cheap Trick. 'Immediate' is ultra catchy quirky pop rock, very melodic and some gorgeous harmonies on the choruses. 'Dance With Me' is a rock 'n' roll based stomper and one to dance madly around the place to! The third track on here 'Sweet Baby' sounds like Buddy Holly meets Weezer!
Great stuff and a band who will have a bright future given that lucky break. ****
Reviewer : Jason Ritchie
GIRLSCHOOL 'Emergency'/'London' (Download only 2005) www.girlschool.co.uk
This is a 25th anniversary re-recording of their classic 'Emergency' and it is downloadable only! Girlschool have certainly had a rollercoaster career and they are finally getting the credit they so richly deserve. Worth a download as proceeds go top the Essex Air Ambulance and you can catch them supporting Motorhead in the UK right now. ****
Reviewer: Jason Ritchie
KORN Twisted Transistor Virgin (2005 CDS)
Marilyn Manson-esque industrial-tinged metal that is actually rather good.
This song is no-doubt designed for the drunken metal dancing masses and is sure to be hit at metal clubs world-wide.
It's catchy with great choruses and rather likeable. Consider this is coming from someone who never liked Korn that is meant to be high-praise indeed.
It seems the departure of "Head" for the God squad has been the kick up the arse the band needed.
****
Reviewer: Marty Dodge
Video Links:
Real Media Hi
Real Media Lo
Windows Media Hi
THE CONWAY STORY Photogenic IRL (2005 CDS)
On occasion a reviewer finds himself more keen on the b-side than the a-side. This is one such case.
The former is whiney indy rock track that really does not ever get going and is a wee bit dull at times.
The mellow of acoustic 'October' has far more impact as it demonstrates this lot can play, write a cracking tune and the lead singer has a pretty decent voice. The violin is a nice touch as well.
***
Reviewer: Marty Dodge