We've listed singles/EPs/demos in order of star rating. Best first.
ANEMO - Made Of Fiction
Following Stateside college success, Brighton three piece Anemo release their first single on home soil on 14 August preceding their debut album Slowdown which will follow in early September.
And it's a corker - gentle piano and Hazelle Woodhurst's superb vocals are blasted apart by a thunderous dance floor rock beat that would grace a Mission Impossible soundtrack in a number aimed squarely at claiming the goth pop/rock crown.
It's a tremendous track - great vocals, a driving beat, and wonderful hooks. And it's no one-shot, the b-side Fallout Renegade is equally infectious. As is a stunning acoustic version of the same track which is thrown in for good measure. In the absence of any new material from Evanescence, watch out for Anemo - the usurpers are about to claim the crown. *****
Review by Pete Whalley
IRON MAIDEN The Reincarnation Of Benjamin Breeg EMI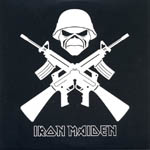 Iron Maiden return later this month with their new album A Matter Of Life And Death, which is preceded by this single, which between length and price is ineligible for the singles chart.
But then Iron Maiden were always ones to do things their own way. Why do things by the book when you can rewrite it and swiftly move on to the next chapter? Iron Maiden should have been dead and buried in the 90s but here were are in 2006 and they're still producing some damn fine metal.
This 7 minute epic, a rare Murray co-composition, kicks off with nearly two minutes of intro, a little offputting if you don't know what to expect, before the full 6 piece kick in action with Bruce on top form and all three guns blazing.
No single edits here (oddly this 2-track promo also features a 5 minute Rock Club version) but it's an outstanding Maiden track - moving on from earlier incarnations. Maiden are very much their own beast, rising above all criticism (even during the disastrous Blaze years) and playing modern classic British metal at its be(a)st.
Across the two formats (7" and CD) you get 3 b-sides, classic Maiden recorded for the Radio 1 'Legends' session.
So as well as a damn tasty sampler for the forthcoming album you get 3 essential exclusives.
Sod the charts and enjoy the music - Iron Maiden obviously did. ****½
Review by Joe Geesin
SPARKS Dick Around/Waterproof (EMI)
This new single shows Sparks at their best. Not just pop, but a complete self indulgent show. Self parody worse than the Darkness, more operatic too, with in places the Oompah Loompah's on speed. Pop interspersed with a chorus of heavy guitars.
Sparks make their own rules, breaking trends and attract attention, rightfully so.
A breath of fresh air, if tongue in cheek.
A second track that's equally good, and an interview with the band. Fans and more should love. ****
CAPTAIN Glorious (EMI)
Glorious, is the second single to be released by Captain, the latest in a long line of Trevor Horn protégés.
The PR flyer is spectacularly short on information about the band, but the Tricky Trevor involvement is enough to make this reviewer's ears prick up. That said, Trev's reputation has faded since his wonderful ABC / ZTT days. But he proves here that he's still well capable of twiddling the knobs.
So what of Captain and Glorious? Well it's a sumptuous piece of summer pop - beautifully packaged and produced. It opens with strings reminiscent of ABC, multi layered and harmony vocals. Quality pop of the sort once purveyed by The Kane Gang and Prefab Sprout. On the strength of this, the debut album This Is Hazelville could be well worth exploring. ****
Review by Pete Whalley

SUGARMONKEY Welcome To My Life
Forget any references to those other primate bands, London's Sugarmonkey are a rock band of proper power and persuasion. The release of the Welcome To My Life precedes their debut album of the same name.
It's powerful and catchy, delivering a big-league sound with a swooping chorus and killer riffs that would grace a stadium or arena with ease. The b-side Lucky Me Unlucky You is another excellent number with a more commercial American rock radio friendly sound.
Monkey business or the next Oasis? There's enough on offer here to suggest that greatness could be Sugarmonkey's for the taking. ****
Review by Pete Whalley
TANGAROA Day EP
They're named after a Polynesian sea god and have songs called "Vietnamese Killing Queens" and "Ugly People Breed Fast". Thankfully I've no experience of the former but heartily concur with the latter. And if experimental technical metal fusion is what you're looking for, then this may be your new bestest friend.
Tangaroa are no respecters of boundaries as they lurch through black metal, grindcore, jazz-metal and all points south of extremity. A couple of the numbers are mere interludes but if you can imagine Napalm Death moonlighting as a Mahavishnu Orchestra covers band, then you wouldn't be far off.
Do not operate heavy machinery while listening. ****
Review by Stuart A Hamilton
ELEANOR McEVOY - Non Smoking Single Female (Mosco)
Eleanor McEvoy is not an artist easy to pigeon hole. Irish, folk, pop, rock, country? Her last two albums - Yola and Early Hours - have been modern day singer songwriter masterpieces. Yet by and large she remains an undiscovered talent.
Never one to 'go with the flow' Non Smoking Single Female sees Eleanor take another couple of unexpected turns. While the wonderful vocals and production are classic McEvoy hallmarks, the arrangements and material are subtly different to previous releases.
For a start, the song is about someone looking for love (most previous lyrics have been about love lost), there's a stronger DIY approach than before (Eleanor taking on all roles - backing vocals, guitar, vibraphone-synth, piano and bass - with the exception of some percussive input from Liam Bradley), and then there's the arrangements.
With the opening vibraphone-synth 1st thoughts are 1960s, Henry Mancini, Pink Panther and The Saint. It's a jaunty jazz/pop number and a style that spills over into Fields of Dublin 4 that looks at how Dublin has become metropolised in the last 10 years.
Whether these two tracks are representative of the forthcoming album Out There remains to be seen. It's a brave move, but Eleanor McEvoy ploughs her own furrow. If you happen to like it, that's a bonus. ***½
Review by Pete Whalley
LATONIC Turn On The Sky
From the Franz Ferdinand school of rock - full on and drawing on influences such as Queen, The Who, Def Leppard, The Manics and The Pumpkins, Latonic release their debut single Turn On The Sky with an album release pencilled in for later in the year.
It's an excellent piece of pop/rock wit the vocal attitude of Oasis, pop sensibilities by the bucketful and the power of many of the aforementioned bands. The b-side Don't Say would definitely give the Gallagher brothers a run for their money.
But there's a lot of up and coming bands delivering power pop / rock of this quality, so whether Latonic will crack it remains definitely maybe. ***½
Review by Pete Whalley
THE FONDAS Get Out
Yet another guitar driven band gaining rave reviews in the rock press but unlike some they are worthy of the praise being heaped upon them.
Think of Ash in their early days add a driving drum and guitar and you've got a very catchy song. Not so sure on the acoustic version though included on this single - they are a lot better fully electric. ***½
Review by Jason Ritchie
GOD IS AN ASTRONAUT A Moment Of Stillness (Rocket Girl)
God Is An Astronaut have been riding high in the Irish charts with the title track from this 5 track ep their first proper release outside of Ireland.
Formed in 2002 by brothers Neils (bass) and Torsten (vocals, guitars and keyboards) Kinsella, this Wicklow based three piece is completed by Lloyd Hanley on drums.
Their trademark, evident on all 5 instrumental tracks (vocals are used as an additional instrument) is serene ambience building gently to a searing intensity. There's no question is an ambient, beautiful and powerful sound - one that has already proved successful in providing soundscapes for a number of TV and film ads.
But one number does have a tendency to blur into another and after 5 tracks you begin to long for a little variance. But if the ambient section in HMV/Virgin is a regular watering hole, then God Is An Astronaut could be your nirvana. ***½
Review by Pete Whalley
THE HUNGRY i Birthday
The Hungry i are, in fact a one man army - Jon Stolber. Throbbing, dark electronic techno beats pulse, Jon's vocals adding colour and shade. Birthday shifts through a number of moods accompanied by backwards choirs, tumbling moody pianos and stabbing pizzicato. There's beauty here, but it's fleeting, the number never settling into a consistent groove.
The other tracks on offer Jaws Of Love and The Idiot follow a similar pattern and structure - experimental in a Bowie / Eno sort of way, but with constant rhythm changes that at the end of the day frustrate rather than exhilarate. ***
Review by Pete Whalley
MARLA SINGER - Levitating With
Four piece Marla Singer from Northampton in 2004 release their debut Levitating With - EP in August.
They're big in Northampton, but whether their local success will translate to a wider audience, I have my doubts. Not because they're lacking in any department, but because there's just so many bands churning out decent quality pop/rock. The three tracks on offer here - Can I Make Her Levitate?, Vixen Vaccination, and City Of Vines are all eminently listenable pieces - well constructed, well played and with some decent hooks. The songs are catchy, with just a hint of eighties commerciality.
Wider exposure would undoubtedly see them rise up the pop/rock league table.
On the strength of this EP Marla Singer are an excellent little band, but major league? There's more chance of winning the lottery. Which is a shame. ***
Review by Pete Whalley
REAMONN Tonight (Island)
Reamonn are a German-based band, fronted by Irish singer Rea Garvey and sound nothing like you would imagine from that description - on this showing anyway.
Tonight, from the album Wish, has a gentle, acoustic, countryish air about it - just perfect for BBC Radio 2 where it has already been playlisted. If it frustrates it's because it's one of those songs where you seem forever to be waiting for the chorus and then realise that you've just missed it.
But on second and third playings it does begin to get under the skin. Germany, Holland and much of eastern Europe have already fallen under the spell of Reamonn and you can imagine this being a reasonable but not thrilling Eurovision entry.
I'd certainly be intrigued to hear more of Reamonn's music - a shame then that the review CD only contained the one track. ***
Review by Ian Harvey
FIONA CULLEY Daddy's Girl (Clix)
This 2 track single is a sampler for a forthcoming album, co-written with producer Ryan Laubscher.
A decent keyboard melody, this is an uptempo country / pop track, while Forever Man has an indie touch.
Think Shania Twain with a touch of Mariah Carey, good voice, and she's as beautiful too.
Should do well. ***
Review by Joe Geesin
CHAPTER XIII Miss Me When I Am Dead Not a bad song - bit of Chilli Peppers in the backbeat and the repetitive chorus/verse soon sticks in the memory. Mind you the truly awful rap of 'Lately' is blummin' awful!
Hardly essential and the band lack any real killer riffs/tunes for a truly classic single. **½
Review by Jason Ritchie
ENTER SHIKARI Mothership Download only single
A club / trance like keyboard intro leads to a crunching industrial guitar, which sounds kinda too indie / trendy / noisy metal, but there's a catchy riff and rhythm about half way through. And all the way the keyboard riff continues throughout. An interesting mix, worth a listen. **½
Review by Joe Geesin
SONGDOG The Time Of Summer Lightning (One Little Indian)
Welsh band Songdog are a whimsical folk / singer/songwriter trio who, on the evidence of their first 3 tracks, seem happy to let their songs acoustically drift by. Even when an electric guitar makes an intro, the folk soon returns.
There's some similarities (occasional) with King Crimson's Moonchild, and that's as heavy and good as it gets; ie not very.
A touch of space rock in a track or two, done with more conviction than energy.
The lyrics make some good observations but are as 'artsy' as the music.
Fine, if you like folk pop. **
Review by Joe Geesin