SHADOW GALLERY 'Room V' Inside Out (2005)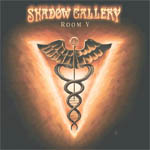 When I found out that the US progressive Metal outfit Shadow Gallery were about to release their fifth studio album "Room V", I made it perfectly clear to my fellow-colleagues here in Get Ready to Rock, that I would be more than happy to be the one to write the review. I don't know if it was the fact that no one else expressed the desire to handle these duties, or that I threatened Jason that I would commit suicide if he did not give me the band's promo, but finally I ended up being the one holding the CD with the simple, yet quite enigmatic album cover in my hands.
It has been four years since the band's last full-length album "Legacy"(2001) saw the light of day, and both I and all the faithful Shadow Gallery fans around the globe were anxiously anticipating the band's following release - an album that would hopefully take us on another trip of progressive metal madness, but would also eradicate all the silly rumours that the sextet was no longer interested in recording music. Well, "Room V" has finally been released, and I can safely say that Mike Baker (lead vocals) and Co have performed another music miracle - this time in collaboration with their new record label, Inside Out.
"Room V" is a concept album which, as far as the lyrical context is concerned, continues along the same story line that was presented to us by the band in the 1998's release "Tyranny". Originally, I though that it would be a good idea to make a short description of the album's high standard collective lyrical work, but then I realised that by doing that, I would have deprived those whose initiation to Shadow Gallery's music will happen with this album, to enjoy the unique pleasure of being pleasantly surprised by of one of the most important things about this band. It would be like having someone describing the story line of a film to you, a few hours before you are scheduled to watch it at your local cinema.
On a musical level, this fourteen-track album is, in my opinion, the band's best effort to date, combining elements from all the different stages that the members of Shadow Gallery have been trough, during their thirteen year old recording career. Knowing that maybe the strongest selling point that they have are their unique vocal, guitar and piano melodies, they decided to take full advantage by creating lengthy compositions such as "Comfort Me", "Vow", "Torn" and "Encrypted" - songs that honour these qualities to the maximum. As an addition to Mike Baker's exceptional vocals, you once again have the participation of James LaBrie (Dream Theater's frontman - also recorded some vocal parts for "Tyranny") as well as that of Laura Jaeger's, whose duet with Mike Baker in "Comfort Me" is one of the best moments of this album.
There is a reason, though, why Shadow Gallery are considered a progressive Metal band, and that's quite justified in tracks suck as "The Andromeda Strain", "The Archer of Ben Salem" and "Room V". That's exactly the time when the duet of Brendt Allman and Gary Wehrkamp will embarrass many of the so-called guitar virtuosos with their skills on the six string, and the rhythm section of Joe Nevolo (drums) and Carl Cadden-James (bass) will make sure that your heart beats do not drop below 95 beats per minute.
I have listened to "Room V" numerous times prior to writing this review, and one thing that is quite clear to me as I write these lines is that I am dealing with such an interesting and inspirational release, that I am guaranteed to continue discovering new things with each and every new spin. If you are particularly fond of bands like Dream Theater, Queensryche (early 90's) and Pain of Salvation, and you also have quite a soft spot for Pink Floyd's music (check "Encrypted" and the amazing medley "Floydian Memories, which is featured as a bonus track in the limited edition of "Room V"), then this album is more than just recommended – it's a necessity! It might be that we're only halfway through this year, but I have already filled in one of the entries in my top five-album list for 2005.
*****
Review by John Stefanis