SCAVENGER 'Madness To Our Method'
(Sentinel Records) (2004)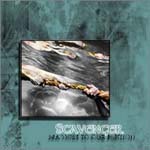 Ireland is not the main point of reference when it comes to Rock and Metal music, but has managed to produce many quality bands and artists in the past, like Thin Lizzy, U2 and Rory Gallagher. The latest export from the island of the bards, is a Heavy Metal quartet called Scavenger.
It was in a part of Ireland called Drogheda that these four very talented musicians started composing their material, late 2001. After two months of intensive visits to Co.Meath studio for rehearsals, the band decided to record their first ever demo. The result was mind-blowing and the demo was well received by many magazines and e-zines throughout Europe. The first very important step was made for Scavenger, so now it was time to focus on the recordings of their debut album, which I now proudly hold in my hands.
Two years after the release of the "Scavenger" demo, the band entered the Co.Meath studios once again, and with the precious help of Stuart Anstis (ex-Cradle of Filth) recorded this amazing debut album thatís called "Madness to our Method".
Itís been only a couple of weeks since Iíve first listened to the last Rival CD, and I remember thinking that it would be very difficult to hear another Power/Thrashy Metal album that would impress me as much. Well, Scavenger managed to prove me wrong at such short notice.
Itís really difficult to explain all the reasons that make me like this album so much. "Madness to our Method" has exactly all the important ingredients that make a successful Metal release. The guitarwork on this album is simply amazing. Noel Maher has done a pretty good job in creating monstrous Metallica influenced riffs that co-exist with very inspirational and beautifully composed melodic parts. Then you have one of the most impressive rhythm sections that Iíve listened to lately. Both Niall Cooney (bass) and Johnny Kerr (drums) are demonstrating a very skilful performance in each and every song, without loosing their connections with the main theme of the song. Finally Peter Dunneís vocals vary according to the needs of every song, but are always displayed with great passion.
Songs like "On the Outside", "Prisoner of Time" and "Daydreams in Dystopia" will remind us all why we love Judas Priest and Iron Maiden so much, and will also bring back memories from the mid-80ís, when the American Power Metal scene was enriched by many impressive new bands like Sanctuary, Queensryche, Fates Warning, Omen, and Warrior.
The only negative thing about this album is the production - not that this wasnít a good effort, but I strongly believe that the guitarwork on this album demands the best possible support production-wise.
Scavenger have, without a doubt, created an album that many people will be talking about in the years to come, and has set quite high standards for both themselves and the scene.
****
Review by John Stefanis