PROJECT: FAILING FLESH 'A Beautiful Sickness' (Karmageddon Media) (2004)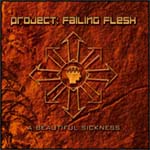 If you think that the name of this band is strange and unusual, wait until you listen to the music that this trio have created for you people. Project: Failing Flesh was formed by Tim Gutierrez and Kevin 131 and can be described as Modern Thrash Metal with futuristic elements. Yes, I understand that this description is not helping you enough, but maybe if I mention the fact that the person who handles the vocals in this album is ex-Voivod vocalist Eric Forrest, things will become clearer for you.
It is quite obvious that Tim and Kevin are both fans of fast and aggressive Thrash Metal, all of course based on the guitar riffs which are presented in this album. There are no limits as to what you will hear from these low chorded and sometimes distorted guitars, the aggression and technicality of which will remind you of Slayer and Grip Inc. It is also inevitable that Eric Forrest's participation on albums such as "Negatron", "Phobos" and "Outer Limits" would play a significant role in the creation of the sound of this band/project, which it did. As with Voivod, the use of samples and futuristic keyboard sounds are present throughout this ten track release. I would also like to make a special reference to Clayton Ingerson's (Dysrhythmia) participation in the song "9mm Movie", where the results from the use of the Viola were simply amazing.
What I really enjoyed about 'A Beautiful Sickness' though, is the subject that the trio chose to deal with, and that is the current situation with the Market of human organs. Before you start jumping to conclusions, I want to make clear that this band has lyrically nothing in common with outfits like Cannibal Corpse and Pungent Stench. True to the original Thrash Metal spirit, the members of "Project: Failing Flesh" decided to speak their minds about the corruption that exists in these so-called "Philanthropic" Organ Donation institutions. It seems that the members of the band have made quite some research here, and I hope that the reason for this was not down to personal experience. It is always nice to see that there are some artists out there that are smart enough to realise that the only way to solve a problem is to look at it straight in the eyes, and that stories about Demons ascending from the depths of hell can be entertaining up to a certain extent, but do not reflect the pulse of a society that is constantly licking it's wounds from the everyday struggle for survival.
From this powerful ten-track 'protest', I found myself enjoying the Slayeric riffs and melodic keyboard melodies of "Planet Dead", the weird sounds of the Voivod-influenced "9mm Movie", the pure energy of "Dementia Pugilistica", as well as the very interesting cover of Venom's classic "Warhead".
'A Beautiful Sickness' is a forty minute album that deserves a lot more than just your attention. It is obviously an album with a message, something that you cannot find easily these days. Next time that you visit the record shop of your choice, ask them to play this album for you – I hope that after this experience, you will need a slightly bigger bag to help you carry your shopping.
****
Review by John Stefanis