POWERWOLF 'Return In Bloodred' Metal Blade(2005)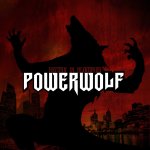 I really shouldn't be telling you this, but I was not exactly the happiest person on the planet when I first held in my hands 'Return in Bloodred', the debut album of the German-based outfit Powerwolf. In retrospect, I feel quite ashamed about this reaction of mine, but the truth is that both the album cover as well as the picture of the band which is featured in the back side of the promo, are not representative of the brilliant work that this German quintet will present to you in this album. Now, let's see how we have ended up talking about this debut album in the first place.
Even though the first incarnation of Powerwolf was formed by the brothers Matthew (guitar) and Charles (bass) Greywolf, it was only when Attila Dorn (vocalist) joined in that things really started happening for them. Attila is a Romanian native who was a student of classical opera. When the Greywolf brothers visited Romania they met with this great talented vocalist and expressed to him their passion for the 80's classic Heavy Metal music. It seems that their musical vision was so strong that it convinced Attila to move to Germany and start working on the nine songs, which are now featured in this Metal Blade release. With the addition of Falk Maria Schlegel on organ and Stefane Funebre on drums, the band went to the famous Studio Fredman, where Fredrik Nordstrom greeted them with open arms and helped them record this brilliant album.
OK, I realise that I sound extremely excited right know, so it is now time for me to explain the reasons why. As I previously mentioned, the Greywolf brothers are classic Heavy Metal loyalists and Attila a theatrical/operatic singer. Now, what would you expect those two different musical worlds to come up with? If your answer to this question is Savatage – influenced guitar riffs, presented in a theatrical way similar to that of Death SS, then you've obviously hit the jackpot! Kicking off with one of the strongest songs of the album, 'Mr.Sinister', Powerwolf are here to say that they mean serious business. The guitar riffs are heavy as hell, the vocals are strong and colourful and the organ melodies are hauntingly inspiring.
Luckily, all of the remaining eight compositions of 'Return in Bloodred' are equally impressive in their own special way. 'We Came to Take your Soul' is the kind of song that you would expect to find on the 'Heavy Demons' album (Death SS) – both in terms of lyrical theme and musical structure. 'Black Mass Hysteria' is doomy and depressingly heavy; 'Lucifer in Starlight' is more of a heavy but at the same time quite atmospheric opus. Finally 'Son of the Morning Star' (who does this song talk about, I wonder…) is a nice outro – the best way to close this amazing musical chapter.
I really don't know what the rest of the music journalist out there will think about this album. My opinion is that 'Return in Bloodred' is the kind of debut that most Heavy Metal bands would only dream of having recorded. Fast and heavy, shamelessly evil and passionately melodic this album is guaranteed to hit you straight between the eyes, so do not say that you were not warned.
****½
Review by John Stefanis