ORANGE GOBLIN 'Thieving From The House Of God '
(Rise Above Records 2004)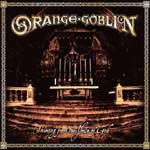 One of the first things Iíve learned at school is that history repeats itself: In the 70ís it was England who gave birth to Black Sabbath, Led Zeppelin and Judas Priest - probably the three most influential bands in the history of music. The tradition continued in the 80ís with Iron Maiden, Saxon and Venom and in the 90ís with Paradise Lost, Napalm Death and My Dying Bride. Itís really amazing that every time people thought that Metal music had nothing new to offer, King Arthurís island was the first one to prove them wrong.
For the last nine years Orange Goblin, a London based outfit, have been delivering excellent albums to the Doom Metal world. The first strike came with 'Frequencies from Planet Ten', a psychedelic trip to the world of heavy low-chorded riffs and noisy drumming. The bands second album, 'Time Travelling Blues', introduced them to a much bigger audience and paved the way for 'The Big Black', one of the heaviest Doom Metal albums I have ever listened to. 2002ís 'Coup De Grace' was not really my cup of tea, maybe because I never expected Orange Goblin to add punk elements to their music.
Two years later the band presents their latest studio effort 'Thieving From The House Of God' and Iím really happy to say that this (in my humble opinion) is the bandís best album so far!! The Londoners never tried to hide their appreciation for the godfathers of Metal, Black Sabbath. Instead of copying them shamelessly like many Doom and Stoner bands do nowadays, they decided to 'mix' them in the same pot with all their other influences (Led Zeppelin) and, by adding their own personal touch, created a unique recipe.
'Thieving From The House Of God' consists of eleven killer tracks, each with something unique to offer. 'One Room, One Axe, One Outcome' Ďs impressive groovy tunes will remind you a lot of Cathedral Ė a song that will make Lee Dorian extremelly proud. 'Hard Luck' and 'Black Egg' are the bandís tribute to Black Sabbath, with the latter containing some amazing female backing vocals! Great guitar work on 'Youíre Not The One', a Rock níRoll based song with one of the best riffs ever written from the band. My favourite songs of the album are 'Lazy Mary' and 'Just Got Paid', both heavy and uncompromising Ė the best possible representatives of Orange Goblinís music!
Two years after 'Coup De Grace' the band seems to be more focussed and mature than ever, by delivering an album which is destined to become a classic. There is no other excuse, other than ignorance, for not having this album in your collection!
Doom or be Doomed!
****
Review by John Stefanis