NORTHER 'Solution 7' Spinefarm (2005)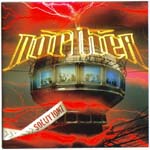 Finland is the one European country which exports more Power/Death Metal bands than any other place in the world. Only God knows why the majority of the Metal bands from this country choose to play this specific style of music, but most of them seem to do is so damn well, that it's really not of great importance to spend our precious time trying to figure out the reason why. What started in the early 90's with Amorphis ("Tales From the Thousand Lakes"), and has been developed into a 'science' by Children of Bodom, is now continuing with new generation of bands such as Wintersun and a quintet named Norther. Wait a minute – is it really fair to put Norther into that category after all?
Well, not really! The two main members of Norther, Tony Hallio (drums) and Petri Lindroos (vocals/guitars) first started working together in 1996 under the name Requiem. It looks like it was quite early in their career that they made a conscious decision as to which style their band would represent, since one of their main supporters, and also very good friend, is Alexander Kuoppala of Children of Bodom fame. In the year 2000, guitarist Kristian Ranta joined the band and two years later "Dreams of Endless War", the band's debut album, was released. Even though they were originally treated as a Children of Bodom clone, Norther received quite a few good reviews, which were multiplied with their next two releases "Mirror of Madness" (2003) and "Death Unlimited" (2004), and without any break since the release of their debut album, they have just prepared a new "snack" for us – the eighteen and a half minute EP "Solution 7".
I was really intrigued to find out for myself whether they really are another reflection of Children of Bodom, and, even though my initial reaction suggested that this could be the case, I soon decided otherwise. I can understand, though, how someone could reach such a conclusion. As with Children of Bodom, Norther's compositions are perfectly balanced between Thrashy riffs and over-expressive keyboard tunes- a battle that will announce no winner, since both instruments are proven to be worthy opponents.
What really saved the guys of Norther from such an unfair comparison was the fact that they have a variety of influences of a bigger scale that are quite evident in their music. While "Day Zero", with its amazing guitar solo, sounds classic and in some ways quite predictable, "YDKS" is more Swedish-influenced (Soilwork, In Flames) and creates a beautiful antithesis that will not go unnoticed. A lot of Dark Tranquillity fans will find interest in the smart and melodic "Hellhole", before they will come across "Thorn" - the most indifferent composition, which also has one of the most annoying choruses that I've heard from a band of this genre. Finally, the lengthiest composition of this EP is a remix of "Chasm"- a song which was originally presented on the 2004 release "Death Unlimited".
Are eighteen minutes enough to realise whether this is a band that would be of interest to you? I really don't know – the one thing I did realise is that I enjoyed listening to "Solution 7" far more than I had originally expected. In order, though, to decide whether Norther is going to be one of the bands that I will be investing in the future, I prefer to wait for their next full-length album, which is scheduled to be released sometime in 2006. So far – so good!
***½
Review by John Stefanis