NEVER THE BRIDE 'Surprise ' (2005)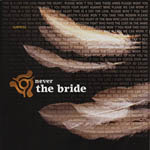 Never The Bride are one of the hottest bands currently on the circuit on the verge of greater things, and 'Surprise' - originally hawked round gigs and sold via mail-order - is now destined for greater recognition.
NTB are essentially Nikki Lamborn and Catherine 'Been' Feeney. Nikki handles vocals and has been called 'the new Janis Joplin'. She certainly possesses a wonderful set of pipes but on the opener the sheer power of Anastacia comes to mind. Think of a less gothic Evanescence. 'Been' plays keyboards and writes much of the material.
That opener 'This Is A Cry For Love' sets the tone, an excellent stadium filler. But on the back of this power pop rock we get a sultry ballad 'When It's All Too Late' which demonstrates that the band can change pace with ease. Then, 'The Living Tree' demonstrates that the band have a Bond theme in the making with a dramatic vocal that would have Shirley Bassey looking over her padded shoulder with approval.
The midas touch on four tracks is the production talent of Bruce Fairbairn who sadly died suddenly in 1999 but who produced for INXS, Aerosmith amongst others in the eighties. Recorded in Australia, California and London this album is the graft of several years and several false starts. Signed to Atlantic for their second album in 1995, the duo started off playing covers in a London pub.
I can see this album going down a storm in continental Europe as they really love this chorus-heavy power pop rock. But America must beckon too. In fact NTB's time has probably come.
The raunchy Joplin/Tina Turner feel is evident on 'Higher Than Heaven' and 'Feels Like I'm Falling', and 'Walk Don't Run' will be a stunner live, and they can produce the 'killer' track in the shape of 'I Feel For You'.
The band have produced an album that is top-heavy with radio-friendly choruses, contemporary, and not afraid to slip from Top 40 to lounge club funk. The common denominator is that superb voice and a clutch of truly outstanding tunes.
*****
Review by David Randall

Feels Like I'm Falling
© 2005 Never The Bride. All rights reserved.