NEAERA Let The Tempest Come Metal Blade (2006)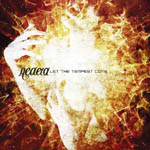 So, here we are, a whole year after the release of "The Rising Tide Of Creation" and the German quintet Neaera are ready to present us with another full-length album. One might claim that the positive feedback that this three year old outfit has received during this short period of time, would be enough to provide them with all the inspiration and determination that's required, in order to continue their quest, and it definitely looks like this has indeed been the case. Well, rather than assuming things, let's see what this new album entitled "Let The Tempest Come" is all about.
Well, my first impression of "Let The Tempest Come" was that it sounds much more "metal" that it's predecessor - meaning that the hardcore influences of the debut album are this time far less visible. There are, of course, songs like "Heavenhell" and "The Crimson Void" whose rhythmical guitar riffs will betray the band's true origins, but the majority of the compositions move on a totally different wave length.
Being obviously quite influenced by Dark Tranquillity, the five Germans made a really good effort in order to create heavy but melodic and catchy compositions. The fact of the matter is that most of these songs have nothing really new to offer, but on the other hand, they sound quite pleasing to the ear. Having been left quite impressed by the rhythmical tempo and the fast riffs of "Mechanisms Of Standstill", I was thrilled to witness the band's "creative outbreak" in the same-titled composition and the galloping drumming theme of the equally-impressive "Plagueheritage".
By this stage, I was so impressed by what I was listening to, that I was truly convinced that this would become one of my favourite releases of the year. Unfortunately, the remaining seven compositions, with the exception of "Obsecrators", were less impressive than expected and didn't assist in making "Let The Tempest Come" anything more than simply a pleasurable listening experience.
What I got from listening to "Let The Tempest Come", is this band's need for evolution and progression. Having not made any huge diversion from their original course, these young Germans have managed to create a mature and well-structured album which shows hints of their personality - a personality that will hopefully become more visible in their future releases.
Review by John Stefanis
***½