MY DYING BRIDE 'Anti-Diluvian Chronicles' Peaceville (2005)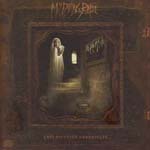 It may be to Aaron Stainthrope's surprise, but it is definitely not to mine, that 2005 is the year that marks the fifteenth anniversary of My Dying Bride. It is amazing to see that the same band that has released albums of unique musical quality, such as "Turn Loose The Swans"(1993), "The Angel And The Dark River"(1995) and "The Light At The End Of The World"(1999) are still with us, pursuing the same goal: the creation of good quality music. Having released "Songs of Darkness...Words Of Light" only a year ago, and already in the process of composing music for their next full-length album, the band has prepared quite a few surprises for their devoted fans. Not only are they to re-release "For Darkest Eyes", their first ever DVD, but they have a second DVD on the way, and also a box set that's entitled "Anti Diluvian Chronicles", the review for which you are currently reading.
When I had my interview with Aaron, a few months ago, I was intrigued as to the context of this release, but the bandís well-spoken frontman was not in position to satisfy my curiosity. Having already released two different compilations in the recent past, "Meisterwerk I"(2000) and "Meisterwerk II"(2001), both of which contained all the rare demo tracks and re-mixes that every My Dying Bride fanatic could possibly desire, I was left wondering what to expect from this release. Is there any real good reason why the band's fans should invest in "Anti-Diluvian Chronicles"?
It is true that, apart from the five new and previously unreleased live tracks, and the remix versions of "My Wine in Silence", "The Raven and The Rose" and "The Wreckage of My Flesh", the remaining twenty two tracks are what the members of this outfit consider to be the best compositions of their lengthy career. Now, I don't know if that sounds disappointing to you, but before you reach your conclusions I will urge you to remember the last time that you held in your hands a three-disc compilation whose duration is longer than two hundred and twenty six minutes! See what I mean?
What I really admire about My Dying Bride is that, for the purpose of this collection, they have chosen songs from every single studio album that they have released so far in their career. Most of you will remember how difficult it was for the band's fans to understand the need to release and album such as "34.788%...Complete". Well, the band is still supportive of their original decision to release this album, and the proof comes from their choice to add not just one, but three songs from that release in "Anti-Diluvian Chronicles". If you choose to invest in this collection, you will get a single release, which contains classic songs like "The Cry of Mankind", "Black God", "The Thrash of The Naked Limbs", "For My Fallen Angel" and "She is The Dark". That is indeed quite interesting, but are there also any songs which should have been included and which are obvious in their absence?
I do admit that I was a little bit disappointed when, after reading the long track list of "Anti-Diluvian Chronicles", I realised that classics such as "For You", "Your River", "A Kiss To Remember" and "The Songless Bird" were not included. On the other hand, when you deal with a band like My Dying Bride, you would probably need a six CD collection in order to say that you have partly managed to cover their rich repertoire, and that would have been a perfect example of commercial suicide. With that in mind, and with the company of a rich booklet that contains an interview with the bandís frontman and a nicely made poster, I believe that "Anti-Diluvian Chronicles" is not only a great way of introducing an "outsider" to this unique band, but it is also a good reminder to all of us of what this band has offered us in the past and what it is capable of producing in the future.
As I mentioned earlier, Peaceville records have chosen this release to celebrate the bandís fifteenth anniversary, so the only thing that you should really ask yourselves is whether you believe that this is indeed an occasion worth celebrating. If you decide that it is, and I canít really see why you would choose not to, what better way to do it than by getting your hands on this release?
****
Review by John Stefanis