Just witnessed your best live gig?..send us a review!
MOSTLY AUTUMN
Limelight, Crewe 1 June 2003
First time at the Limelight for me, interesting venue! Must be a workingmen's type club, as you have to sign in if not a member, then you enter an area with pool tables and a bar. On the back wall is a red light, and when it turns green you are allowed to go downstairs to the 'annex' bar. In there is a large video screen, and you can watch the band sound checking on it (you could actually watch the whole gig from there, but the quality is not great).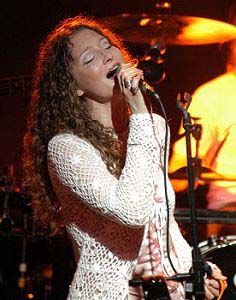 (Photography by Martin Kessel)
No support, so straight in with 'Winter Mountain', still my favourite MA track and gets the evening going with a real bang. Iain particularly enjoying himself, and for a change in full view of all present rather than hidden behind a Marshall stack. A change in the running order from earlier dates on the tour now, with old opener 'Nowhere To Hide' moved up before the first of the new songs, the Rainbow/Jethro Tull inspired 'Caught In A Fold'. This song gives the first indication of how well Heather's voice has developed over the last 2 years, and this is further proven during 'Another Life'. She really is singing beautifully now, with greater power and control than ever before.
Old favourite 'Evergreen' receives it's usual good response from the audience, except for the 2 idiots standing front of stage right who insisted on carrying out their own personal conversation throughout the set (despite receiving numerous disapproving looks from various members of the band). New song 'Simple Ways' follows, which includes some great guitar work from Bryan, really losing himself in the music.
Another of my favourites next, 'The Spirit Of Autumn Past' featuring the 5-part vocal harmony for the chorus. Bryan, Heather, Angela, Iain, and Liam meld perfectly to create the unique sound that is Mostly Autumn on this song. Missing earlier in the tour, but now returned to the set in place of another new song, the first half closes with 'The Last Climb', a very atmospheric piece of music that showcases Angela's ability with the flute to the full. It is nice to see Angela taking a full role in the live performances these days, with her own keyboard set up, instead of just breezing on and off stage for her flute and backing vocal parts.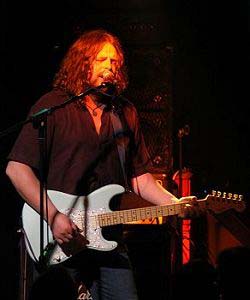 (Photography by Martin Kessel)
15 minute break, then they came back on rocking big time with 'The Dark Before The Dawn' and new song 'Answer The Question'. Really got the crowd going again with those two before introducing their new 3-part masterpiece 'Pass The Clock' which takes us through various musical styles and 4 guitar swaps for Bryan over the course of the next 13 minutes. All held together impeccably by the rhythm section of Andy and Jonathan.
Back to a couple of old favourites again, with the moody 'Shrinking Violet' featuring Heather and Angela on recorder followed by the really up-tempo 'Never The Rainbow', at which point Iain completely loses control, and there is hair flying in all directions. Last new song is the title track from the new album 'Passengers' before closing the set with the inevitable 'Heroes Never Die', the song that started it all (it was the death of Bryan's father that inspired him to write this song and form the band). Played with mountains of emotion as always, this song really does have the ability to bring tears to the eyes.
The equally inevitable encore of 'Mother Nature' follows, weighing in at a little under 20 minutes of thought provoking lyrics, a central clap-along section, before gradually building up to what is literally an earth shattering crescendo as all 7 musicians somehow manage to hold it together. If they ever got it wrong it would sound awful, I'm sure, but they've nailed it every time I've seen them, and it's awesome.
145 minutes start to finish, of the most talented group of 7 people it has ever been my privilege to see. Get out there and see them on the next tour - you will not be disappointed.
Setlist:
Winter Mountain Nowhere To Hide Caught In A Fold Another Life Evergreen Simple Ways Spirit Of Autumn Past (part II) The Last Climb
Interval
The Dark Before The Dawn Answer The Question Pass The Clock Shrinking Violet Never The Rainbow Passengers Heroes Never Die
Mother Nature

(Photography by Martin Kessel)
Band:
Bryan Josh - Lead electric guitars, vocals, 6 & 12-string acoustic guitars Heather Findlay - Vocals, acoustic guitar, recorder, whistle, tambourine Iain Jennings - Keyboards, Hammond organ, backing vocals Liam Davison - Electric guitars, 6 & 12-string acoustic guitars, backing vocals Angela Goldthorpe - Flute, Keyboards, whistles, recorder, backing vocals Jonathan Blackmore - Drums Andy Smith - Bass Guitar
Text © 2003 Ian Pollard