MSG 'Arachnophobiac' Mascot Records M70812 (2003)

Michael Schenker returns with yet another line-up of his band, retaining just vocalist Chris Logan from the last album. Joining them are drummer Jeremy Colson and respected bass player Stu Hamm. 'Evermore' kicks the album off in style, being a mid-paced rocker and Schenker's chugging riffs driving the song along nicely, before he blasts out a stylish solo midway through the track. 'Illusion' features a great vocal from Chris Logan, who writes all the lyrics on here with Schenker composing all the music.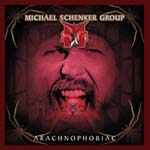 After a slow start it soon kicks-in and has a catchy chorus, plus crystal clear percussion in the background. The title track is sheer class, the sort of song you can remember after just one play. Again benefiting from a hook laden riff and chorus, with Schenker joined by Night Ranger's Jeff Watson on guitars (he also pops up on three other tracks as well). Chris Logan comes all over Axl Rose on this one (but a damn sight better)!
It is Molly Hatchett on 'Rock And Roll Beliver' with its modern day Southern rock feel. The lyrics all rock fans can relate to in that music stays in your blood despite getting older! 'Into The Sands Of Time' brings the tempo down slowly but the guitars keep their place high in the mix, adding nicely to the harmony vocals. When I first heard 'Weathervane' I thought the Cult had joined MSG! Logan sounds spookily like Ian Astbury and this coupled with a rumbling riff gives it a real Cult feel. Heaviest track belongs to 'Alive' which explodes in a flurry of guitar and double time drumming, with Logan in fine form. Couple of tracks are okay - the semi-ballad 'Over Now' and the closing track 'Fatal Strike'. Not bad songs just nothing spectacular like much of the other material on here.
Good to see Schenker back and it is a fine album, plenty to please fans' of catchy hard rock tunes. It's a grower and worth the effort, following on from the excellent Phil Mogg fronted Sign of 4 from last year. It seems the past and present members of UFO are having more fun away from the band, with a reformed Waysted to come yet as well!
****
Review by Jason Ritchie