MAZE OF TORMENT 'Hammers Of Mayhem'
Black Lodge(2005)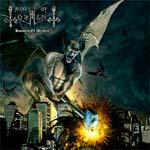 You've heard of the old saying "looks can be deceiving" before, haven't you? Well, if you were doing reviews for an E-zine, and you one day received a promo of the new album from a band called Maze of Torment - what style of music would you expect to come across? Exactly!
What I immediately assumed was that this Swedish outfit would be one of these bands whose music pays tribute to the American Death Metal legends Morbid Angel, but that's not quite the thing here.
Since they were originally formed back in 1992, Maze of Torment have been faithful servants of the extreme Thrash Metal scene, as originally represented by the legendary Possessed (it is not a coincidence that the opening track of this album is called "Beyond the Infernal Gates"), Slayer, Exodus and Dark Angel.
In fact, this is not the first time that this band has released their fury on the unsuspecting Metal world. During their twelve-year career they have changed quite a few record labels (Unisound, Corrosion, Iron Fist, etc.) and experienced really bad treatment from them (albums not being released at all, gig cancellations etc).
Last year the members of this band decided to put fate in the hands of the Swedish label Black Lodge, with which they are about to release their fifth full-length album that's entitled "Hammers of Mayhem".
One thing that I found really hard to believe, straight after I listened to the whole album for the first time, is the fact that elements of the modern Swedish Thrash Metal sound (The Haunted, At The Gates) are almost (if not completely) absent from this release.
So, what is it exactly that "Hammers of Mayhem" has to offer, and why should the fans of Thrash/Death Metal music invest in it?
The main reason why I would recommend this release to every Thrasher out there is because Maze of Torment have managed to achieve what bands like Gehennah and Inferno never did, and that's to write modern Thrash Metal songs with a classic 80's feeling.
It is not easy to create something original these days, especially in that specific genre, and it seems that the young Swedes are totally aware of that thing. Instead, they committed themselves to writing good quality riffs and decent guitar solos, the power of which was given justice to by the very good production, achieved at the well-known Abyss Studios by Tommy Tagtgren.
There are ten really passionate and good quality compositions on this album - total headbanging music and I bet you that you will find it very hard to choose your personal favourites.
After a few more times listening to this album, I decided that there are a few songs that do manage to stand out, and these are "Beyond the Infernal Gates", "Hammers of Mayhem", "Tyrannizer" and "Dead Soul". The band also decided to make a cover of Venom's "In League With Satan", which I personally found quite poor and not worth mentioning.
I guess that after twelve years of existence and plenty of ups and downs, this band is finally given the chance that they truly deserve. I am really interested to see what the reactions of the music press and the fans will be, and how well "Hammers of Mayhem" is going to do in the very demanding and competitive Metal market.
***½
Review by John Stefanis