MAGNUM Stronghold Castle CMDDD1339 (2006)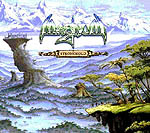 The Magnum history is a long and complicated one, with a few personnel and label (and musical styles) along the way, but Clarkin, Catley et al have come a long way from their inception in the mid 70s.
When they first split at the end of 1995, Clarkin citing needing a break from Magnum, their final concert was recorded and issued as Stronghold. This reissue is long overdue, as the original album was done kinda cheaply, it's been long unavailable, and it's basically a damn good concert.
The split had been announced, so it was an emotional event. Whether clubs, halls or stadiums, the band had always been a popular live draw, and here the band went out with a bang.
Recorded in Germany, in November that year, the set kicks off an intro of 'We'll Meet Again' before launching into the classic 'Changes', we get more than a greatest hits. From 'Just Like An Arrow' and 'Les Mort Dansant' to 'The Tall Ships' and 'Days Of No Trust', disc one is 12 of the very best.
Disc two kicks off with 'Wild Swan', we also get the single 'Rockin' Chair' and the epic 'Vigilante'. 'Kindom Of Madness' and 'The Last Dance' stand out; the band are on form, and band-audience banter is good.
Expanded with sleevenotes and extra tracks, another top package and essential live album.
*****
Review by Joe Geesin