LOVE AND MONEY 'Reissues ' River Records (2005)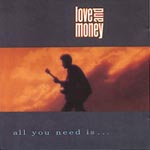 These three reissues will hopefully prompt a much-needed re-evaluation of both the band and their leader, James Grant.
The debut album All You Need Is... (RIVERCD053) hints at greater things to come but is probably let down by the band's predilection for late-eighties poppy funk. This gives it a slightly dated feel in places. Only on tracks like 'River Of People' and 'You're Beautiful' do we get a hint of the sophistication and introspective style that developed on the second album. The legendary Tom Dowd produced six tracks. ***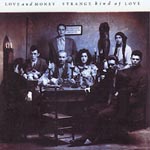 1988's Strange Kind Of Love (RIVERCD055) is generally considered to be the band's finest hour. At the time it was thought that Steely Dan producer Gary Katz had sprinkled his fairy dust. With hindsight, the production is undoubtedly slick but it is the strength of the songs that makes it.
This album is peppered with real gems. 'Shape Of Things To Come', 'Walk The Last Mile' and 'Inflammable' shine through but the whole album is consistent.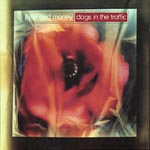 James Grant himself seems somewhat reticent about his L&M past, seemingly wanting to distance himself from the blatant commerciality and, possibly, the compromising of artistic standards.
This is all perfectly understandable but most artists would give their gold-capped eye teeth for an album like 'Strange Kind Of Love'.*****
Dogs In The Traffic (RIVERCD056) was the band's swansong for the Fontana label. By 1991 Grant was moving into country-folk-gospel tinged territory and this album lacks the immediacy of its predecessor.
This is not to underestimate the songs on offer here, and the album does stand up well some 15 years on. By this time, Love And Money had become more of a songwriting vehicle for Grant whose sonorous tones gives a distinctive quality to songs like 'You're Not The Only One', 'Lips Like Ether' and the superb 'Whisky Dream'.
'Pappa Death' also demonstrated that Grant could rock out when he wanted to - always a very restrained and tasteful guitarist but with undoubted fire inside. ****
River are apparently readying the band's next and final album, the long deleted 'Little Death'. If you are a Love And Money fan, you will probably have these three albums and the reissues don't contain any bonus material. Newcomers might do well to invest, as they are all mid-price and show off one of the best, if lesser-known, bands to come out of Scotland.
Review by David Randall

Avalanche
© 2005 River Records. All rights reserved.
Related>> Album review (James Grant)
Related>> Feature