LEASH LAW 'Dogface' (Black Lotus Records) (2004)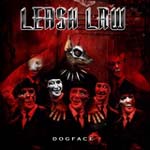 It is not often that you get to see a new band with a line up such as the one of Leash Law. The bandís frontman, Wade Black, did the vocals for Crimson Gloryís "Astronomica" and also recorded "Xiled to Infinity and One" with the Power Metal outfit Seven Witches. Richard Christy is a well-known drummer who has worked with Chuck Schuldiner (Death) in the "Art of Perseverance" and contributed in the creation to Control Deniedís progressive masterpiece"The Fragile Art of Existence". He also joined Iced Earth for the recordings of the "Horror Show", one of the most successful albums of the US outfit. The bandís guitarists are Rick Renstrom (Rob Rock, Jason Becker) and Emo Mowery (Nocturnus) and last (but not least), the second member of the rhythm section - bassist Stephen Elder (Rob Rock).
Knowing the backround of all these musicians, you would expect Leash Law to be quite a technical outfit. On the contrary Ė "Dogface", the bandís debut album, is a tribute to Power Metal music with influences from both sides of the Atlantic. Wade Blackís duty with Crimson Glory and Rick Renstromís admiration for European Power Metal and artists such as Yngwie J.Malmsteen, Uli Jon Roth and Ritchie Blackmore are the key elements upon which the bandís sound is based.
A perfect example of Malmsteenís influence on the band is the opening track "Fight" Ė a proper introduction to the double-guitar attack which will appear many times throughout this nine track album. There are also moments in which Blackís high-pitch voice resembles that of Tim "Ripper" Owens, and thatís in the same-titled "Dogface", "Martial Law" and "Hellhole". "Banion" is the song that every Crimson Glory fan will get hooked on, with its nice melodic intro and the excellent vocal performance by Wade Black.
The best moments of the album though are "Stealing Grace", the epic composition "Hail to Blood" and "Paving theWay", the last song of the album.
I believe that "Dogface" will have the same response as Crimson Gloryís "Astronomica": some people will love it and others will probably hate it, and the main reason is Blackís voice. Leash Law didnít create the most original album in the world, but that was not their intention in the first place. What the album has to offer is forty minutes of great melodic guitar work, a solid and quite respectable rhythm section, and a vocalist that I personally enjoy listening to.
****
Review by John Stefanis