KINO 'Picture' Inside Out (2005)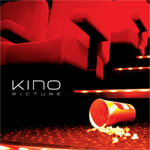 You may not be familiar with the band's name but the band's members have fine musical pedigrees - on vocals/guitars John Mitchell (Arena/The Urbane), bassist Pete Trewavas (Marillion/Transatlantic), former Porcupine Tree drummer Chris Maitland and John Beck (It Bites/John Wetton) on keyboards.
The first two tracks contain some of the best music I've heard in many a year. 'Losers Day Parade' switches from raging vocals/guitars one minute to a Beatles/ELO harmony filled chorus - simply stunning in my book.
Then there is 'Letting Go', a harmony filled ballad with some wonderful keyboards from John Beck. This track and 'Telling Me To Tell You' could easily gain mainstream airplay as they have a catchy tune but keep those It Bites/latter day Marillion progressive elements.
Marillion fans will particularly enjoy 'Perfect Tense', whilst 'Swimming In Women' goes leftfield and reminded me of XTC. The music and production are faultless with John Mitchell really coming into his own vocally (a big step forward from the Urbane album - no mean feat as that was a very enjoyable album).
Definitely a 'must have' for 2005 and Kino have the tunes to appeal to a wider audience outside of their respective prog rock bands/roots. Along with the excellent new release from Arena it shows that progressive music is alive and well, but more importantly can be appreciated by a wider audience.
****½
Review by Jason Ritchie