KAIPA 'Keyholder' (Inside Out 085-65982) (2003)

Imagine what Gentle Giant may have sounded like in the New Millennium. Think Kaipa. Wearing their seventies prog hearts-on-tie-dyed sleeves, the band have ingested three decades of prog noodling and it's easy to see where they are coming from.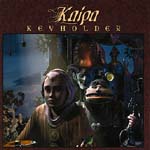 This Swedish outfit is headed up by keyboard player Hans Lundin who wrote most of the material. Flower King Roine Stolt contributes guitars,lyrics and vocals and makes this offering a cut above the rest, and with a sufficiently wet toe in contemporary prog waters to please younger fans of this genre. The addition of a female singer, Aleena, adds a bit of colour too. Listen to 'End Of The Rope' to experience the full range of the band - starting off like Focus, it soon develops its Giant-like themes and then wanders off into some robust jazz-rock with Stolt's figures fresh from the Mahavishnu Orchestra Cookbook circa 1974. 'Distant Voices' gives early-period Yes a run for their money and becomes exhilarating when Lundin opens up on his Hammond.
It's all very retro, gloriously so, and - with nothing weighing in at less than six minutes - damn serious stuff. With frequently changing time signatures, this CD effectively whisks us back to another age. In fact, who needs to scrape out the old battered vinyl? This CD is all that's needed...there's even lashings of wah-wah. Now if they'd rolled out some recorders and vibes, they could have surely given old fart Giant a run for his money. Tremendous!
The Weed Of All Mankind[edit]
© 2003 Kaipa/Inside Out All rights reserved.
Related >>
****
Review by David Randall


£12.99