JOSEPH ARTHUR Our Shadows Will Remain
14th Floor Records (2006)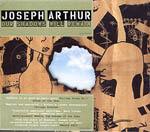 Our Shadows Will Remain is a big record - a sprawling sonic canvas of ideas.
Joseph was originally 'discovered' by Peter Gabriel and was the first rock artist to sign to his Real World label. Our Shadows Will Remain is the follow up to his acclaimed 2002 debut Redemption's Son. It opens with the gentle prelude of Ohio – with Art Garfunkel like vocals, before bursting into life with Can't Exist a song that would do justice alongside the best of Ryan Adams work. It's followed by Stumble and Pain with ghostly vocals over an almost hip-hop beat.
Devil's Broom - the latest single to be taken from the album - has an almost Stones type beat, Robbie Robertson vocals, wonderful guitar work and is catchy as hell. Echo Park is a beautiful number – multi tracked vocals, strings over a gorgeous melody. Even Tho contains the line (and title) 'our shadows will remain' – a reference to how Hiroshima survivors described those lost in that act of war. It's guitar based up-tempo adult rock - Arthur's vocals swooping from a deep Robbie Robertson drawl to falsetto. It's intelligent, articulate and beautiful.
Puppets is an up-tempo jaunt. Wasted, another number with a programmed hypno beat, has multi tracked vocals and a chorus to die for. Failed swirls gently with Joseph dueting with himself in different keys. I Am has an almost Gabriel real world beat, and A Smile That Explodes is a gentle acoustic / piano number with delicate backing vocals form Julia Darling. Leave Us Alone is dark and brooding with a chorus reminiscent of Bowie circa The Bewlay Brothers era.
Our Shadows Will Remain is a seriously classy singer songwriter album. And the impressive thing – the songs, the playing, the vocals and production apart - is that it's essentially the work of just one man – Joseph Arthur playing virtually all instruments and taking the main production chair. Forget the likes of James Blunt, Joseph Arthur floats like a butterfly and stings like a bee.
****
Review by Pete Whalley