Just witnessed your best live gig?..send us a review!
JETHRO TULL
Carling Apollo, Manchester 4 March 2006
Could it be true? After 35 years, a short trip down the M56 would reveal the Holy Grail - Tull's finest moment of many fine moments played live in it's entirety for the first time.
Well, yes and no. The Aqualung Tour 2006 does indeed see every track from the classic 1971 album performed live. But not, perhaps as expected, played as a single piece, but instead interspersed with, for the most part, classic Tull material from the period.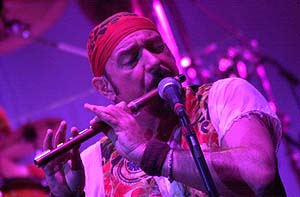 But the biggest surprise was prominence given to 22 year old violin protégé Lucia Micarelli who usurped long time guitar stalwart Martin Barre as the principal foil for Ian Anderson's flute playing. Her presence added or detracted, depending on your point of view. On the one hand it added new life to some of the songs and clearly rejuvenated Anderson. On the other, if you wanted a note perfect recital, you'd have been disappointed.
Me, I'm in the former camp - while firmly rooted in the classics, Lucia's playing was magnificent and brought out some of Anderson's finest flute work for many years.
It was a 'game of two halves'. The first half of the set was dominated by acoustic classical / folk / rock. The emphasis was heavily on the classical / folk - the set opening to rapturous applause with Life's a Long Song. Side stage, Martin Barre added some fine slide to Skating Away On The Thin Ice and lead work on Slipstream. But the centrepiece was Anderson's dueting with Micarelli on Griminelli's Lament and She Is Like The Swallow.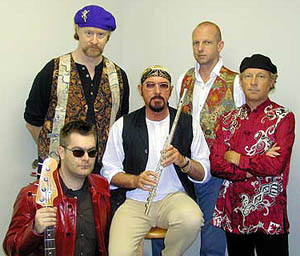 In the second half we were promised 'music to make your ears bleed'. Perhaps not quite, but it was a surprise when the set opened again with a Micarelli piano /violin piece - Nocturn - which morphed unexpectedly into a full band Bohemian Rhapsody. That was followed by a full-blown version of Zeppelin's Kashmir complete with Whole Lotta Love excerpt. From here on in, Martin Barre's guitar was turned up to 9 - Cross Eyed Mary proving you're never too old to rock 'n ' roll.
Budapest from Crest Of A Knave was a highlight, as was a barnstorming rendition of Aqualung that brought the set to a close and the crowd to their feet. At this stage the air was tinged with the distinct whiff of involuntary gaseous emissions from the ageing hordes. Praise indeed. Encores of Wind-up and Locomotive Breath brought the house down.
On balance, not perhaps what I'd expected, but a pleasant surprise and while Lucia Micarelli's addition (?) to the line-up changed the dynamics it was worth it for the spark it added to Anderson's delivery. There's life in the old dog yet.
Review by Pete Whalley
Set list: Life's A Long Song, Skating Away On The Thin Ice, Living In The Past, Slipstream, Up To Me, Griminelli's Lament, Sibelius piece, Wondering Aloud, Mo's Art, Cheap Day Return, Mother Goose, She Is Like The Swallow, Bouree, Nocturn/Bohemian Rhapsody, Kashmir/Whole Lotta Love, Cross Eyed Mary, Hymn 43, Steel, My God, Budapest, Aqualung, (Encore) Wind-up, Locomotive Breath.