IOW gig shows Tull and sixties hippie culture in transition...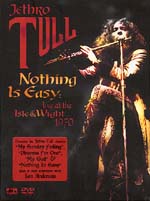 The companion to the CD released in late 2004, this excellent DVD will, for many fans, complete an important piece of jigsaw in the visual history of Jethro Tull.
The show is prefaced by some great footage of the Festival and Ian Anderson's recent recollections, and hints at some of the difficulties with 600,000 punters scrambling to get a view. The hippie ethic was compromised with the organisers asking the assembled multitude to stay behind the fences if they hadn't paid.
All was sorted before Tull's spirited performance but, really, by the time Hendrix had drifted on stage in the early hours of Monday 31 August 1970, the sixties Festival ethos was all but dead.
Tull were in transition, too. It may come as a surprise that Tull had three albums under their codpieces before this gig. With Martin Barre at the helm on guitar, the band gradually moved away from their early blues-rock into more grandiose prog-rock stylings. At the Isle of Wight, although blues-rock was still very much in evidence, there was a sneak preview of the classic 'Aqualung' with then new composition 'My God.'
Interspersed with the IOW gig we also get rare footage from the Rolling Stones 'Rock and Roll Circus' in 1968 when Tony Iommi briefly featured on guitar. One suspects there was no footage or poor quality for certain tracks as several are missing although included on the CD release.
This film is linked by Anderson's always engaging commentary and becomes a history of the band, as much as about their involvement in the Festival. It makes fascinating viewing, therefore, for the casual listener as much as the avid fan. It also stands as a historical document of changing times.
****
Review by David Randall
Related>> Album review