JAMES LABRIE 'Elements Of Persuasion' Inside Out (2005)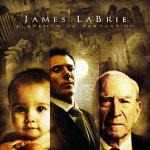 I have to say that it feels quite weird when you realise that youíve just been given the opportunity to write a review for the new album of a person, whose music and artistic restlessness has been your faithful companions for almost half your life!
My introduction to this unique phenomenon called James Labrie took place in 1992 through Dream Theaterís second studio album 'Images and Words' - an album thatís considered to be one of the most influential releases of the past decade. There is no doubt as to how important Jamesí contribution was to the success of 'Images and Words', as the unique colour and sound of his voice have become irreplaceable parts of the Dream Theater sound.
Since that very release, James has been exploring many different musical paths - not only alongside the remaining members of the Dream Theater family, but also through his participation in many different projects (Explorers Club, Working Man, Dragon Attack) and as a guest musician on some really important albums (Shadow Galleryís 'Tyranny', Fates Warningís 'Parallels'). 1999 was the year that James, encouraged by a similar 'strategy' to that adopted by the majority of his bandmates, decided to go solo.
Mullmuzzler, Jamesí 'brainchild', released their first album 'Keep it to Yourself' that same year and was followed by a second release called 'Mullmuzzler II', two years later. Even though his obligations towards Dream Theater increased throughout the years, James continued working on new ideas. In 2003, he released 'Unweaving the Rainbow' with a project called Frameshift, and as you read these lines, you should already have your hands on the first ever album released under his very own name - a twelve track release entitled 'Elements of Persuasion'.
After having listened to the album a couple of times, I realised what makes 'Elements of Persuasion' such a successful release. Even though James has been living in the Dream Theater 'environment' for the last fourteen years, he managed to limit its influence and ended up presenting us with an album of unique style and character. The idea was not to create another progressive opus, but an album full of straight-forward and emotional Rock/Metal compositions, which would also allow James to use his unique vocal chords to their full potential.
The team of musicians which accompanied James on this challenging task consists of Mike Mangini (drums - Extreme, Annihilator), Matt Guillory (keyboards - Daliís Dilemma), Bryan Beller (bass - Steve Vai) and a new but quite talented guitarist named Marco Sfogli, whose guitar-playing abilities will put many so-called 'virtuosos' to shame. No offence to the rest of the musicians who participated in the creation of 'Elements of Persuasion', but Sfogli has given so much to this album that heís almost competing with James for the lead role.
'Crucify' was indeed the best choice for the opening track of the album, featuring a fast, low corded guitar riff which will bring back memories from Metallicaís 'Master of Puppets' era. The following track, 'Along', presents the different side of this album. The use of a variety of electronic sounds may sound a bit strange in the beginning, but will prove to be quite inspiring after you listen to this release a few times (something similar to what Ray Alder did with his solo project 'Engine'). 'Freak' was created in a similar manner to that of its predecessor and paves the way for 'Lost', one of the few songs that sounds quite alike those of Dream Theater.
The first song I really got hooked on was 'Lost' - a very emotional song thatís based on a beautiful base melody. You will get a better taste of Marco Sfogliís capabilities on 'Undecided', before James will once again demand your attention with his amazing performance on 'Smashed'. A constant relay of emotions will continue throughout the remaining songs of the album, and before you know it, you will hear the final notes of 'Drained' announcing the end of a sixty-seven minute inspirational creation.
James Labrie has every reason to feel proud of having released an album of such calibre as 'Elements of Persuasion'. At times when the majority of the bands that I know are struggling to record an album longer than the average forty-five minutes, James is giving you sixty-seven minutes of unique acoustic pleasure. Do yourselves a favour - go and buy this album, and even better, go and see him at one of his upcoming shows. I have already bought my ticket, and I simply cannot wait to hear these songs live!
****½
Review by John Stefanis