HELLTRAIN 'Route 666' (Nuclear Blast) (2004)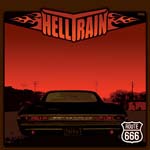 Ever looked at an album cover and expected to hear something you didn't when you actually played the thing? That's kind of what happened to me with the first album of the new Swedish band, Helltrain, the members of which have been around for a while, dabbling in various projects and bands, like The Everdawn and Scheitan.
Anyway, to get back to my point: 'Route 666' is illustrated with the back of a big, fast American car (my limited knowledge of such things doesn't allow me to identify it, but I'll hazard a guess that it's a Mustang!) which got me thinking: 'obviously Stoner Rock'. I guess I could say I was a teeny bit disappointed when I heard the first track, which is definitely not stoner rock by any stretch of the imagination.
Oskar, the band's drummer, describes the music as 'rock'n roll with extreme vocals. This is true, but there is definitely a very Swedish sound underlying the whole concept of 'Route 666', as well as a few dashes of keyboards here and there and some pop melodies thrown in for good measure. Sound like an odd recipe? Well, it is, really, and I must say that, although this is definitely a new approach by a Swedish band, it's not entirely my 'thing', but I can say that it has grown on me. I am sure, however, that many people will get hooked on this album straight away.
'Route 666' is the opener, which starts off with a catchy riff and that very strange keyboard sound leading the melody all the way through. We then move onto 'The Helltrain Coven' with its rock'n roll guitars and a somewhat 'pop' underlying melody, courtesy of the keyboards once more, where you hear Pierre Törnkvist mention Satan once or twice - the general idea I get is of the Devil dancing around on in a Hawaii-print shirt in a nightclub. I'll let you guys create your own imagery and no, you're wrong, I am completely sober!
The first half of the album continues along this thread until 'Tombstone' introduces a heavier attitude and loses that slightly annoying Britney Spears background. The tonality also changes from up-beat to a more minor sound, which is more to my liking. The structure of the songs doesn't really change throughout, though and I think it can be safe to agree with Oskar when he says that this is straightforward rock'n roll.
'Route 666' is probably best played in your car, whether you're on that particular road or navigating the diabolical M25 round London, but will also do equally well played in clubs and anywhere else where you want people to get going and have a great time.
Recommended if you're in a party mood.
Review by Emily Dgebuadze
***
Related>> Interview