HEAVEN SHALL BURN 'Antigone' (Century Media) (2004)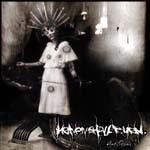 The first years following my discovery of the magical world of Heavy Metal music will be marked in my memory forever. What a great feeling to sit in a park with your best friends, holding in your hands the freshly purchased album of your favourite band, searching for all the little details on the cover that the average non-obsessive Metalhead's brain cannot trace!
Well, I'm afraid that my priorities have changed just a little bit since that beautiful and never-to-return period of my life, but the unique feeling of discovering something new and exciting has remained exactly the same. No matter how many albums I have in my CD collection, no matter how many gigs I have attended since 1988, a simple bass line or a beautifully composed guitar riff is enough to sweep me off my feet.
I knew nothing of Heaven Shall Burn before I received a promo of their latest release 'Antigone' from Century Media – it was just another album in the pile of promos that I had to listen to in order to make a review.
The first point of contact with the German outfit was the very interesting album cover which reminded me of those of Septic Flesh and Rotting Christ - quite reasonable since it was created by the same artist who has created covers for both these bands, namely the Greek phenomenon Set. But how should I expect an album with such an unusual cover to sound like?

The introduction to 'Antigone' comes with a very emotional intro based on two 'non-Metal' instruments, the Piano and the Violin. That's how the first one and a half minutes of the album kick off, but rest assured that it only takes a few seconds to transfer 'Antigone' from peaceful scenery to a blooded Warfield.

It is quite transparent that the music of At the Gates is where the members of this band draw their inspiration from, but not in a way that you may predict.

Being heavy and aggressive doesn't necessarily mean that you have to be fast - the names of the bands that have followed this 'strategy' are too many to be mentioned in this review.

How would you feel though about a band that could demonstrate the same skills in creating catchy Thrashy riffs like At the Gates, but present them in a mid-tempo and equally aggressive package as that of the legendary Bold Thrower? Well, if such a band would be of interest to you, maybe you should listen to this album.

The first complete introduction to the album left me with a positive feeling, but it was probably after the first three times that I listened to 'Antigone' that I realised how good this twelve track album really is.

Heaven Shall Burn is a band with a message, like most of the Thrash Metal bands of the 80's like Megadeth and Nuclear Assault used to be, and after checking out their very interesting lyrics you can categorise them as such. As for the music: romantically heavy…melancholically aggressive…I really don't know how to call it – I only know that songs like 'The Weapon They Fear', 'Numbing the Pain' and 'Tree of Freedom' should, and will, be appreciated by the majority of the people who are going to become acquainted with them.

This is definitely one more good release for this calendar year. Sitting comfortably on my couch, I'm holding the promo in my hands, feeling happy for having discovered another good band…damn, it's so difficult to trace the details in such a small picture!

Review by John Stefanis

****