HAMMERFALL Threshold Nuclear Blast (2006)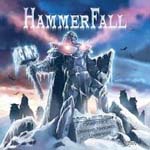 The self-proclaimed 'Templars Of Steel' strike back with their latest (6th to be precise) album Threshold. By now you should know what to expect from a new Hammerfall album and once more they deliver the goods with another great collection of punchy balls to the wall heavy metal anthems!
Everything you could want from a Hammerfall album is here, from the fabulous gallop of opener and title track 'Threshold' to the closing crunchy stomp of 'Titan' the sound is crystal clear, the guitar work solid and powerful showcases Oscar Dronjak and Stefan Elmgren's frankly awe inspiring leads and solos. That is of course, when they are not belting out those almighty headbanging riffs and gallops on songs like 'Reign of the hammer' and 'Howlin with the wind'.
Not to be outdone frontman Joacim delivers the performance of his life with his trademark clean vocals soaring over the countless hook laden melodies and riffs that Hammerfall have made there own over the course of their career.
Following on from the title track we come across 'The fire burns forever' catchy and a typically Hammerfall style song apparently written for the opening ceremony of the 19th European Athletics Championships where Hammerfall performed the track live at the opening ceremonies while being broadcast to over 54 countries! It just goes to show, Hammerfall are big business in parts of Europe, what with real heavy metal and power metal on the rise in England maybe we can look forward to Dragonforce opening the Olympics in 2012…….
Meanwhile 'Natural High', set be the first single from the album, should please any long term fan of Hammerfall a perfect example of why Hammerfall are great: Fist punchingly metal, hooks galore and a chorus tailor made for that last orders drunken sing-along!
Of course, Hammerfall, have always been a 'love em or hate em' kind of band, if you fall into the haters camp, then this will do nothing to change your opinion. However, if you are down with 'The Templars' you owe it to yourself to go buy Threshold and enjoy a glorious 50 minutes of uplifting heavy metal hymns guaranteed to put a huge grin on your face!
****
Review by Cold Colours