GOREROTTED 'A New Dawn For The Dead'
Metal Blade (2005)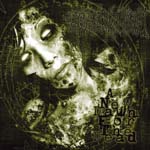 It has been three years since I first moved to the United Kingdom, and that period of time was enough to help me form a specific and complete view of the habits and the mentality of the inhabitants of this great island. One of the most admirable elements of their character, is their unique sense of humour, which is evident in every aspect of their life, including their music. One of the bands that have been providing us with products of sheer Britishness is the London-based quintet Gorerotted.
It didn't take long for the underground extreme music press to hail them as the next big thing in the grindcore scene, and that was also supported by the release of MCD "Her Gash I Did Slash" (1998) and their debut album "Mutilated in Minutes" a couple of years later. With plenty of sarcastic lyrics, shredding guitar riffs and meaty/brutal vocals in their arsenal, the sextet (at the time) managed to attract the interest of many grindcore enthusiasts. These people are definitely going to be taken by surprise by the band's decision to completely change their musical orientation in their third full-length release that's entitled "A New Dawn For The Dead" which is due to be released in mid-June.
There are quite a few moments in this album, which are going to remind you of what this band used to sound like on their previous releases. With the departure of Mr.Gore, the band's third vocalist, came a new era, which is now translated into more straightforward Death Metal tunes and rhythmical guitar riffs. No, the band has not decided to go all mellow on you, neither have they started writing songs about romantic sunsets or the mourning of a lost love. The band's music is still brutal and challenging, but in a more interesting and mature way as far as I'm concerned. Many people complain about a change in the lyrical context of the songs, but this is something that I was not able to detect from the promo that Metal Blade was kind enough to provide me with.
I was also not surprised to see that the five Londoners decided to add many different extreme metal elements to their music – especially in songs like "Adding Insult to Injury" which brings together elements from two totally different bands like Death and Darkthrone. Listening to songs like "Pain as a Prelude to Death" and "Nervous Gibbering Death", which show how skilled the members of this band are in terms of song-writing, was indeed quite an enjoyable experience, but I was also happy to see that there are a few songs like "Dead Drunk" and "Horrorday in Haiti", which are capable of satisfying some of their old fans.
I am sure that many of you will read quite a few controversial reviews regarding "A New Dawn For The Dead" in the future, but the bottom line is that this is a really good album that deserves all the attention that it can get. As for what the band has in store for us in the future…well, what would you say if we let them decide about that for themselves instead?
****
Review by John Stefanis