FARRAH 'Me Too' (Lojinx LJX005CD)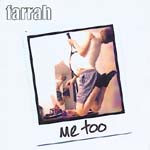 Here's an excellent second album from a UK band who don't seem to take themselves too seriously. Power Pop may not be in vogue, but this is tuneful, high energy and mostly catchy stuff as you might expect.
The opener 'Tongue Tied' could easily be on the soundtrack to a Teen flick, in fact most of this album would lend itself to hood-down, short-skirt, and cool shades - even in the midst of a cold snap.
There are obvious comparisons with eighties US bands such as Cheap Trick and The Knack, and in the quieter bits there are shades of Squeeze and Crowded House, even early Elvis Costello. And the inclusion of Joe Jackson's 'It's Different For Girls' only bolsters their eighties pop sensibilities.
It seems that Farrah are big in Japan which is hardly surprising: if you've ever seen a Japanese anime there's almost always some cheesy eighties-based theme tune. Whether Farrah will make it big elsewhere is debatable, but for now this is refreshing, cheery, and the perfect antidote to the long dark winter months.

****
Review by David Randall
Website

First And Last
© 2004 Lojinx. All rights reserved.