ENTHRONED 'XES Haereticum'
Napalm Records (2005)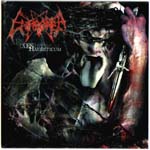 I will not lie to you if I say that the new Enthroned album was one of those releases that I was quite eager to get my hands on. It gives me great pleasure to see that most of the Black Metal bands that first appeared in the beginning of the 90ís are still out there producing records. Yes, this one goes to all of you who thought that Black Metal was just another trend, destined to last a few years. Well, Black Metal is not only here after all this time, but stronger than ever and that is mainly because of the stubbornness of some bands like Enthroned who continued doing things their way.
Even though the Black Metal movement of the 90ís was born and nurtured in Scandinavia, there are also a few representatives from other European countries like Belgium that offered their services to this extreme Metal branch.
Five years after fellow countrymen Ancient Rites formed their first ever line up, two musicians with the nicknames Sabathan (bass/vocals) and Cernunnos (drums) decided to form Enthroned. It was not long before they made their name known to the Underground, and things started to look good for the band.
In 1997, Cernunnos committed suicide, and left Sabathan fighting to keep a steady line up ever since. Having changed quite a few labels throughout the years, Enthroned seem to have found their refuge under the protective wings of Napalm Records with the support of which they are now releasing their sixth studio album 'Xes Haereticum'.
One of the most negative things about this band (in terms of popularity), and at the same time the reason why I am so attracted to their music, is their determination. For the last eleven years, Sabathan has been loyal to the Black Metal sound that both he and Cernunnos envisioned and 'Xes Haereticum' is another product of this attitude.
If by buying this album, you are hoping to hear dark keyboard-based melodies, also known as the soundtrack of a young generation of teenage kids that enjoy looking sad and miserable, then you have definitely made the wrong choice! What Enthroned have to offer with their sixth studio release is forty five minutes of total Mayhem!
My first impression of the album was quite good, simply because I received exactly what I was hoping for from these four noisemakers. Straight after the minute-length intro of 'Crimson Legions' I was left to face a merciless double bass beating - the product of Alsvideís cruel inspiration.
The music of Enthroned, just like that of their countrymen Ancient Rites, is mostly influenced by early 80ís Thrash Metal bands like Sodom and Destruction, and that also reflects on the structure of the ten songs that put together this album. Both Nornagest and Nguaroth, the bandís axemen, have committed themselves to creating fast and heavy riffs that quite often reach Mach levels. Sabathanís voice is as sick as it has always been Ė definitely the trademark of the band.
What I really enjoyed were those extremely beautiful melodic moments that reveal themselves while this Black Metal Pandemonium takes place - melodies that give an extra colour to the album and show that 'Xes Haereticum' has many different things to offer than just supersonic speed and underground arrogance.
I will vote as highlights of this album 'Vortex of Confusion' and 'Seven Plagues, Seven Wrath (Xes Revelation)', which, by the way, are the albumís longest compositions.
I really donít know what the opinion of the bandís oldest fans will be, nor of all those Black Metal 'specialists' who will do almost anything to get their hands on the latest demo that was recorded in the remotest areas of Mongolia, will say about 'Xes Haereticum'.
What I know is that I had a great time listening to it, and I will not hesitate to put it on my CD player next time I will feel like playing something brutal.
Review by John Stefanis
****