DEATH ANGEL 'The Art Of Dying ' (Nuclear Blast) (2004)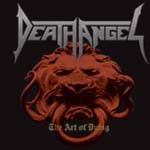 I like to believe that Iím quite an easy person to please - all you have to do is to tell me that Death Angel re-formed and are about to release a new album, and I will have a stupid smile on my face for the rest of the year. I was always a big fan of this phenomenal Bay Area band, and never quite managed to understand why they decided to call it a day almost fourteen years ago. I know though that I have to thank Chuck Billy for bringing these very talented individuals back together. It was Chuck that personally asked the band to re-form just for a gig, and it took five minutes on stage to make them realise that the old chemistry was still there, and that all good things happen for a reason. With plenty of inspiration and a refreshed belief in the music industry, the band entered the studio and recorded their fourth album "The Art Of Dying".
I really cannot believe what Iím about to say, but Iím really glad that the band decided not to make another "Ultra-Violence" album. Before you start calling me names and cursing me for the years to come, let me explain myself: anyone who has been checking out their progress, would understand that the band hates being labelled and would choose to disband rather than allow themselves to become artistically suppressed.
The "Ultra-Violence" was a Thrash Metal masterpiece, an album created by a bunch of seventeen year-olds (the drummer was fourteen at the time, believe it or not) who had the guts and the inspiration to create one of the best Thrash Metal albums in the history of music. Any other band in their shoes would have tried to record a similar second release, following the success of the "Ultra-Violence" release. Yes, any other band, but not Death Angel! The bandís second album, "FrolicThrough the Park" was a more experimental album and the same applies for the incredible "Act III", one of my favourite albums of all time.
Today, a bit older and definitely much wiser, they created an album with a fresh sound which combines elements from all their previous releases. If youíre wasting your energy trying to find out whether the album is Thrashy enough or not, I will tell you that "The Art Of Dying" is a really powerful and melodic Metal release, and that should be enough for you!
There are twelve really good songs to listen to on this album: Thrashy tunes like "Thrown to the Wolves", "Thicker Than Blood" and "Land of Blood" co-exist with really inspirational and experimental songs like "The Devil Incarnate"and "Famine". Itís a tradition for the band to record one very melodic song with every release, and in this case the bearer of this tradition is "Spirit", which also happens to be my favourite song of the album!
Donít know what it is that this American quintet does right every time, but it seems to have worked once again. Itís bands like them that makes us all feel proud of listening to this music, and itís also bands like them on whom we lay our hopes for the future! Welcome back guys, we have definitely missed you!
Related>> Interview
*****
Review by John Stefanis