DARKTHRONE The Cult Is Alive Peaceville (2006)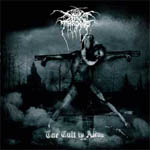 The reason I decided to make Heavy Metal part of my life, had to do with the fact that it appeared to be the sole champion of opposition towards the trends and commercialism in music. Unfortunately it is without any doubt that nowadays, even the most extreme branch of this music "tree" such as Black Metal has been "infected" by the above-mentioned lethal "diseases". Well, no other band deserves to be more upset about the current state of this specific scene than Darkthrone, and their reaction to that situation has been perfectly portrayed in their 12th studio release entitled "The Cult Is Alive".
Everybody knows how stubborn Nocturno Culto (vocals, guitars) and Fenriz (drums) can be when it comes to Darkthone's musical direction, and it is not rare that they have been accused by some so-called "music journalists" of both repetition and lack of inspiration when creating albums such as "Hate Them" and "Sardonic Wrath". Well, I am really curious to see how these people are going to react when they are going to come face to face with this ten-track release.
The idea behind the creation of "The Cult Is Alive" was very simple indeed: take some classic up-tempo Rock n' Roll sounding guitar riffs, add a certain amount of Punk style and attitude, mix them with the typical but certainly much more improved Darkthrone sound, and you have created one of the darkest and most energetic extreme metal releases of the new millennium. This "back to basics" attitude has brought to life some really catchy but also very powerful compositions such as "The Cult Of Goliath", "Underdogs and Overlords" and "Tyster Pa Gud", which are capable of arousing the interest from people outside the band's circle of friends, while retaining all those elements that make Darkthrone such a special and unique band.
If the numerous guitar solos and the constant change of rhythm featured in these songs, have not managed to make any impression on you, try to listen to the "progressive" (for the band's standards) opus "Atomic Coming", the Punky-sounding "Too Old Too Cold" (also the band's first ever single and video) or follow the tongue-in-cheek lyrics of "Graveyard Slut" which are delivered by Fenriz's demonic lungs - now, if after such a powerful display of talent and imagination you are still left untouched and uninspired, then Black Metal is definitely not for you.
The only real enemy that these Norwegians will potentially have to face are all those Black Metal "purists" who are incapable of telling the difference between the sound of the bass and the guitar, and music journalists who have been fighting them for the last sixteen years, but that's Ok - it is they who provided Darkthrone with the inspiration to write the lyrics for "Too Old Too Cold" and "Shut Up". One message to them: that which doesn't kill you, only makes you stronger, and Darkthrone are here stronger than ever!
*****
Review by John Stefanis