CRYPT MAGAZINE Volume II (2006)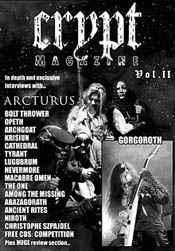 With a plethora of sources available to the average metal fan today, magazines are under a great deal of pressure to provide something different. Crypt is a magazine which first came out in 2005, and a year later Volume II was published. It would be a nonsense to include live dates and the like in an annual, so there is ample space for in depth interviews, and this second volume includes a huge reviews section that has been expanded to what might be four times the size of Volume I.
The subjects for interview chosen for inclusion are from various genres, but all from the underground scene, not just bands but characters such as Christophe Szpajdel, the designer of logos for bands including Emperor's and Falkenbach's. The different interviews provide a well-rounded view of the music industry and all its machinations - such as Lee Dorrian's controversial comments on downloading music - as well as various opinions on myriad subjects - Gorgoroth's Satanic message and Gavin Ward of Bolt Thrower's comments on war to pick two at random.
It is difficult to write reviews that appeal both to the 'novice' as well as the 'seasoned professional'. Often reviews consist of a very dry read of esoteric information which can be dull even if you know what, for example, (to quote Fairport Convention) a 'triple beat-dim-flarapiddle' is, or especially if you don't know your arse from your e-bow.
Ever read a review and thought that the reviewer didn't actually use intelligible English? You're not alone! Fortunately, there is none of that with Crypt - the reviews are deceptively simple, acquiring a fine balance between a smattering of technical detail for the illuminati and precise, understandable explanation for the 'ignorami' (such as myself). Above all they are interesting - there is often a touch of humour which makes the text more colourful. This in turn makes the band more memorable.
Packed with 60 pages of info (alright, that includes a few adverts too), Crypt Volume II is a read that will keep you entertained for quite some time, so it's perfect for a long train journey, or just to dip into now and again. In fact the only bad thing I can say about this magazine is that I could do with more, so I'll be waiting impatiently for Volume III. Mind you if it was published more often I might not get much work done!
Whether you're already into the underground or simply wanting to try something new, Crypt will give you a comprehensive insight into the scene. With in depth interviews and a pretty hefty reviews section, you'll doubtless come away from having read the magazine inspired to try a few new bands and more than likely you'll have learnt something too. Well, I did anyway.
*****
Review by Amanda Hyne