CRIONICS 'Armageddon's Evolution'
Candlelight(2005)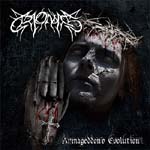 OK, do you really want to know why I have been so frustrated with the majority of the extreme Metal bands that originate from Poland, lately? Simply because, for some strange reason, they seem to be the only ones capable of coming up with solid, inspirational new releases. 'Why is that a bad thing?', you might wonder...well, it is when you end up being so damn impressed by their work, that you have to start looking for all those previous releases that are as easy to find, as it is for me to find Excalibur and become the King of England! The latest band which has successfully managed to put me in a similar state is a trio named Crionics.
Itís been almost nine years since the well-known city of Krakow witnessed the birth of another extreme Metal outfit. Crionics, which at the time were a quartet, started recording material straight away, and a year later released their first 4-track demo 'Demo 98'. The bandís style was a mixture of extreme Death Metal with 'intellectual' Black Metal (there is a reason why I chose to use that specific word). The influences, both in terms of style and vision, from the works of the mighty Emperor were more than evident, and this statement is easily justified since one of the songs thatís featured on this early demo is a cover of 'I Am The Black Wizards'.
A few line up changes took place over the following years and also the release of one more demo, that of 'Beyond the Blazing Horizon' (2000), before the band managed to sign a contract with a label called Empire Records, with which they released their first full length album 'Human Error (Ways to Selfdestruction). By that stage, and after plenty of live performances, the band managed to achieve similar cult status with that of Behemoth and Vader. The band, now a trio, started composing material for their new album 'Armageddonís Evolution' early last year, having signed with well-know label Candlelight Records, and are now ready to present it to the unsuspecting extreme Metal audiences throughout the world.
The reason why I 'sound' so excited about this release, is because the new album from Crionics contains all the right 'ingredients' that I personally require from an extreme Metal band.
Their music has a similar character to that of Behemoth, with the only difference that Crionics have chosen to allow the Black Metal elements to have the upper hand in comparison with their fellow-countrymen who have been lately indulging in the forbidden fruits of the Death Metal tree.
All eleven compositions of this album (nine basic and two extra, one of which is a cover of Emperorís 'The Loss & Curse of Revenge) are composed with plenty of attention to detail and can all attract the listener in many different ways.
Waran is quite skilled both as a vocalist and a guitarist - when heís not torturing your ear drums with his multi-dimensional vocals, he will either present you with a nice catchy rhythmical riff, or perform a quick but quite virtuoso guitar solo. Darkside builds the foundations of every song of this album with his impressive drumming, which is very efficient, whether itís a no-compromise double bass attack or a technical drum theme.
Finally, I would like to congratulate Vacn for the very 'sensible' use of his keyboards, which, even though they are present in every composition of this album, manage to restrain themselves and simply do what theyíre supposed to Ė create the ideal atmosphere for such an important release.
What Crionics managed to do with 'Armageddonís Evolution' is to create an album thatís capable of keeping me company for quite a long time. Donít ask me to choose my favourite song of the album - I simply cannot do that (and this time I really mean it!). When you get your hands on this album you will realise what Iím talking about, and believe me Ė you will have many more reasons to remember this band by, rather than just the smart use of a really 'historically significant' name. I really cannot wait to find out what their next studio album will sound like!
****½
Review by John Stefanis