CIRCLE II CIRCLE Burden Of Truth AFM Records (2006)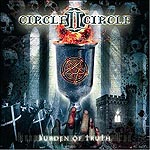 The third album by the band formed by former Savatage vocalist Zak Stevens and the band's line-up has finally started to stabilize following major line-up changes back in 2003. This is a concept album based on the premise that the album's main character is descended from the child of Jesus and Mary Magdalene. Yes it joins the growing number of albums based on events depicted in 'The Da Vinci Code' and the book 'The Holy Blood, Holy Grail' – Saracen have already released a cracking album based on this.
It is quite hard to review this album it has to be said as they have anti-pirate additions and bits of other songs segued into each track! But you can get the general gist and it is an album of solid if unspectacular melodic metal, not a million miles away from Savatage when Zak Stevens was at the mike. The album actually lifts on the quieter moments like the piano intro on 'Who Am I To Be?'. You can't fault the playing nor the storyline it is just that it lacks anything special to really lift the album and band ahead of others in this genre.
Worth getting if you like the band or Savatage but sadly not a 'must have' album.
***
Review by Jason Ritchie
***** Out of this world | **** Pretty damn fine |
*** OK, approach with caution unless you are a fan |
** Instant bargain bin fodder | * Ugly. Just ugly
get ready to rock is a division of hotdigitsnewmedia group