BRIAN AUGER Reissues Castle (2006)

This timely 8 album re-issue programme comes at a time when Brian Auger has been enjoying something of a renaissance. Not only is he touring the world again with the reformed Oblivion Express, but he is also sowing the seeds for the next generation with his son Karma and daughter Ali also enjoy solo releases.

The new Oblivion Express also features the excellent vocals of his other daughter Savannah who barely 7 years into her vocal career already sounds very accomplished. The music spans 25 years from 1974 onward and though not an exhaustive retrospective (there is a notable omission in the groundbreaking 'Closer To It') there's a feeling of a project topped and tailed as the B3 playing jazz, rock, fusion, and funk meister successfully squares the circle with the reformed Oblivion Express.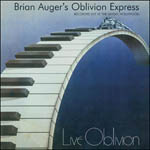 On BRIAN AUGER's OBLIVION EXPRESS Live Oblivion Castle CMDDD 1425 (1974) there are moments of such fevered inspirational jamming that it actually sounds as if the band's name might turn out to be prophetic as Auger never expected his outfit to last. But from the opening extended extemporisation of 'Back to The Beginning' when Brian's electric piano lines weave in and out between Alex Lighterwood manic vocals and Jack Mills's forceful guitar, you can feel this is a band that itches to push the jazz rock envelope.
Brian adds a cool organ line on the superb 'Happiness is Just Around the Corner' - a welcome reprise of the 'Second Wind' favourite - while his cover of Herbie Hancock's 'Maiden Voyage' is full of confidence, and is matched by an even braver stab at Donny Hathaway's 'Inner City Blues'.
This double CD pack is a perfect introduction to Brian Auger's music. And while firmly rooted in the jazz rock genre of the time, there are enough musical nuances to make the connection with what came later. ****
The following BRIAN AUGER's OBLIVION EXPRESS Reinforcements Castle CMRCD 1424 (1975) is the perfect example of Auger as a resilient band leader. The album title is self explanatory as Auger papers over the cracks caused by a change of personnel and a shoe string budget.
The hastily written material cleverly utilises the new rhythm section of Clive Chapman, and Dave Dowle and returning conga player Lennox Laington to conjure up a luscious funky groove.
'Brain Damage' finds the band at the top of their game jamming to their hearts content, with Brian juxtaposing a beautiful organ sequence with a flighty electric piano solo and then topping that with some sweeping synths lines. The following 'Thoughts From Afar' in contrast, is a disappointing Stevie Wonder sounding derivate piece, while tracks like 'Foolish Girl' work a funky refrain and feature Zappa style high register vocals as Brian's B3 jumps out the grooves. A good album then that holds up after all these years later. ***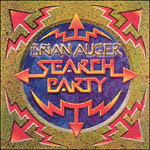 6 years later, Brian placed himself in an LA Jazz Rock style environment on BRIAN AUGER Search Party Castle CMRCD 1440 (1981), and is none the worse for that.
'Search Party' is reason enough to delve into this Auger retrospective. Possibly overlooked by critics in the early 80's because of its un-hip gentle funk and fusion axis, this re-issue casts fresh light on some tight arrangements and fine performances. The bluesy swing of 'I'm Gone' features some double vocal lines with Alex Ligertwood while the following instrumental 'Golden Gate' has an understated theme and some great guitar and keyboard interplay on a mid section funky workout before Brian rounds things of with an awesome organ break.
Happily the album makes limited concessions to an era that eschewed the B3. Guitarist Ho Young Kim shines on the instrumental 'Planet Earth Calling' and the whole piece has a Billy Cobham feel about it about it, while the heavy-riffed opening of 'Red Alert' quickly gives way to some stunning Larry Carton style guitar lines. The frenetic pace is duly tempered by some of Brian's most delicate electric piano lines, showing him to be as subtle a player as he is a quietly authoritative band leader.
The stand out track is the aptly titled 'Sea of Tranquillity' one of a handful of tunes that Brian was to re-explore in his later career. Originally recorded for the Head First label, this was his first non big label album, and given the freedom of artistic expression, Brian diligently explores his wide ranging musical horizons on a satisfying jazz album
Considering the album features 5 drummers and three bass players the solid playing and well structured compositions provide the musical continuity on another good album. ****
BRIAN AUGER Here and Now Castle CMRCD1441 (1984) recorded three years later marks a return to his funky roots but without the expansive arrangements of his early career efforts.
Brian contributes some smooth white boy soul vocals on 'Call Me' a track that along with most of the album is dominated by Julius Farmer's funky bass.
If this was stab at a wider commercial appeal then at best it was aimed at fatigued Californian domiciled Steely Dan fans. There is little of Brian's previous spontaneous blowing approach and even the autobiographical lyrics of The Seeker' are swamped by the sort of disco arrangement that was best left in the 70's.
While the funky reworking of the Auger classic 'Happiness is Just Around the Corner' might have seemed a good idea at the time it feels lightweight in comparison with the original. 'Here & Now' sounds like an aggregation of classy session men slightly out of the loop and in search of a contemporary context. ***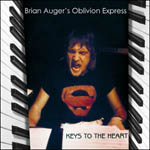 BRIAN AUGER's OBLIVION EXPRESS Keys To The Heart Castle CMRCD 1442 (1986) is an improvement with Brian teaming up with saxophonist Dick Morrissey, who was himself at the tail end of his Morrissey Mullen soft funk career.
The opening 'Pacific Highway' is that rare beast, an instrumental with a melody line that conjures up the titular theme. Best approached as a gentle jazz fusion album, Brian is quoted as saying 'music transcends the barriers of age, culture, class and creed'.
This album might aim for such lofty goals and tries to appeal to a broad section of listeners, but the Jazz FM/David Sanborn territory of 'Sundown' featuring Brian's Euro pop style vocal is the stuff of a career stop gap. Only the organ led 'Blue Note Shuffle' and the rocking bonus track 'If You're Going to the City' shake off the torpor. The closing reworked 'Sea of Tranquillity' from 'Search Party' is notable for its unlikely Scat vocal intro. ***
It wasn't until 1999 and the return of Oblivion Express and 'Voices of Other Times' that Brian regained his muse and this is in part due to the significant emergence of his family's musical talent.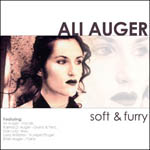 First up is daughter Ali's jazz album ALI AUGER Soft & Furry Castle CMRCD 1445 (1992) which proves to be an ambitious attempt to emulate some of her jazz heroines, most notably Sarah Vaughan. **
Brian adds a mix of fills a low key solos to a very laid back album debut by his son, Karma on KARMA AUGER Blue Groove Castle CMRCD 1444 (1998).
Karma is a crisp drummer and an intuitive production and engineering talent but is a limited vocalist. The album cover is derivative of a Blue Note release, but alas this conveyor belt of endless inoffensive funk doesn't come close to such quality. Only when Karma applies his drumming talent to his dad's 'Brian Damage' (from the 'Reinforcements' album) does he throw off the lethargy. Katisse Buckingham's sax replaces the original synth lines, but even this album highlight, can't measure up to the original version. Ultimately Karma's vocals and the material are not strong enough and he only sounds comfortable on the cover of Bill Withers' 'Use Me', a number on which the vocal dynamic hold primacy over concerns of range and timbre. **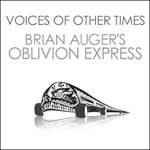 Karma's drumming and production talents are in evidence on Brian's return to form on BRIAN AUGER's OBLIVION EXPRESS Voices Of Other Times Castle CMRDCD 1433 (1999), on which his daughter Savannah is a revelation on vocals. Her haunting vocal on the opening 'It Burns Me' must have been close to being a club hit, while her two takes on Richie Havens' 'Indian Rope Man' pull the band right back to their Julie Driscoll roots, an observation played out by the old band's sampled intro on the reworked studio piece.
There's a real sense of urgency and experimentation about the album with the Latino feel of 'Isola Natale' and the straight ahead jazz of Brian's tribute to Victor Feldman, 'Victor's Delight' being highlights.
On 'Never Gonna Come Down' the band work up a groove that aside from an awkward bridge delivers a radio friendly piece with Savannah's vocals working supremely well. Much of the material may be retrospective but the new line-up with its strong family input feels like Brian has found his missing musical link. ****
Review by Pete Feenstra