BOB CATLEY Spirit Of Man Frontiers (2006)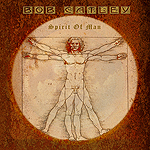 Magnum vocalist Bob Catley is back with his new solo album and like its predecessor 'When Empires Burn' is follows a much heavier route than the epic production of his previous solo albums done with Ten's Gary Hughes.
No Paul Hodson involved this time, instead it is former Pulse man Vince O'Regan who writes (along with Dave Thompson and Dave Uttley) and produces the album.
Joining him are Catley's touring drummer Jamie Little, fellow Magnum member Al Barrow and Irvin Parratt on keys.
There are some cracking hard rockers on here like opener 'Heart of Stone' and 'Moment of Truth' - the guitars are well to the fore on these songs. We all know Catley does ballads so well and on here he excels on 'Last Snows of Winter', which could easily be off a Magnum album it is that good! The sweeping chorus gets you every time.
'The Fire Within Me' is sure to become a live favourite as it fairly rollocks along and you don't even realize it is over six minutes long! One of my personal favouarte moments is the wonderful vocal outro on 'Blinded By A Lie' – I am a sucker for harmonies!
The playing throughout is superb with no one instrument drowning out the rest and of course Bob Catley is on fine vocal form.
Overall a very enjoyable album that sounds more like Magnum than any of his previous solo albums and hopefully Bob Catley will work again with Vince O'Regan and co.
****
Review by Jason Ritchie
***** Out of this world | **** Pretty damn fine |
*** OK, approach with caution unless you are a fan |
** Instant bargain bin fodder | * Ugly. Just ugly
get ready to rock is a division of hotdigitsnewmedia group